If you have any form of online presence, you can monetize it with the Amazon Associates program. In fact, many bloggers and website owners do just that. Thanks for Amazon's great conversion rates, it's easy to see why.
However, if you violate any of Amazon's affiliate rules or requirements, you are likely to get expelled and lose all of the unpaid commissions. It is tough to get Amazon to reinstate your account after it bans you for violating its terms of service.
As such, you should comply proactively and avoid the inconvenience of pleading to get back your account.
Yet, many people find it difficult to read through their program policies and operating agreement.
If you are one of those people, do not despair. We put together a list of 10 most important things you must pay attention to in order to comply with Amazon's affiliate rules and requirements and keep your account in good standing. After all, nobody wants to lose their hard-earned commissions.
PRO TIP: Don't waste your time and take the guesswork out of the legal jargon with this personalized disclaimer generator trusted by over 150,000 businesses.
1. Let Your Readers Know You're an Associate
Affiliate disclaimer and disclosure for Amazon Associates are essential under both FTC requirements and Amazon Associates' legal obligations.
A disclaimer limits your legal responsibility concerning the use of the products you promote on your website. With disclosure, you provide information that informs your audience you receive compensation as an affiliate.
Amazon strictly requires you to identify yourself as an affiliate. To help you comply with this directive, Amazon provided the following text in its operating agreement that you can copy to your platform:
[Insert site name] is a participant in the Amazon Services LLC Associates Program, an affiliate advertising program designed to provide a means for sites to earn advertising fees by advertising and linking to [insert applicable site name].
In the applicable site name, you put a site name of the Amazon store you promote. If you promote any of the Amazon worldwide stores, be sure to include the proper domain names as either Amazon.com, Amazon.co.uk, Amazon.it, Amazon.de, and other Amazon stores worldwide.
At first, it was enough to put the disclosure notice at your website's footer, or in the "About us" or "Info" pages. These days it's better to put it at the top of the article or page where you have affiliate links.
You may fear such disclosures could put off your audience if, for instance, they sense you earn from your content. However, as long as your content delivers value, very few mind about whether you make money off of their purchases. And many more are willing to support you to earn from your efforts.
Let your readers know you're an affiliate. Use plain language. Mention that you get compensation for putting up the affiliate link.
I may earn a small commission for my endorsement, recommendation, testimonial, or link to any products or services from this website.
Placing an expanded version of the disclaimer at the bottom of the site or within your other legal pages is also a splendid idea to ensure you cover all other aspects and not just the affiliate part.
2. Do Not Use Link Shorteners to Hide Links
The Associates Program Participation Requirement, Sections 6 "v" and "w" prohibit link shortening tools to cloak that you're linking to an Amazon site.

Don't try to hide or disguise Amazon affiliate links as something else and always use unmasked URLs.
3. Do Not Put Links in PDFs, eBooks, Emails, or Private Groups
Your content should draw people to your platform instead of chasing people around with your affiliate links. Amazon requires you to put links on your website, YouTube channel, or a public Facebook page.
But you cannot share your affiliate links to a private Facebook group, for instance. And to get around this requirement, it is okay if you put the link in on a Facebook page or a website page, then share the page to a private Facebook group.
Also, when you're logged in to your associate account, you will have access to Amazon's SiteStripe. The SiteStripe toolbar appears at the top of Amazon pages you visit when logged in to the Amazon account that you used to create the Associate account.
Create an affiliate link to any product or page by clicking on the "Get Link Text" button on the SiteStripe. After that, you can add products to your Facebook and Twitter by clicking on the social media icons on the SiteStripe, which is acceptable.
Section 4, under the "Promotional Requirements", Amazon also prohibits putting an affiliate link as an attachment to emails, offline content such as printed materials, books, mailing, etc:

You may be used to using eBooks as lead magnets to collect user emails. However, you cannot put affiliate links in an eBook, but you can put a link to a website post with an affiliate tag.
4. Do Not Solicit Clicks on Links
Section 5 of the operating agreement explains how you ought to identify yourself as an associate.

Amazon prohibits you from asking people to click on links by stating that they're supporting your hustle or your family. Instead, use the standard disclosure statement provided by Amazon:
As an Amazon Associate, I earn from qualifying purchases.
5. You Cannot Purchase From Your Link
If you make a sale from your affiliate links, that is not a qualified purchase. Therefore, Amazon will not pay for it. As simple as that.
6. Have a Comprehensive Privacy Policy
Another essential requirement you need to be aware of is the privacy policy. As an affiliate, Amazon requires that you have a comprehensive privacy policy displayed on your websites and blogs.
It should state that you and your website guarantee to follow all applicable privacy-related laws.
Section 3 part (e) of the Associates Program Policies states:

Associates have to place their privacy policy at an evident and noticeable section of their platform. Usually, an acceptable and widespread place is at your site's footer that links to your legal pages.
The privacy notice should include details about what sort of information is being collected, how it is collected, who this information will be shared with, where it will be used, and how you will protect the users' sensitive data.
Although you do not intentionally collect personal data from users (for example, through the sign-up forms), personal information is still being collected in the background through cookies. Cookies can retain IP addresses, demographics, and other personal details of users.
And if you use any third-party affiliate or advertising services, you most definitely collect personal information from your users, which is passed on to those companies.
7. Learn How To Use Amazon Brand Correctly
You cannot design your website to match the Amazon website, nor use their colors or logo as an extension of your brand.
According to Section 4 in Amazon Trademark Guidelines, you cannot use any of the Amazon brand identifiers except for the ones given to you for use:

You can only use the marks and logos provided to you by Amazon. You may not alter, or customize in terms of color, proportion, font, add or remove any aspects of the Amazon mark.
8. Understand Amazon Product Image Guidelines
You are allowed to only use product images lifted from Amazon using an API. You cannot host a product image on your site; that it is, you shouldn't download an image to your computer then upload it to your website.
You can use other images to illustrate the item you're promoting. You can use your images or images from a manufacturer. However, the limitation with this approach is that you cannot hyperlink such images with your affiliate tag. You can only put your Amazon affiliate tag with images sourced directly from the Amazon store using the API.
The Amazon resource center provides suggestions for other sources of images: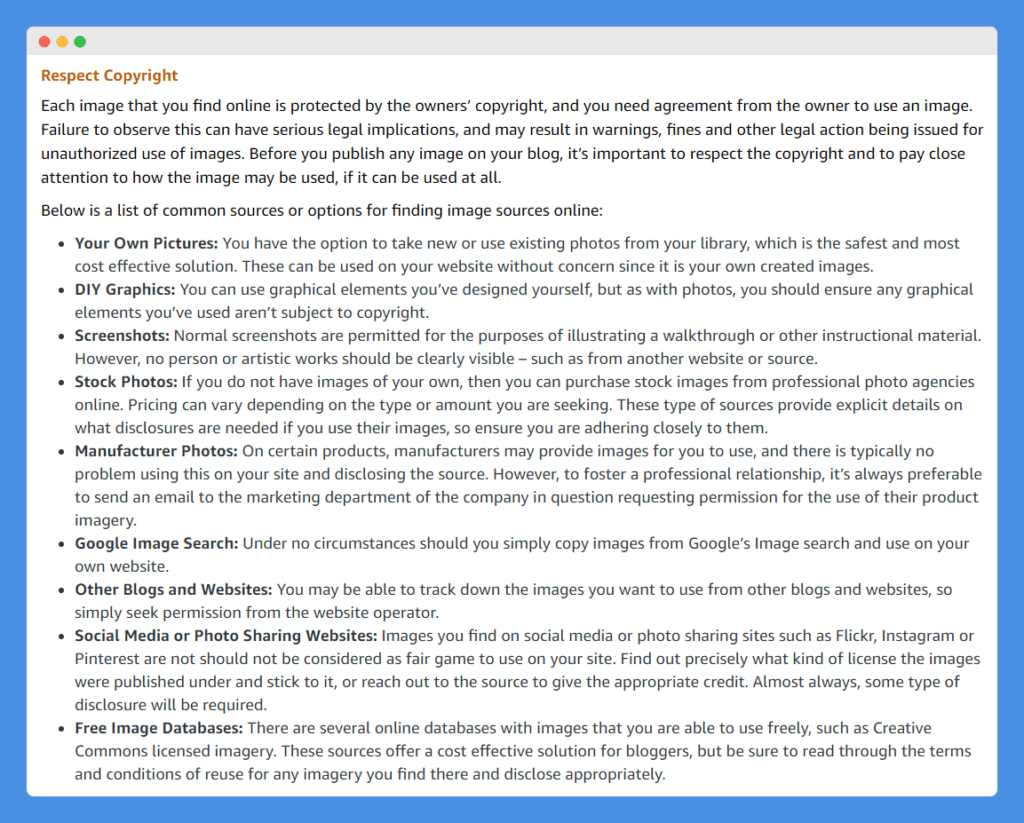 9. Understand Pricing Display Guidelines
The general rule concerning pricing display is that you're not allowed to display pricing information for Amazon products, and through your affiliate link, direct your audience to an Amazon store. The exception to the rule is that you can provide links with your affiliate tag, only if you use an Amazon API to access the current prices directly.
Amazon prices change constantly, and without an API, it would be impossible to keep track of the changing prices. Section 2 (b) of the Participation Requirements provide:

10. You've Got 6 Months to Make Your First Sale
If in 180 days, you have not had a single successful referral from your site to Amazon, your application to join the Associate Program will be rejected. Amazon will encourage you to reapply only if you have gained considerable traffic to your platform.
Amazon reviews and approves your application after you've made your first sale. Until then, your account is still pending approval. So, in 6 months, if you haven't made your first sale, your account will be deactivated.
11. Do Not Promote Products Offensive to Children
Do not apply strategies that promote products to children under the age of 13. Also, do not promote obscene, violent, sexually explicit, discriminatory, or fake material on your website as an affiliate.
12. No Cookie Manipulation
Do not use cookie manipulation software such as automatic cookie installs. Amazon will provide you with their cookies, which stores the relevant information to track customers' flow from your website to the Amazon stores.
Affiliate programs are great for small businesses and bloggers and can help you generate more revenue from your websites even to become your primary income source.
Undertake a thorough evaluation of your website's content, bring it in line with Amazon's legal requirements, protect your users' privacy, and put up a noticeable disclaimer.
Compliance will help you avoid legal violations and ensure a long-term relationship with Amazon and other affiliate programs and services.