The Amazon Associates program is an affiliate program. To date, there are 12 different affiliate programs that make up the Amazon Associate.com program, and millions of different websites take part, including big names like Buzzfeed, CNN, and the New York Times.
For Amazon, affiliate referrals represent almost 10% of the website's total traffic, and that's only for the U.S. domain Amazon.com.
If you're here, you probably already know what Amazon's affiliate program is all about.
But do you know about your obligations to display an Amazon affiliate disclosure on your website if you're part of the Amazon Affiliate program?
If not, keep on reading to find out about its requirements, how to write it correctly and we'll show you some examples to show how others do it.
PRO TIP: Don't waste your time and take the guesswork out of the legal jargon with this personalized disclaimer generator trusted by over 150,000 businesses.
What is an Amazon Affiliate Disclosure?
Amazon affiliate disclosure is a piece of information displayed on a website that acknowledges your participation in the Amazon Affiliate (Associate) program where you earn a commission from sales made through your affiliate links.
Because product promotions by Amazon affiliates are a form of advertising, Amazon itself and the U.S. Federal Trade Commission have made it abundantly clear that all Amazon Affiliate associates must disclose their participation in the program to their readers and general audience.
Although this sounds complex and intimidating, it's actually a very simple thing to do. It requires no expert knowledge, it's free, and it doesn't take long to implement.
Why is an Amazon Affiliate Disclosure Important?
An Amazon Affiliate disclosure is important because Amazon's business model rests around its focus on the consumer, and this extends to providing 100% transparency in all transactions. As an Amazon Affiliate, it's imperative that you tell your website's visitors that:
You're operating as an Amazon Affiliate (or Associate);
You're compensated when someone makes a purchase via your content; and
You've got no official or formal relationship with Amazon.
So far as disclosures go, Amazon's Associate.com Terms of Service spell things out clearly:

It's important that you don't add any additional information that may make people believe that you've got a special deal or relationship with Amazon. You cannot also claim that you're promoting content exclusively for Amazon, nor can you say that there is any sort of relationship beyond the Amazon Associate program.
Although placing disclosures may seem like an unnecessary hassle, there are two very important reasons why they are:
They ensure fair business practices, which provide everyone using the market with a level playing field. Thus, gives consumers the feeling of trust and honesty from the marketers.
They provide transparency to your website's readers. Transparency and trust are keys for marketers to generate more sales compared to its competitors. Simply put, people will only buy from people they trust.
FTC Requirements
On 18 October 2019, Amazon updated its Terms of Service to place particular emphasis on affiliates' requirements under the Federal Trade Commission (FTC) requirements.

To ensure compliance with FTC regulations, your Amazon Affiliate disclosure must:
Clearly disclose that you're an affiliate. This can be as simple as including words like "(paid link)" next to your affiliate links, or a hashtag like #ad or #PaidPromotion on Twitter and Instagram. Although you should still mention your exact relationship with the advertiser.
Be placed near an affiliate link or product review in a location that potential customers will easily notice. The crux of this is that customers shouldn't have to go hunting for affiliate disclosures—they should be easy to find.
Every page with an affiliate product should have an FTC compliant disclosure.
Amazon Affiliate Disclosure Examples
It's important that your Amazon Affiliate disclosure includes all the necessary information. It doesn't need to belong, usually, just a paragraph will suffice.
This is an example of a standard disclosure for Amazon:
[Website name] is a participant in the Amazon Services LLC Associates Program, an affiliate advertising program designed to provide a way for websites to earn advertising revenues by advertising and linking to [Amazon.com or .ca, .co.uk, etc.]
Here's another example:
Disclosure: Some of the links below are affiliate links. This means that, at zero cost to you, I will earn an affiliate commission if you click through the link and finalize a purchase.
To make sure that you're writing clear Amazon Affiliate disclosures, these are a few things you should keep in mind:
Be direct and keep the disclosure short. Don't beat around the bush and write reams and reams of information.
Use trigger words (e.g. compensation) that immediately tell your reader that you're going to be receiving compensation from your affiliate links.
Avoid using jargon that the general person might not know… such as affiliate! Explain in simple terms wherever you can.
Where to Display a Disclosure for Amazon Affiliate Links?
This is what Amazon says in its terms and conditions regarding where you should display a disclosure:
…on your Site or any other location where Amazon may authorize your display or use of Program Content.
But what exactly does this mean in plain English? Amazon's language for where this disclosure should be placed isn't exactly the clearest of instructions.
In general, a disclosure for Amazon should be placed in a clear view on any page that has products from Amazon on it, or links to Amazon products and content.
The disclosure for Amazon doesn't need to be placed in big letters in the middle of the page but It should take the form of small print or be placed in your website's footer.
Admittedly, it's good practice to put a disclosure on all your Amazon product pages or pages with Amazon content linked on it and also include a detailed disclaimer and privacy page where this information is displayed in full.
Here are some places where you could place your disclosure for Amazon:
On your homepage
On your "About" page
In the header or footer area
In the sidebar area
In an easily accessible page with a self-explanatory link, for example, "Amazon Affiliate Disclosure" or "Amazon Associate Disclosure"
We recommend that a short disclosure is placed in your website's body, footer, or sidebar of all website pages that include affiliate products along with a link to a legal disclaimer page (to disclose your relationships with other companies, websites, and providers).
Placing an Amazon Affiliate Disclosure on Social Media Posts
For posts on social media platforms such as Instagram and Twitter that contain direct affiliate links, place something along the lines of "#ad" before or after your affiliate link.
Although you can get away with linking directly to an affiliate page or offer, it's a much better idea to link back to a landing or information page. This provides you with the opportunity to provide a full and comprehensive disclaimer to avoid any kind of legal troubles.
In addition, it also gives you the opportunity to capture their data for retargeting ads or prompt them to subscribe to your mailing list.
Amazon Affiliate Disclosure Examples
Below are some of the examples of Amazon Affiliate disclosures from websites and social media profiles.
Dog Food Advisor
The pet food website DogFoodAdvisor keeps its disclosure simple and to the point. Note here that the website clearly states that they receive an affiliate fee from Amazon when readers visit Amazon through their website.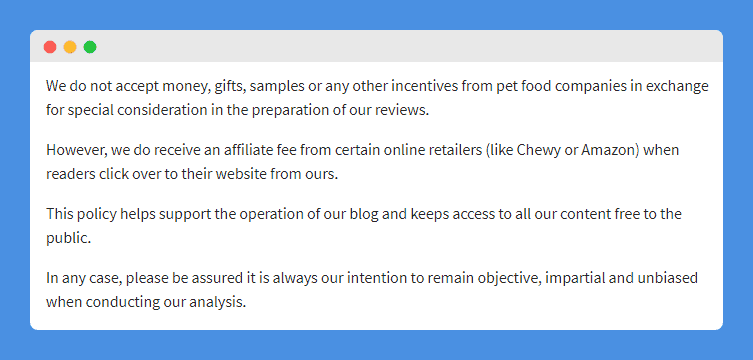 Toms Hardware
Tech publisher Tom's Hardware includes a small excerpt on the homepage disclosing that the website earns affiliate fees when purchases are made through links on their website. Readers then have the option to click "Learn more" which opens up Tom's Hardware parent company's terms and conditions.

Buzzfeed
Buzzfeed is perhaps one of the biggest names when it comes to affiliate schemes. The publisher is renowned for its buying guides and other website content that is packed full of affiliate links to products and services.
Buzzfeed includes its disclosure as part of its privacy policy.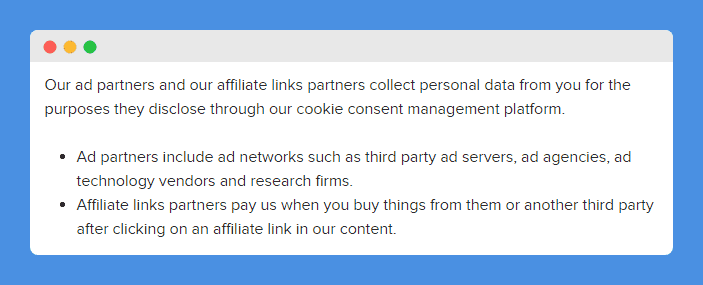 Facebook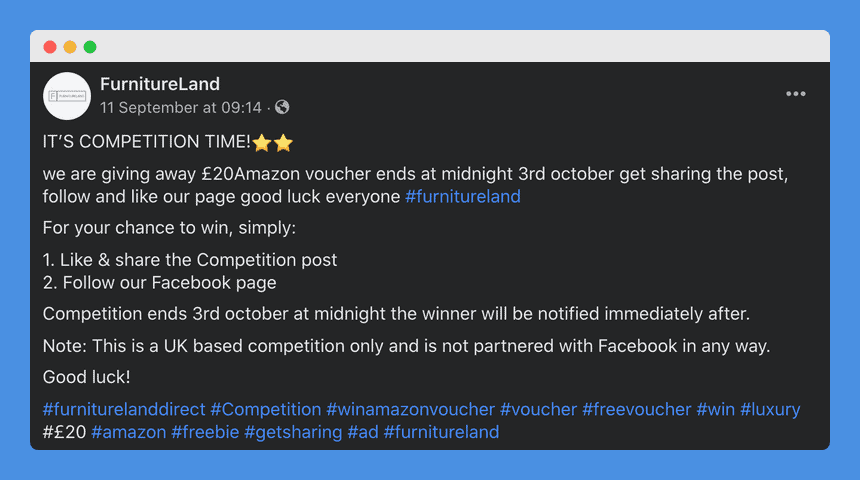 YouTube
This YouTube creator has placed a small disclosure in her video's description.

Twitter
On Twitter, there's obviously very little room to start writing full Amazon Affiliate disclosures. That's why tagging Tweets with hashtags like #ad and #amazon is acceptable.
Instagram
Instagram does admittedly have a little more room for writing a disclosure but it's still not necessary so long as the same hashtags are used here. You may also want to consider linking to a disclosure statement on your website or blog.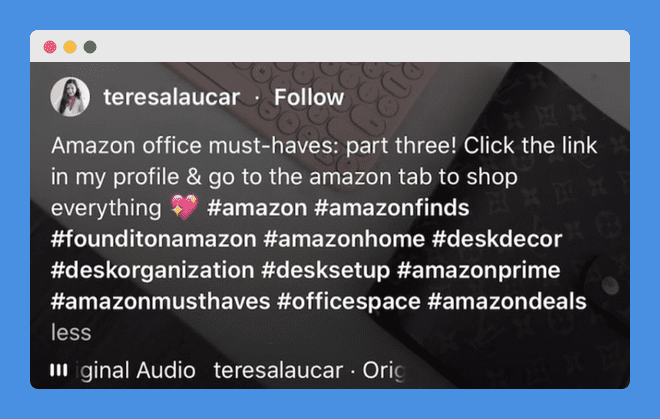 What Happens if I Don't Display a Disclosure?
In order to satisfy the principle of "Truth in Advertising", which the FTC strongly enforces, you must display an Amazon affiliate disclosure on your website. It's that simple.
When a consumer hears or sees an advertisement, whether it's on the Internet, played over the radio, or on the television, the law says that the ad must be wholly truthful in nature, not be misleading, and backed by evidence in certain cases where appropriate (e.g. a medical ad backed by science).
No matter where an ad appears, the FTC enforces this to the letter, both with and without intention on part of the advertiser. This includes everything from Facebook posts and YouTube videos to Tweets and blog posts.
Without an Amazon Affiliate disclosure, your advertising won't be truthful and therefore unlawful.
Not displaying an Amazon Affiliate disclosure also means that you will likely be kicked off of the Amazon Affiliate program entirely and lose all of your commissions. In addition, the FTC can also direct law enforcement agencies to seize all of the profits that you've made unlawfully.