Online shopping is now more popular than ever. It's fast, convenient, and secured. Brands know this too, meaning that it's now possible to buy virtually any company's products on big e-commerce sites like Amazon. Overall, it's a highly profitable endeavor for savvy businesses and sellers.
But what if we told you that you don't need to actually own your own products or sell products directly in-order to get a slice of the e-commerce pie? It's true — and it's all thanks to Amazon Associates.
And although Amazon Associates is free to join and simple to get started with, there are a few things that you need to be aware of to avoid trouble. One of these things is the privacy policy for Amazon Affiliates.
Before we dig into it further, let's go over the basics first.
PRO TIP: Don't waste your time and take the guesswork out of the legal jargon with this personalized privacy policy generator trusted by over 150,000 businesses.
What is Amazon Associates?
Amazon Associates is an affiliate program that involves millions of different websites, publishers, and media brands including the likes of Buzzfeed and The Verge. Referrals from Amazon Associates websites generate almost 10% of Amazon's total traffic for the U.S. website Amazon.com.

In short, Amazon Associates is an affiliate marketing program that allows website owners, companies, bloggers, vloggers, and virtually any other content creator (including Instagram influences and TikTok users) to create links and earn referral fees when customers click through and buy products from Amazon.
What is a Privacy Policy?
A privacy policy is a legal document that discloses some or all of the ways that you collect, use, disclose, and manage customer, client, or user data.
The purpose of a privacy policy is to explain to current and potential users and customers how you manage their personal information. It explicitly states whether that information is kept confidential, or is shared with or sold to third parties
When creating a privacy policy, there's no set template or formula that you need to follow as there are too many variables. This can make it difficult for website operators to know what to include.
Do Amazon Affiliate Marketers Need a Privacy Policy?
Laws governing the collection of personal data from consumers have been passed worldwide.
These include places like Canada (PIPEDA), the European Union (GDPR), and California (CalOPPA). These laws apply to affiliate marketers who collect personal information from their website users. It doesn't matter if you live or operate in these places, you're still required to comply with these laws if you collect personal data from people who live there, and chances are that you do.
According to the Federal Trade Commission (FTC), it is the merchant (in this case Amazon) that is responsible for the activities of its affiliate marketers. This law isn't applied that often, however, and as long as a merchant has made an effort to ensure that affiliates abide by it, they won't be liable for any infringements.
Here's an example of how Amazon has done this:

This means you, the affiliate, are obliged to comply with the law if you want to be a part of the affiliate program.
What Makes a Privacy Policy for Amazon Associates Program Important?
Amazon has taken an explicit stance when it comes to privacy and the responsibilities that associates have. It also wants all associates to display a comprehensive privacy policy for Amazon Affiliates on all their website pages and blogs.
This privacy policy for Amazon Affiliates must be placed in an obvious and noticeable place, usually in a website's footer.
Any associates found to not be displaying this privacy policy or displaying a privacy policy that isn't written correctly or compliant could have their accounts terminated, resulting in the loss of all commissions.
What are the Requirements for a Privacy Policy for Amazon Affiliates?
Generally speaking, your privacy policy must follow these rules:
It must be easy to understand
A link must be posted in a place that's obvious and noticeable
It must inform people of their rights and how they can protect these rights
It must say if you're using cookies
Amazon Associates Program does not really have any special requirements that are outside of the usual privacy policy requirements list. Follow the usual best practices for writing a privacy policy and you'll be fine.
Do I Need a Lawyer to Write my Privacy Policy?
No, not necessarily.
Though we don't recommend it, it's possible to write up a privacy policy that includes all the necessary information by yourself. There's no specific format that you need to follow as long as you comply with all the necessary legal requirements.
With that said, you may still avoid paying high lawyer fees and get a high-quality compliant privacy policy with the online generator. This is substantially cheaper than paying a lawyer to write it for you and you'll still have an attorney-drafted watertight privacy policy that hits all the legal checkboxes.
Privacy Policy for Amazon Affiliates Examples
Below are three examples of Amazon Affiliates that follow Amazon's requirements.
Future plc
Future plc, the owner of websites including Tom's Hardware, has a section in its privacy policy called "What data do we collect and how do we use it?". Here, each area is given its own section to describe how information is collected and used: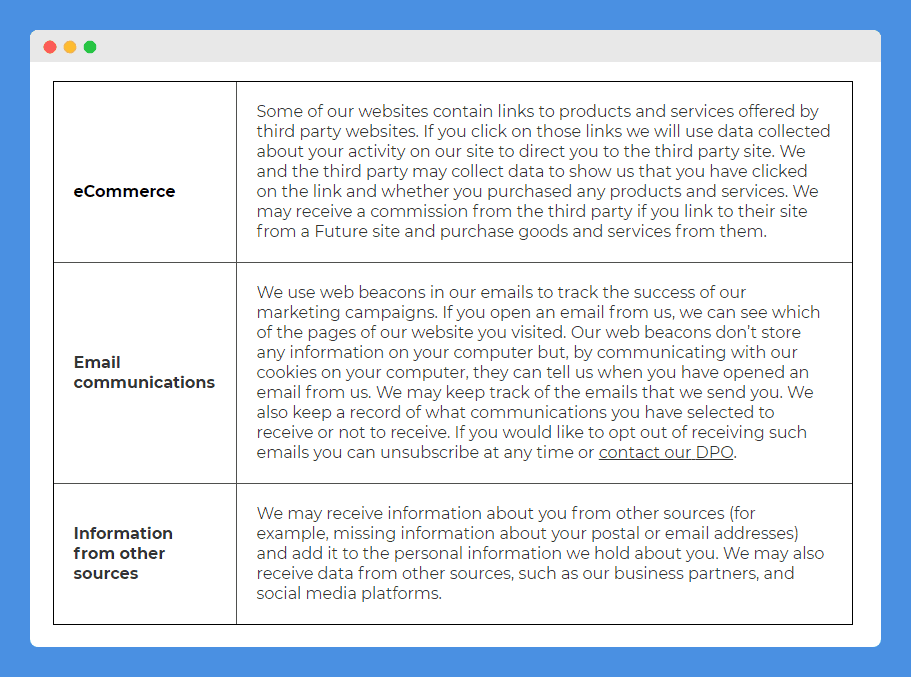 Vox Media
Vox Media lists all the information the company automatically collects, how it's collected, and where from. This privacy policy also describes the purposes the data is used for and includes other information including that about cookies: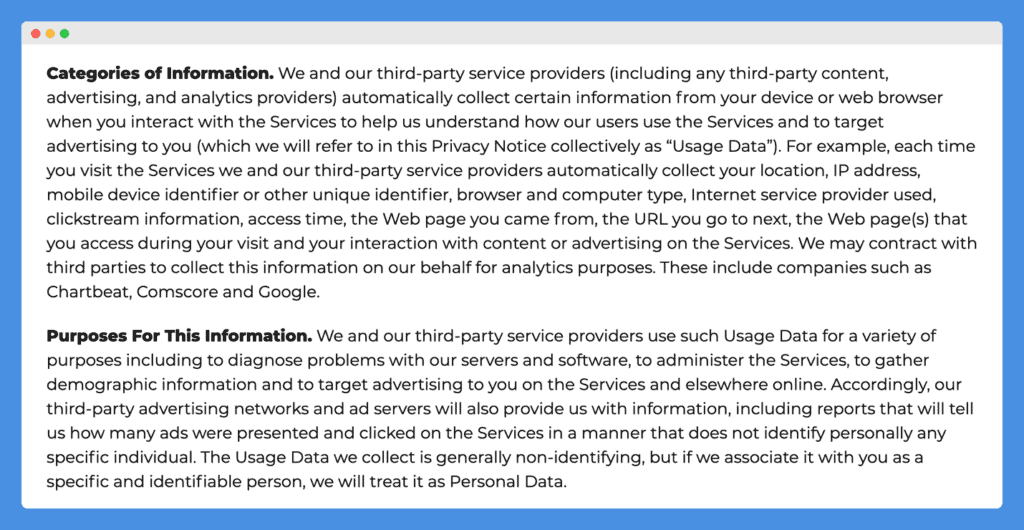 Lad Bible Group
UK digital media giant Lad Bible Group has a relatively short privacy policy but nevertheless, still contains all the important details you would normally want to have:

Always Make a Disclosure
Whether you're being paid a commission to effectively advertise a product is something that a consumer needs to know so that they're able to make an informed decision.
Thus it's always a good idea to be transparent and disclose everything about your eCommerce business, this way you can't fall foul of your requirements and risk being penalized.
Bringing Everything Together
Affiliate programs are fantastic for smaller businesses, content creators, and bloggers that want to generate a revenue stream without developing their own product or service. It allows full access to the world of e-commerce and benefits brands at the same time by introducing customers to products and services they otherwise wouldn't have found.
Today, there are millions of people who make full-time incomes through their affiliate marketing websites, blogs, and content. However, it's critical to pay attention to the terms and conditions whenever you're getting into something like Amazon Associates.
This is because privacy laws worldwide are getting stricter and are now far more developed than they have ever been.
As such, putting privacy first with clear, simple, and easy to find privacy policies is not only a smart business move but something that will help you achieve compliance and avoid any legal problems. It's now a prerequisite for many programs like Amazon Associates, and that's exactly why you need a privacy policy for Amazon Affiliates.