Privacy is a fundamental right and has become a hot topic with the rise of the digital age, with people knowingly, and sometimes unknowingly, sharing a large quantity of personal information online.
Regulating privacy is a challenge, with new websites popping up every day and customers located all over the globe, where privacy laws may vary from country to country.
If you're thinking about starting or already have an online business or just a simple website, you need to do your part by having an easily accessible and complete privacy policy agreement.
In this article, I will guide you through this seemingly complex topic.
You'll find a free privacy policy template you may download and use for your website as a starting point.
You'll also learn the best practices for creating trust and transparency with your customers and find privacy policy examples to see how other businesses become compliant with the laws.
KEY TAKEAWAYS:
Creating a robust privacy policy is essential for online businesses to comply with varying global privacy laws and regulations, build trust, and protect user information.
Your privacy policy should clearly state what data is collected, how it's used, security measures, and user rights for transparency, amongst other relevant topics.
Making the policy easily accessible and regularly updating it in accordance with your business and legal changes will ensure continuous compliance and trust with your users.
PRO TIP: Don't waste your time and take the guesswork out of the legal jargon with this personalized privacy policy generator trusted by over 150,000 businesses.
Free Privacy Policy Template for Websites
Privacy policy is a legal document and creating one may be intimidating for most people especially when it's so easy to make mistakes.
To simplify this task, you may use this sample privacy policy template for websites completely free of charge to give yourself a head start.
Download it in your preferred format and personalize it to your needs depending on where you're located, your audience and other factors discussed further in this article.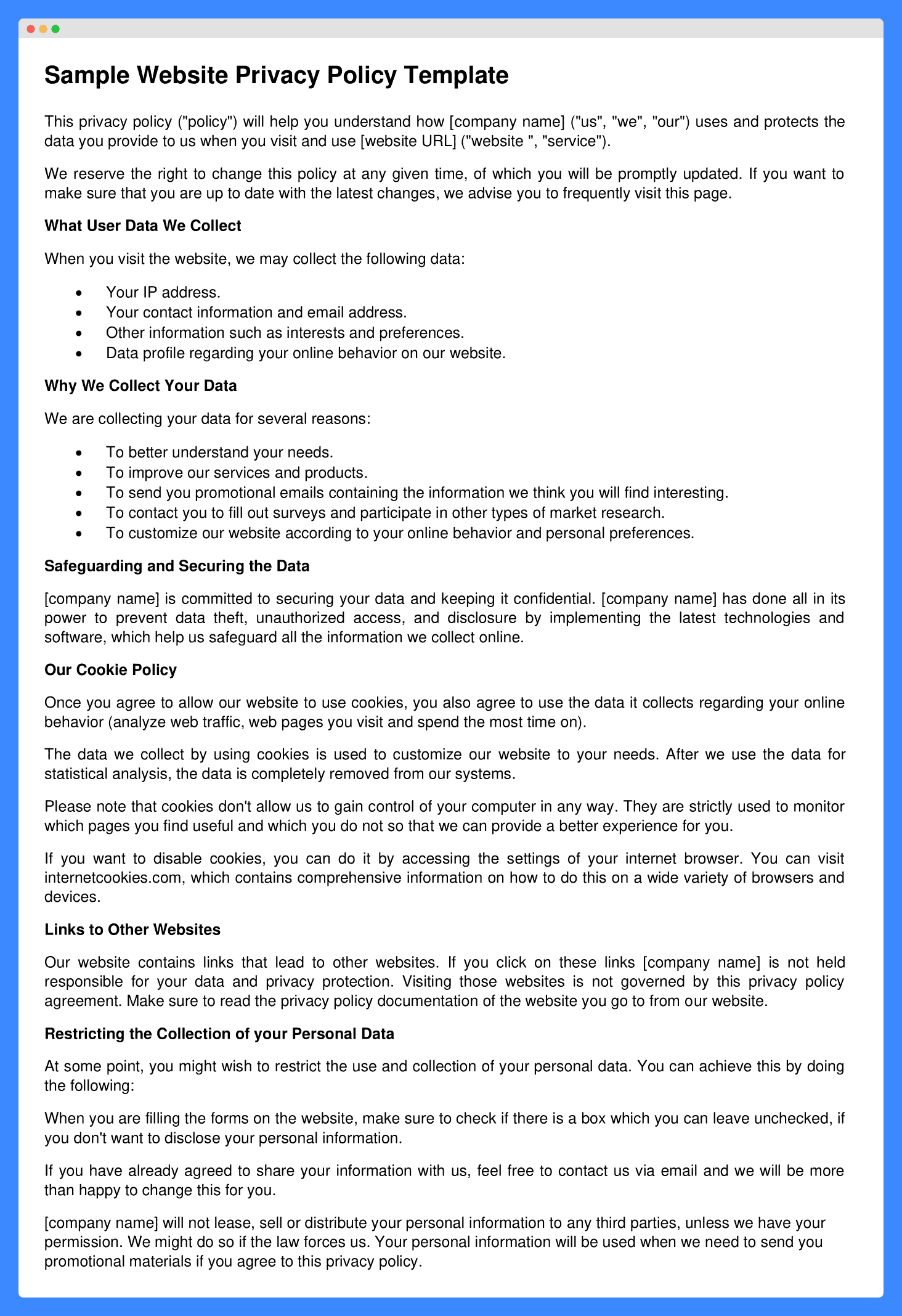 A Better Way to Create a Compliant Privacy Policy
If you're getting stressed just by trying to read legal documents let alone writing one, consider using a professional privacy policy generator to create a compliant policy for your website without breaking a sweat.
It'll automatically put together all the required elements based on your needs and requirements and keep it up to date with the ever-changing laws so you won't have to worry about it yourself.
PRO TIP: Though you don't have to, you may get the generated policy reviewed by a lawyer for extra peace of mind. It's going to cost a whole lot less and take much less time than having them draft it for you from scratch.
Why Do You Need a Privacy Policy For Your Website?
When you run a website, having a privacy policy agreement is more than a nice-to-have – it's often a must-have.
Let's look at three key reasons why you need a privacy policy for your business and website:
Compliance with the legal requirements
Meeting third-party service requirements
Increasing transparency and building trust
Compliance With the Legal Requirements
A privacy policy is required by law in many parts of the world as regulations are in place to protect people's personal information online. So having it on your website isn't just a good idea – it's a legal requirement.
Let's break down why that is and what it means for you.
In Europe, a law called the General Data Protection Regulation (GDPR) requires businesses to tell people how they're using their information.
If a company doesn't follow the rules, it could face a fine. And these fines can be quite large, up to 4% of the company's yearly income or €20 million.
In the United States, different states have their own data privacy laws.
California, for example, has the California Consumer Privacy Act (CCPA) and the California Online Privacy Protection Act (CalOPPA). It gives people who live in California specific rights about their personal information.
Canada's approach to online privacy is governed by the Personal Information Protection and Electronic Documents Act (PIPEDA). This law requires businesses to obtain consent when they collect, use, or disclose personal information.
Australia's Privacy Act 1988 sets out the Australian Privacy Principles (APPs), which regulate how personal information is handled, used, and managed.
Organizations covered by the Privacy Act must comply with these principles, including having a transparent privacy policy.
Other countries have their own laws too. While each law might have different rules, they all want businesses to be clear about how they're using people's information.
What does all of this mean for you? If you have a website that collects information from people, you need to have a privacy policy. This policy should explain what you're doing with the information. And if you don't follow the rules, you could get into legal trouble.
PRO TIP: Having a privacy policy isn't just about being open and honest with the people using your website. It's about following the law.
Meeting Third-Party Service Requirements
When you run a website, chances are you use third-party services. These are companies that help you with different things on your site. For example, you might use a service to help you process payments or track how many people visit your site.
Many of these third-party services have rules about privacy. They want to make sure that you're taking care of the personal information that people share with you. So it's more than likely that a privacy policy is required by the third parties you rely on.
Why do third-party services care about this? Well, they want to make sure that you're following the law. They also want to protect themselves. If you're not careful with people's information, it could cause problems for them too.
For example, if you use a third-party payment processor, they'll want to know that you're keeping people's credit card information safe. If you're not, and something goes wrong, it could affect their business as well.
So, having a privacy policy isn't just about your website and your users. It's also about working with other businesses and making sure everyone is on the same page.
If you don't have a solid privacy policy, most third-party services will refuse to work with you. That could make running your website more difficult if not impossible.
Increasing Transparency and Building Trust
Transparency is all about being open and clear. When people visit your website, they might be sharing personal information like their name, email, or even credit card details.
They want to know what you're going to do with that information. A privacy policy tells them exactly that.
By being upfront about what information you're collecting and how you'll use it, you show your visitors that you respect their privacy. It's like telling a friend a secret and knowing they won't tell anyone else.
Trust is key to any relationship, and it's the same with your website's visitors. If people trust your site, they're more likely to come back, buy something, or recommend it to others.
Think about your own experiences online. Have you ever left a website because something felt off, or you weren't sure if you could trust it? A clear privacy notice can help make sure that doesn't happen on your site.
PRO TIP: A privacy policy isn't a bunch of legal words on a page. It's a way to communicate with your visitors, build trust, and show that you're serious about protecting their information.
What to Include in Your Privacy Policy?
As you can tell by now, every website must have a privacy policy and clearly define various aspects of data handling. This includes detailing what information is collected, how it's used, and the measures in place to keep it secure among other things.
While different websites will have different policies, there are certain elements that should be included in all of them. This doesn't mean you can copy a privacy policy from someone else of course as you'll run into a whole bunch of issues down the road.
But it does mean that if you choose to attempt to write your own privacy policy, you should consider covering all of these topics so let's look at them more closely.
What Information Do You Collect?
When people visit your website, you likely collect different types of information. Some of it is personal, like names and email addresses. Some might be about how they use your site, like which pages they visit.
Personal information might be collected when someone signs up for a newsletter or makes a purchase. Information about how they use the site might be gathered through cookies, small files that track their activity.
This part of the privacy policy is where you tell your visitors exactly what your website collects. You need to be clear and specific.
If you're collecting names and emails for a mailing list, say so. If you're using cookies to see what products people look at, explain that.
Being open about what information you collect helps your visitors feel more comfortable. It's like inviting them into your home and showing them where everything is. They know what to expect, and that builds trust.
What Do You Do With the Collected Information?
Let's say you're collecting email addresses for a newsletter. Your users would want to know if that's the only thing you're doing with their emails, or if you're sharing them with other companies.
Are you using them to build a profile of their shopping habits? Or maybe you're using their browsing data to improve your website's design.
Whatever the purpose, it's essential to spell it out in your privacy policy. If you're using the information for multiple purposes, explain each one. If you're sharing it with other businesses, let your users know who they are.
By detailing exactly what you do with the information you collect, you give your users the control and confidence they need. It allows them to make informed decisions about whether they want to share their information with you.
How Do You Keep the Collected Information Safe?
When you collect personal information, such as credit card numbers or addresses, you must protect it from unauthorized access to avoid potential data breaches.
This means using secure technologies like encryption, which scrambles the data so that only authorized people can read it.
But it's not just about technology. If you run a larger business, you also need to have policies in place to make sure your employees handle the information responsibly.
This might include training on how to use the data and regular checks to make sure the rules are being followed.
Your privacy policy should explain these measures in a way that's easy to understand. You don't have to get into the technical details, but you should give a clear overview of what you're doing to keep the information safe.
Including this information in your privacy policy shows that you take security seriously. It reassures your users that you value their privacy and are working to protect it.
Is Your Website Intended For Children?
In this part of your privacy policy, you need to explain whether your site is intended for children, and if so, how you comply with the laws about collecting information from them.
For example, in the USA, you're required by law to get parental consent before collecting personal information from children under 13 based on the Children's Online Privacy Protection Act (COPPA). Other countries have similar laws.
If your site is not meant for children, you should state that clearly. If it is, you must detail the steps you take to ensure that you have proper consent from a parent or guardian before collecting any information from children under 13.
Parents want to know that their children's privacy is being respected and protected so it isn't just a legal issue but it's also but trust factor.
How Can Users Manage Their Information?
Firstly, your users should know that they can request access to the information you have about them. They may want to correct something that's wrong or just see what's there. You'll need to explain how they can do this.
Users may also want to delete their information or ask you to stop using it in certain ways. This is often referred to as the "right to be forgotten," especially in places where GDPR applies. Your policy should clearly lay out how users can make these requests.
Additionally, you might want to explain any tools or settings on your site that let users control their information directly. Maybe they can update their profile, change their email preferences, or opt out of certain types of data collection.
By detailing these rights and options, you explain users' privacy rights and provide them with the control and assurance they need.
Does Your Website Use Third-Party Services?
When you use third-party services, those companies may have access to some of the information you collect from your users. This could include things like browsing habits, purchase history, or even personal details like names and email addresses.
You should clearly explain if and how you use third-party services. You need to let your users know which services you're using and what information those services might have access to.
Some jurisdictions might even need you to link to the third party's privacy policy to comply with the requirements.
It's all about transparency and control. Your users have a right to know who else might be seeing their information and for what purposes.
By outlining your use of third-party services, you keep your users informed, uphold trust, and comply with legal obligations that may apply in your region.
Other Clauses in Your Privacy Policy
This is not an exhaustive list by any means as you'll likely need to include other clauses to ensure proper coverage with privacy laws around the world.
It can also vary greatly depending on your specific needs, industry requirements, and laws and regulations in your region.
If you choose to use our free privacy policy template above, be sure to personalize it based on these suggestions.
Where to Display a Privacy Policy on Your Website?
The placement of your privacy policy needs to be in locations that are easily accessible and visible to users, without them having to hunt for it.
First, create a dedicated page and post a privacy policy on your website. Once created, link to your privacy policy from various parts of the site.
Footer of your website
The most common place to place a link is in the footer of the website. It's standard practice and is often where users instinctively look.
Navigation menu
Including a link in the header navigation menu of the website can also be an effective way to ensure visibility. Some people might find it easier to locate at the top of the page, especially if they're actively looking for it.
Sign up page
In addition, you should consider placing links or references to the privacy page on sign-up or registration pages. If users are entering personal information, they should be made aware of the policy right at that moment.
Checkout page
The same logic applies to checkout or payment pages. If a transaction is taking place, users should have immediate access to information about how their data is being handled.
The main goal here is to provide multiple access points to your privacy page without overwhelming the user.
This strategy ensures that no matter how someone is interacting with your site, they can quickly and easily find the information they need regarding their privacy.
How Often Should You Update Your Privacy Policy?
There's no one-size-fits-all answer to how frequently you should update. It depends on the nature of your website and how often changes occur that affect privacy considerations.
Changes in your business operations, laws, or technology can and will require adjustments to how you handle personal information.
If you add new services, collect different types of data, or change how you share information with third parties, you must update your privacy policy to reflect these changes.
Monitoring changes in relevant laws and regulations, and revisiting your privacy practices at least annually, can be a good approach to ensure it remains appropriate and compliant. If significant changes are made, notifying users may also be a required step.
Updating isn't just about complying with the law. It's also about maintaining trust with your users. People need to know that the information they read in your privacy policy is current and accurate.
Privacy Policy Examples You Can Learn From
Here are some good privacy policy examples from different industries and website types to give you a better idea of what kind of clauses your own company's privacy policy has to include.
Robinhood
Commission-free trading platform Robinhood needs to have a strong privacy policy in place, as it collects a lot of personal information from its users: from names to banking details, and addresses to social security numbers, the stakes are high.
They link to their privacy policy in the website footer which is common and is one of the recommended methods as explained earlier: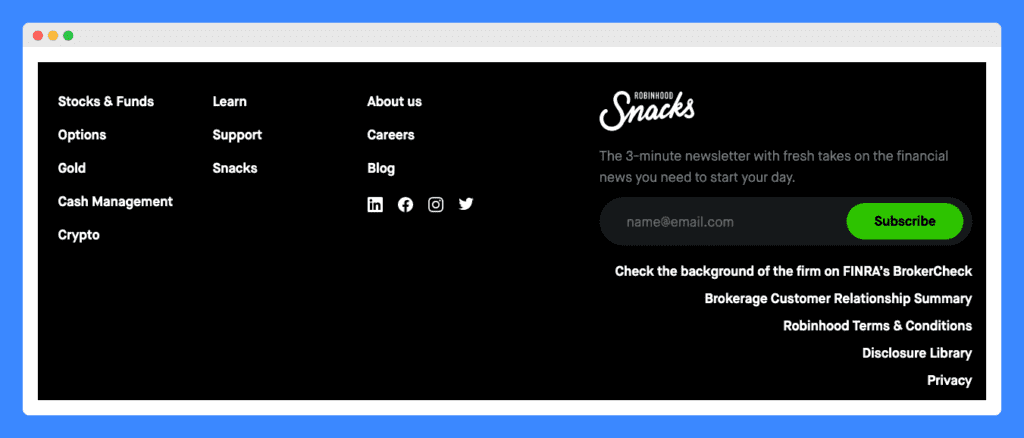 In addition to the typical information set out in this privacy statement, Robinhood warns its users that some personal information is automatically collected, including through the use of cookies.
In addition to the typical information that a financial institution needs to collect from its customers in order to allow them to trade securities, Robinhood warns its users that some personal information is automatically collected, including through the use of cookies.
That information includes location data, notably for fraud prevention purposes, and usage and device data in order to provide a better user experience and to aid in the targeted advertising of its services on other platforms.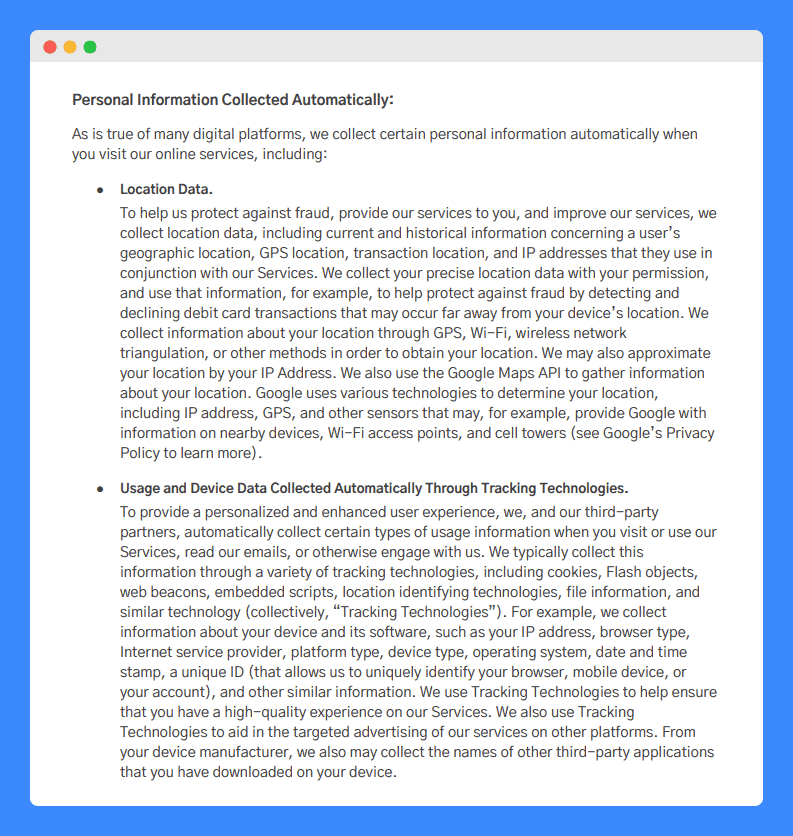 Robinhood also warns its customers that it obtains personal information from other sources and third parties, which it combines with the data that it has already collected from its users.
In other words, this gives the company a pretty good portrait of its customers: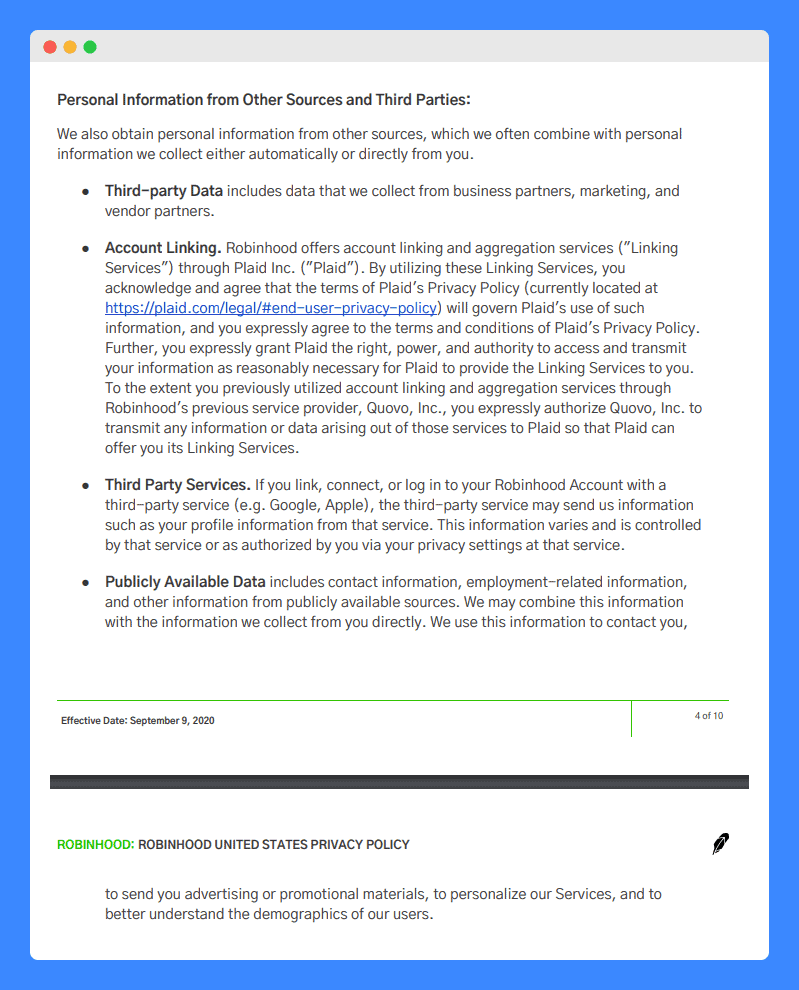 The company goes on to explain how it uses that information using easy-to-read bullet points and specifies under which circumstances it would share personal data with third parties, all while specifying that it does not sell or rent personal information.
Typical of a standard privacy policy, it lets users know that it allows third-party online advertisers, social media companies, and other service providers to collect information so that they may deliver targeted advertising and reporting, attribution, analytics, and market research services. It links to the companies' respective privacy policies (Google Analytics).
Keeping in mind that this company only operates in the United States, this is a good example of a privacy policy that has been tailored for a business that operates in a very regulated and specific industry, namely financial services.
Airbnb
Holiday rental platform Airbnb operates all over the globe and has customers located in various jurisdictions.
Its privacy statement can be found in the Help Center and can be accessed through a hyperlink in its website footer:

Their website users are also suggested to review the privacy statement along with other legal documents during the sign-up process to ensure their are aware of them: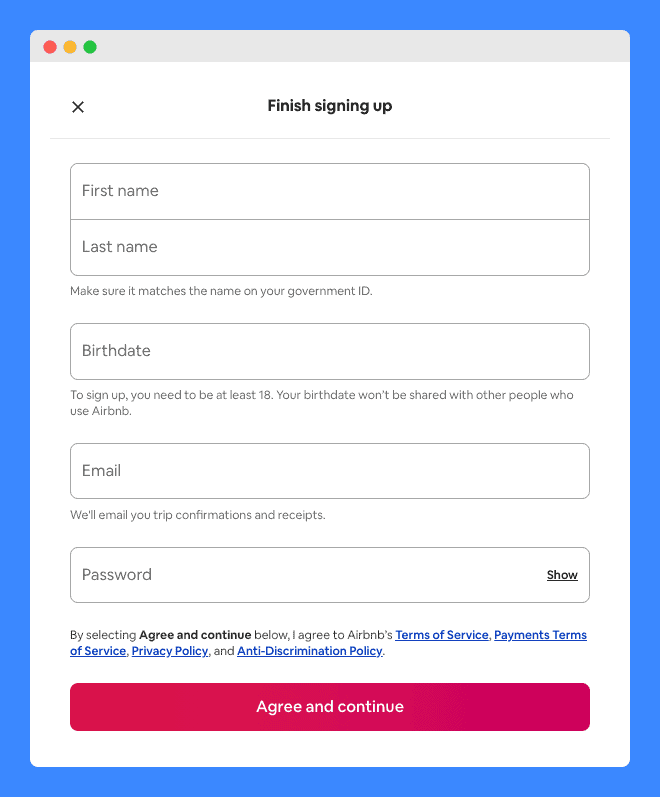 Its privacy policy itself is fairly straight-to-the-point. Unsurprisingly, Airbnb collects a large quantity of information from its users in order to be able to provide its services.
This includes names, phone numbers, postal addresses, email addresses, dates of birth, profile photos, photos of government-issued IDs, and payment information – and this is only the basic information required in order to be able to use the platform.
How Airbnb shares personal data is very specific to the nature of its business. Indeed, the policy states that information may be shared between members of the platform in order to facilitate booking and interactions.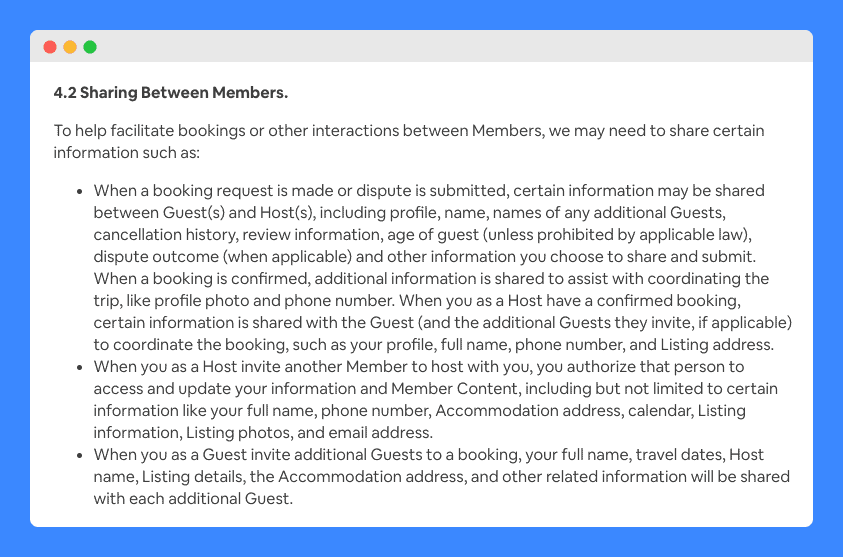 This makes sense, as it is essential in order for the hosts and the guests to be able to coordinate their bookings – but a good example of why you cannot simply copy and paste another website's privacy policy, as it may not well be applicable to yours.
Airbnb is transparent about how users can exercise their data subject rights and facilitates the process of submitting a request by having a dedicated page on its website, which is linked in the privacy policy.
Wayfair
Online furniture retailer Wayfair operates one of the biggest eCommerce websites on the Internet, shipping furniture to customers across the United States and internationally.
Reference to its privacy notice appears in its website footer, with a link to a separate, dedicated page:

Customers are also reminded of its existence during the checkout process as they are warned that by placing an order, they are agreeing to both the Wayfair privacy policy and terms of use: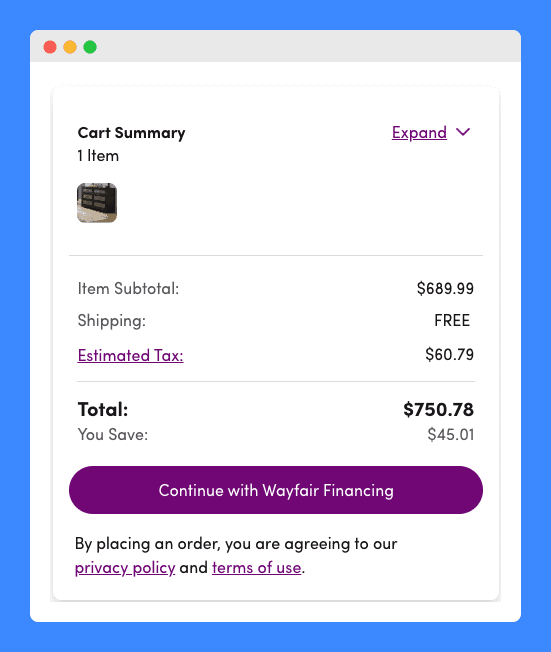 The privacy policy itself is fairly standard and includes most of the information we talked about earlier: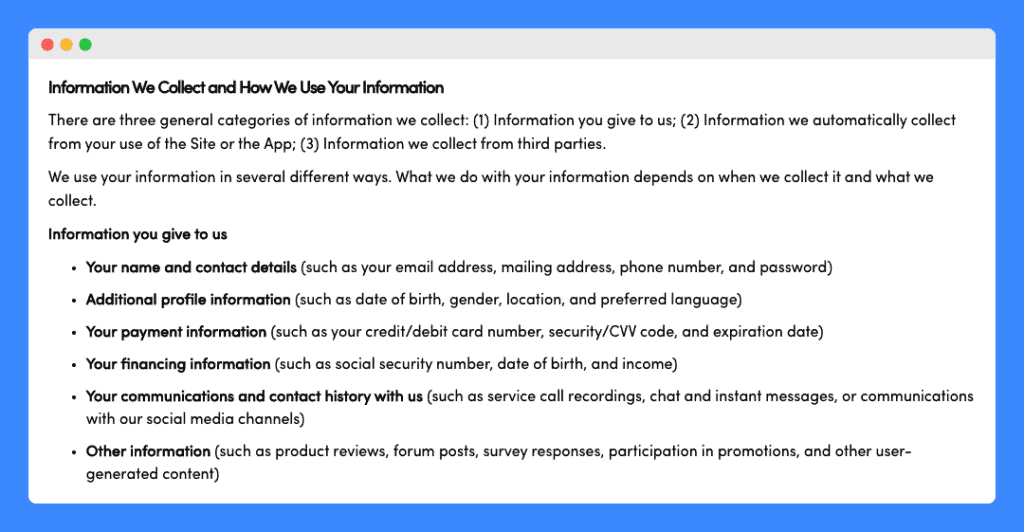 The company includes a statement in its privacy policy in which it addresses the security measures used to protect its customers' personal information.
They also encourage users to take reasonable measures to protect their passwords and prevent unauthorized access to their accounts.

It also warns customers that changes to the policy may be made periodically and as needed, with customers given notice of significant changes that could affect their information through the website, app, or by email.

Wayfair hosts its privacy policy and its terms of use on the same page which is not really ideal as it's too difficult to navigate through. I usually suggest keeping the legal policies separate to make it easier for your users and yourself.
Frequently Asked Questions
Why do I need a privacy policy on my website?
A privacy policy is legally required to comply with data privacy laws and regulations and third-party requirements, it also helps build trust with users.
What information should my privacy policy include?
As a bare minimum, your privacy policy must cover data collected, usage, security measures, children's rights, contact information, and the date on the policy.
Can a privacy policy help with legal compliance?
Yes, a comprehensive privacy policy is essential for complying with data privacy regulations in various countries and regions.
Is it necessary to disclose third-party services in the privacy policy?
Yes, transparency about third-party services and their data access is one of the key elements of a privacy policy to build trust and meet legal obligations.
What if I collect personal data from children under 13?
If your site is for children, comply with relevant laws like COPPA, and ensure proper consent from parents or guardians.
How does a privacy policy enhance user trust?
By clearly stating data collection and usage, users feel assured that their privacy is respected, building trust.
Can I copy a privacy policy from another website?
No, copying without permission is considered plagiarism, not to mention that different websites have different privacy requirements.
How should I display my privacy policy on my website?
Once you publish a privacy policy page, link to it in the footer, header, sign-up, and payment pages to ensure easy access and visibility for users.
How often should I update my privacy policy?
You should review and revise your privacy policy document at least once a year to reflect changes in business operations, laws, and technology.
Can I use a privacy policy generator?
Yes, a privacy policy generator automates compliance, tailors to your needs, and stays up-to-date with changing laws which is much more efficient than writing your own privacy policy from scratch.