Being clear and transparent about privacy practices isn't just a legal obligation – it's an ethical imperative. The placement of your privacy policy can have substantial impacts on user trust and compliance.
From the moment a user enters your website or launches your mobile app, to the points where they interact with your content, there are opportunities to affirm your dedication to privacy.
So if you're not sure where to put a privacy policy on your website, keep reading. I'll list and explain the common placements, exploring their advantages and how they contribute to building a transparent and accountable online presence.
I'll also list a few mistakes many businesses often make when publishing their privacy policies and how to avoid them. Let's start.
KEY TAKEAWAYS:
Privacy policy placement matters as it impacts user trust and compliance. Consider a dedicated page, footer, header, sign-up forms, and checkout pages.
Some common mistakes that can lead to legal issues and mistrust include hidden placement, lack of consent, omitting key areas, and ignoring accessibility.
If the design of your website or app changes, you should revisit existing privacy policy placements to ensure they're still easily accessible.
PRO TIP: Don't waste your time and take the guesswork out of the legal jargon with this personalized privacy policy generator trusted by over 150,000 businesses.
Where to Put Privacy Policy on a Website?
When it comes to publishing and linking to your privacy policy, you have a few options to choose from. Below are some of the most popular ways for you to consider.
Create a Dedicated Page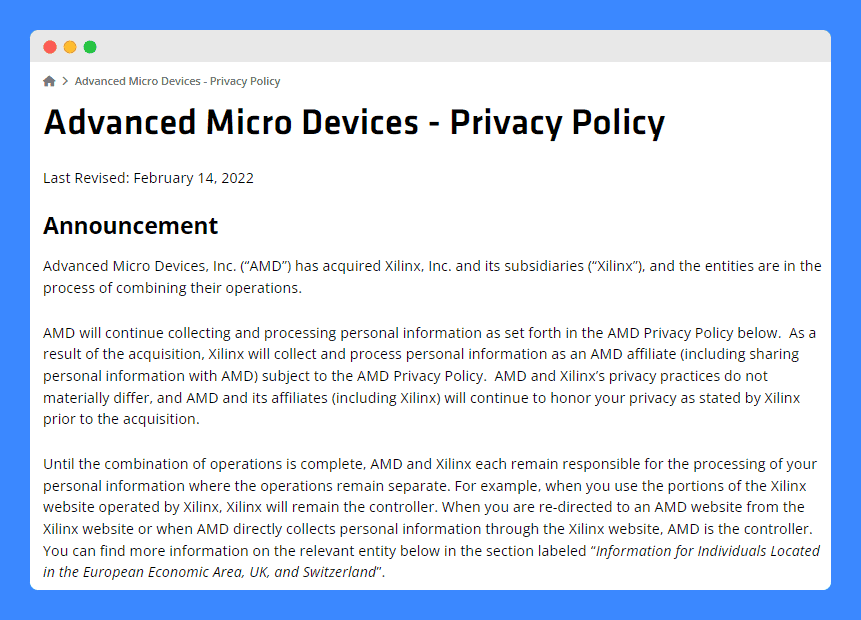 The first step you should take is to create a dedicated page for your privacy policy. This way, it'll be easy to link to it from various places on your website and just as easy for your users to refer to it if they want to get familiar with your privacy practices.
Website Footer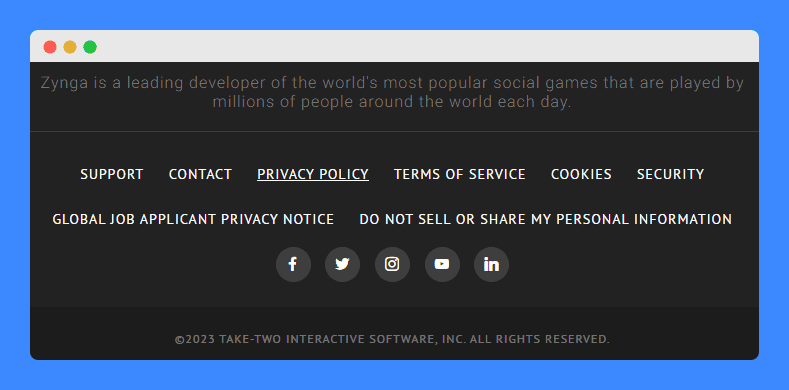 Placing a link to your privacy policy in the footer is standard practice for many websites. Users often look in this area for legal information and site policies.
By including a clear and concise link to your privacy policy here, you ensure that it is consistently available on every page.
Additionally, this placement doesn't intrude on the main content, providing an unobtrusive way to maintain transparency with your users.
Header or Navigation Menu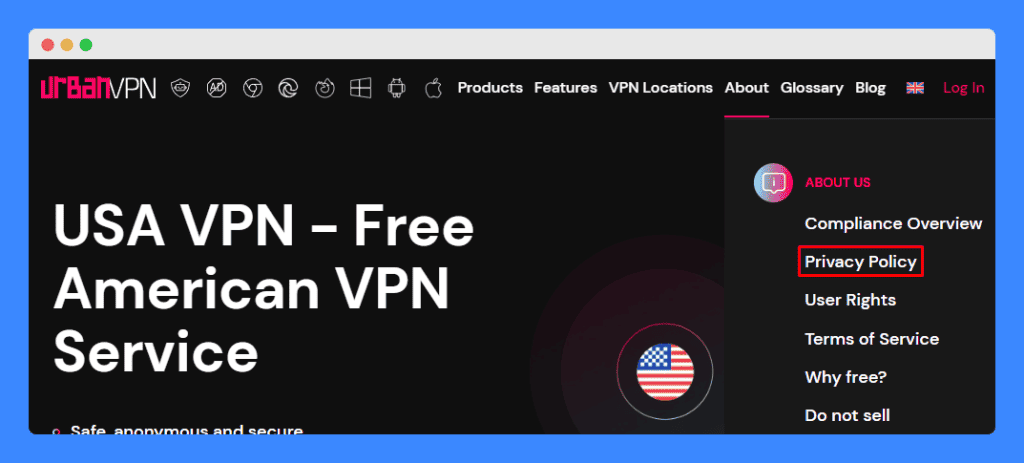 This option ensures high visibility. By placing the link to your privacy policy in the header or main navigation menu, you provide immediate access for users who want to know more about your data collection practices.
It may be especially fitting if privacy is a key aspect of your brand's identity or if you handle sensitive information that requires clear and upfront disclosure. It's also handy if your website has infinite scroll which makes it difficult or even impossible to view the footer.
Sign-Up and Registration Forms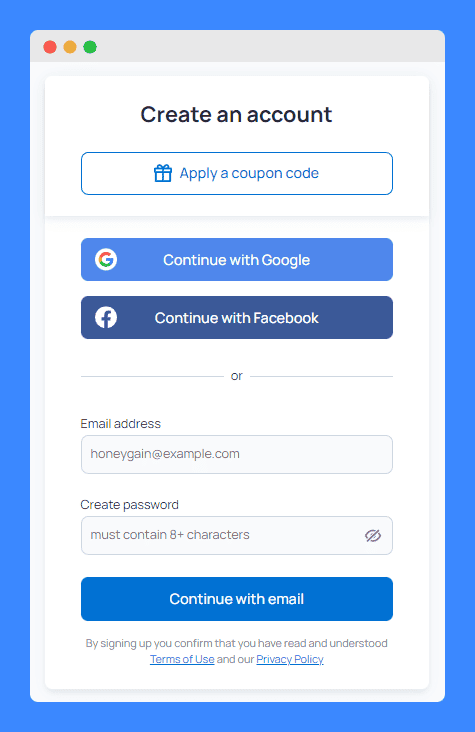 Embedding a privacy policy link during account creation or the checkout process can enhance user confidence. You wouldn't want them to wonder what you're going to do with the data they're about to provide, would you?
By detailing your data practices at this particular moment, you're providing transparency and can help reduce abandonment by reassuring customers that their data is safe.
Checkout and Payment Pages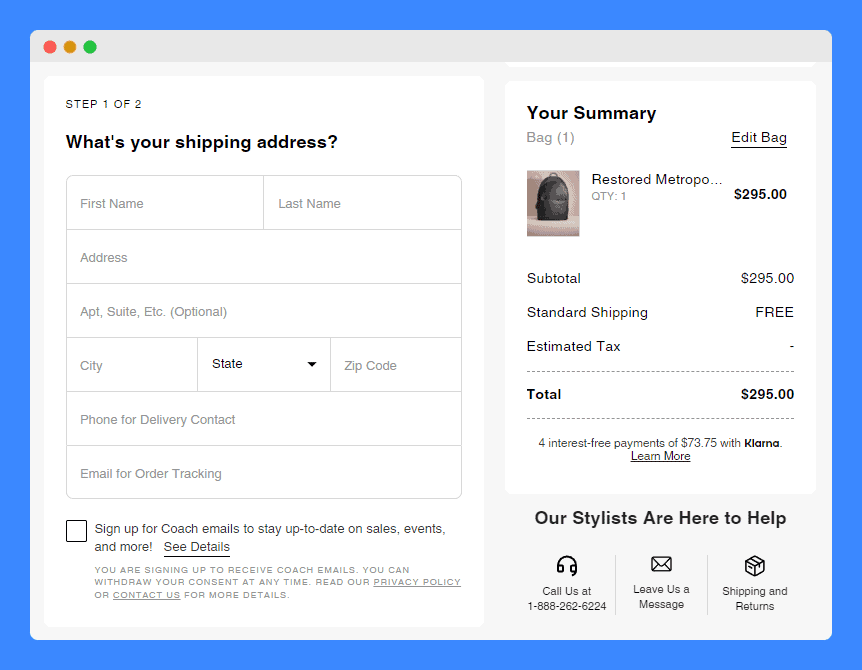 Integrating the privacy policy link into account creation or checkout processes provides an excellent opportunity to obtain informed consent as well. This placement allows you to make it clear what data you're collecting and how you plan to use it.
PRO TIP: By the way, in many jurisdictions, this type of clear and timely disclosure is not just good practice, but also a legal requirement. So even if you place a link to the privacy in the footer, it's a good practice to add it to the checkout and payment pages too.
Within a Cookie Consent Banner
Many jurisdictions require clear consent for cookie usage. Including the privacy policy link within the cookie consent banner provides a smooth way for users to understand why cookies are being used.
This builds a relationship of trust and ensures compliance with regulations like the GDPR.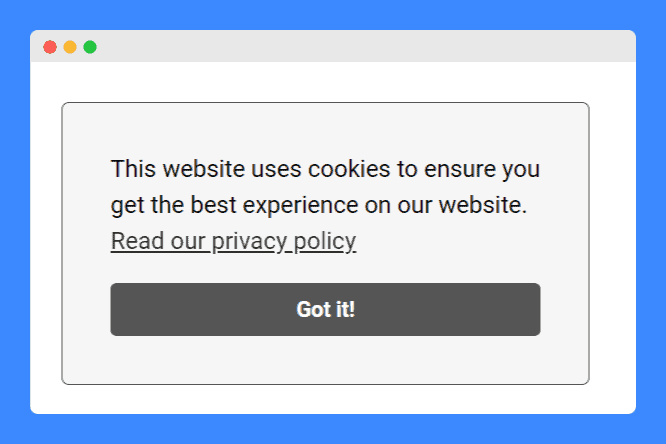 Terms and Conditions Page
Connecting the privacy policy with the terms and conditions page offers a comprehensive understanding of the legal aspects of using your site.
Users examining your terms may also wish to understand your privacy practices, making this a logical and user-friendly placement. Remember to always keep the user experience in mind demonstrating your commitment to data protection.

Common Mistakes You Should Avoid
As you work on creating a privacy policy for your website, it's important to ensure that it's accessible and clear for your users. Here are some common mistakes to avoid when placing your privacy policy on your website:
Hidden of Obscure Placement
When you hide or obscure the link to your privacy policy, you're not only frustrating users but potentially falling afoul of legal requirements. Many laws require that this information be readily accessible.
Placing the link in an inconspicuous location may create an impression that you're not fully committed to transparency. The accessibility of your privacy policy is a cornerstone of building trust with users, and hiding it away can erode that trust quickly.
Failure to Obtain Consent Where Required
Obtaining explicit consent for your privacy policy isn't just a nice-to-have – in many cases, it's legally mandated. When collecting sensitive information, such as financial details or health records, the user's clear agreement to your terms is often required.
A simple link without an associated consent mechanism can lead to non-compliance with laws such as GDPR, with potentially hefty fines and reputational damage.
Not Including it in Key Areas
The omission of a privacy policy link in key interaction areas, such as sign-up or registration pages, can lead to a significant lack of transparency.
These are the points where users are most concerned about their data, and failing to provide immediate access to your privacy policy can lead to mistrust.
Moreover, many jurisdictions require that users have easy access to the policy at these critical interaction points, making this a legal as well as a trust issue.
No Accessibility Considerations
In our digitally connected world, accessibility should be at the forefront of your design and development practices. Failing to make your privacy policy accessible to individuals with disabilities isn't just an oversight but could violate laws around accessibility.
Whether it's providing alternative text for images or ensuring that screen readers can interpret your content, inclusivity matters. Ignoring these aspects can alienate a portion of your audience and may lead to legal challenges.
Make Sure Your Privacy Page is Public
Hiding the privacy policy behind a login screen can be a significant misstep. Visitors to your website, whether or not they have an account, should be able to access your privacy policy.
By placing it behind a login barrier, you restrict access only to registered users, leaving potential customers or other visitors in the dark about your data practices.
This not only diminishes trust but may also conflict with regulations that require clear and open disclosure of privacy practices to all users, not just those who are logged in.
Frequently Asked Questions
Can I link to the privacy policy from more than one place?
Absolutely, you can and should link to your privacy policy from multiple locations on your website to make it more accessible to your users.
Can my privacy policy be located on a different website or app?
It's not recommended to locate your privacy policy on a different website as this can create confusion. Ideally, you want to place your privacy policy on the same website or app where your user is located.
Can a privacy policy be stored in a PDF document?
Yes, storing your privacy policy in a PDF document is a viable option. This format allows you to easily share the document with your users and maintain consistency across different platforms.