I'm sure you've come across legal agreements on different websites such as terms and conditions, terms of service, and terms of use, and thought they were all the same. Well, think again!
Although they might seem alike for the most part, there are some contextual differences you need to know so you can pick the one most suitable for your business and brand.
These types of agreements are contracts between you and your customers. They are meant to protect your business by controlling liability, protecting your intellectual property, and helping you enforce the rules of conduct for using your website or service.
By the end of this article, you will be able to identify the key distinctions between terms and conditions, terms of use, and terms of service and why you must use the correct terms when it comes to choosing your own.
KEY TAKEAWAYS:
Terms and conditions, terms of service, and terms of use are similar but suited for different business contexts.
All three agreements typically cover intellectual property, liability limitations, and dispute resolution.
The choice of legal term depends on your business nature, jurisdiction, clarity, level of detail, and branding.
PRO TIP: Don't waste your time and take the guesswork out of the legal jargon with this personalized terms and conditions generator trusted by over 150,000 businesses.
Terms and Conditions vs Terms of Use vs Terms of Service
There are no legal or material differences between terms and conditions, terms of use, and terms of service. However, the wording of each will vary to suit the unique situations of different businesses.
Let's go into a bit of detail to understand these terms better.
Terms and conditions state the conditions upon which a visitor engages with your business or your products and services. This document is commonly seen in businesses where there is no use of software products.
Terms of service agreements are commonly seen in Business-to-Business (B2B) transactions or in the policy of businesses that offer Software as a Service (SaaS). It provides the same functions as a terms and condition agreement in a traditional contract though.
Terms of use specify the agreement between everyone who visits your website or uses your app. The terms of use will state their responsibilities and protections, essentially listing what constitutes using and misusing the services or products you offer.
If your business activities involve user-generated content, software and support services, hosted services, or company-provided content, you will find the terms of use to be appropriate.
Why Are There 3 Terms for the Same Legal Agreement?
While these terms are more suited for certain types of businesses, they can also be used interchangeably. The most important thing to guarantee is that the intent of each policy you want to inform your customers of is consistently met.
Also, ensure that your legal agreements meet the required standards by providing adequate security while informing your customers of the rules of engagement on your website or app.
You must confirm that your selected term is used consistently throughout your website.
There are legally no implications for using any of the three terms interchangeably. Still, knowing that the term used for your business or service is legally and conventionally accurate assures a deep sense of security.
It is unsurprising to see businesses with similar services have different policy titles. This usage could have been borne by common practice in specific industries.
For example, Pinterest uses terms of service.

While Apple informs its customers of its contract terms through a terms and conditions document.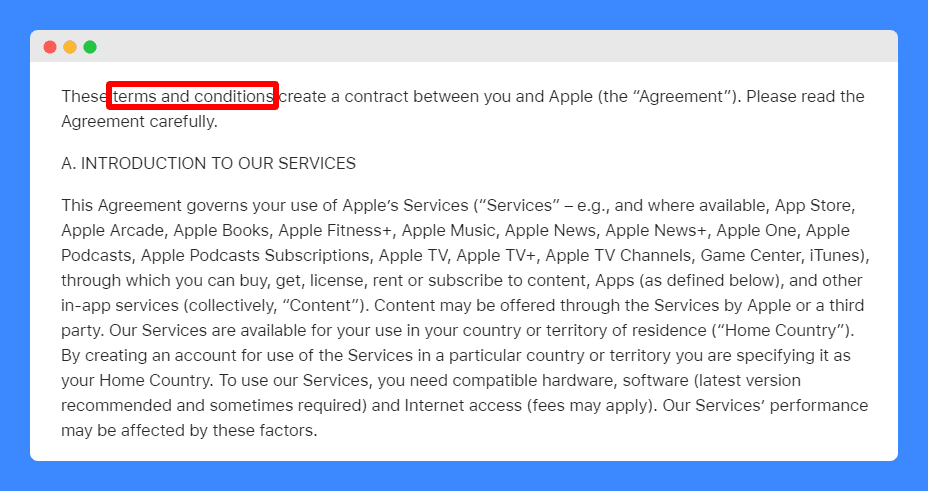 SurveyMonkey, in the same vein, informs its customers of the terms of use through a document titled Terms of Use.

These companies all use different titles to determine their terms of usage.
The difference in terms and titles of the legal documents can be a matter of preference and suitability for the product or business.
PRO TIP: While there is no hard and fast rule, remember that an excellently drafted policy will enable you to build trust and transparency with your customers which is ultimately the whole point.
Key Components of All 3 Agreements
The business policy containing your terms and conditions, terms of service, or terms of use are expected to contain certain elements that ensure the safe use of your website or application.
The following components are usually included in all 3 agreements:
Intellectual property
This clause is included in your terms and conditions and informs your customers of your rights to the logo, contents, and every other media displayed on your website or application. It warns customers of the prohibited usage of your content and spells out the protection it enjoys.
Limitations of liability
This clause serves as a disclaimer to the extent of your liability and warranties. This clause is presented clearly to your customers. It is usually displayed in an all-caps text to enable it to stand out on the document and ensure it is almost impossible for customers to miss.
Dispute resolution
This clause is inserted and used to specify how disputes arising from your customer agreement will be resolved. This could include mediation, arbitration, and reference through the courts subject to certain jurisdictions.
Severability
This clause is intended to state to what extent the unenforceable part of an agreement will affect the entire contract. Great care is ensured when drafting this clause to reflect the heart of the business. Experts, therefore, capture this clause to show parties are willing to delete unenforceable parts of an agreement and save the rest of the contract.
Changes and amendments
It is expected that your agreement will change with time as you learn more about your market and resolve new challenges. Your terms and conditions, terms of use, or terms of service agreement must contain a clause stating this fact and informing customers of how you will notify them of these changes.
This list is far from complete so you should keep that in mind when writing your own terms agreement.
Best Practices for Naming Your Legal Terms
To help you to make an informed decision on your choice of legal policy, here are some variables to consider while making this decision:
Legal Requirements
Your business will operate within certain jurisdictions, which significantly influences the choice of a business's legal policies.
Nature of the Business
In practice, some businesses use specific legal terms to notify customers of their contracts. A business offering subscription services may use "terms of service" to state its subscription terms.
In contrast, "terms and conditions" may be used by an e-commerce outfit to cover the economic exchanges on its platform.
Clarity and readability
Businesses are beginning to tilt towards clarity in their legal documents rather than couching them in legalese. Many customers may find "terms of service" or "terms of usage" simpler to understand.
Level of detail
While a business' terms and conditions may contain generic and specific information on the company's rules, terms of use or terms of service may contain less.
Branding
A business that wants to present a warm and approachable image may choose terms of use rather than terms and conditions, which sound more legal and official.
Conclusively, the legal document you choose should appropriately reflect your business's policies while conveying so in clear and concise terms to your consumers.
Frequently Asked Questions
Are these terms interchangeable?
In practice, these terms are interchangeable, however, one must understand the context of each to better identify what term should apply to your business needs.
Can I change the name of my terms agreement later?
Technically you can but I would strongly suggest against it to avoid confusing your customers so just stick to the term you chose initially.
Can I use a different name altogether for my terms agreement?
Yes, you can although it's not recommended for the same reason as above. Using a non-standard name may confuse your customers as they expect to see the traditional name when it comes to terms.