While they are not required by law, we have already established the importance of having detailed terms and conditions on your website and on your mobile application and of having your users agree to those before they use your services.
Not only will this help you maintain control over your website or mobile app by setting clear guidelines, but it could also well prevent misunderstandings and potentially help you limit your liability for damages suffered by your users.
PRO TIP: Don't waste your time and take the guesswork out of the legal jargon with this personalized terms and conditions generator trusted by over 100,000 businesses.
Sample Terms and Conditions Template
When it comes to what you should include in your terms and conditions or how you should be wording them, there are what could be considered standard clauses but, ultimately, you should always consider the particularities of your business and avoid using legalese.
This template could help you get a head start, simply adapt it to your business, taking into consideration the services or products that you offer and the risks and liabilities that come with those.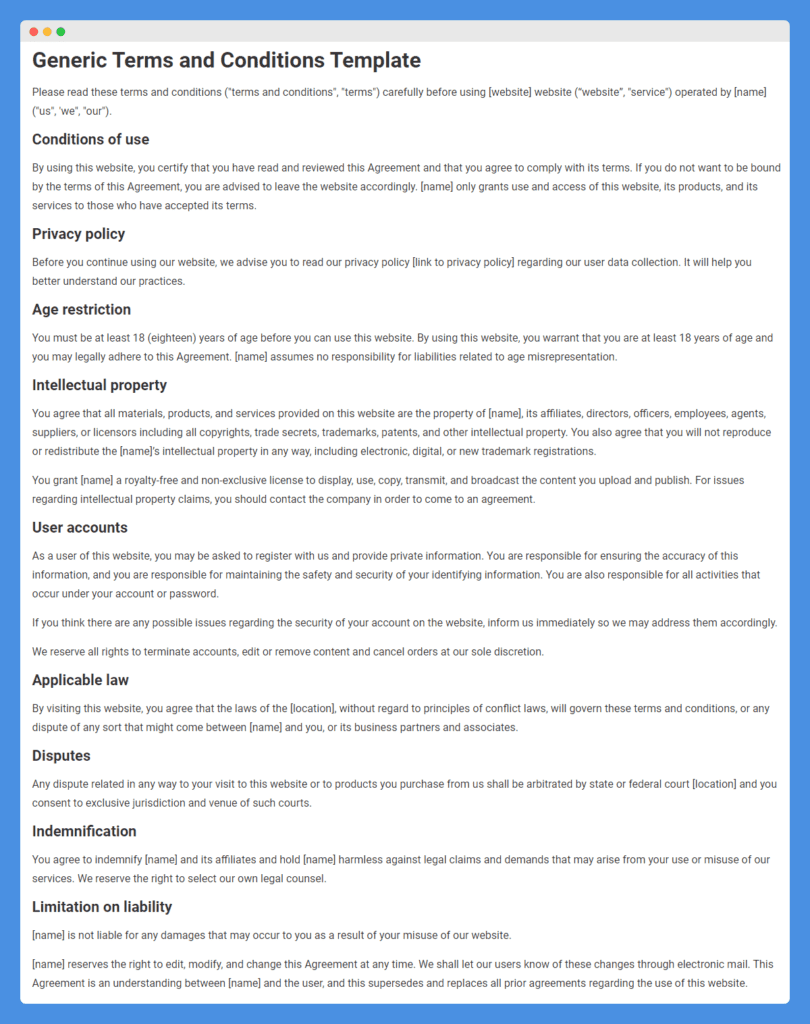 Terms and Conditions Examples
Here are some terms and conditions examples from different businesses and website types to give give you a better idea of what kind of clauses your own terms and conditions agreement should include.
Staples
Staples is an office supplies retailer, in addition to operating brick and mortar locations across the United States, it sells its products through its own online store. Staples' terms and conditions can easily be accessed through the website footer. Here are some examples of clauses included in those terms.
Usage Restrictions
Being an online store, Staples' terms and conditions mention that no one under the age of 13 years old should be using their website without their parents' consent – they also mention that they assume that everyone that continues to use their website is over the age of 13.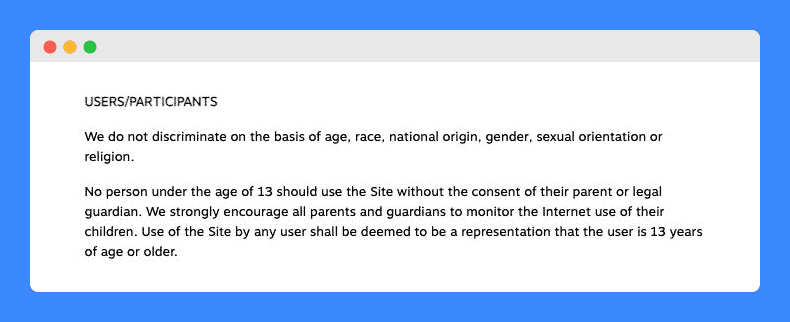 Copyright
It includes a copyright clause that reminds website visitors of their copyright and trademark ownership over certain elements as well as brings to their attention that the website itself as well as its materials (such as images, illustrations, posts, audio clips, taw, and video clips) are property of the company and thus protected by intellectual property laws.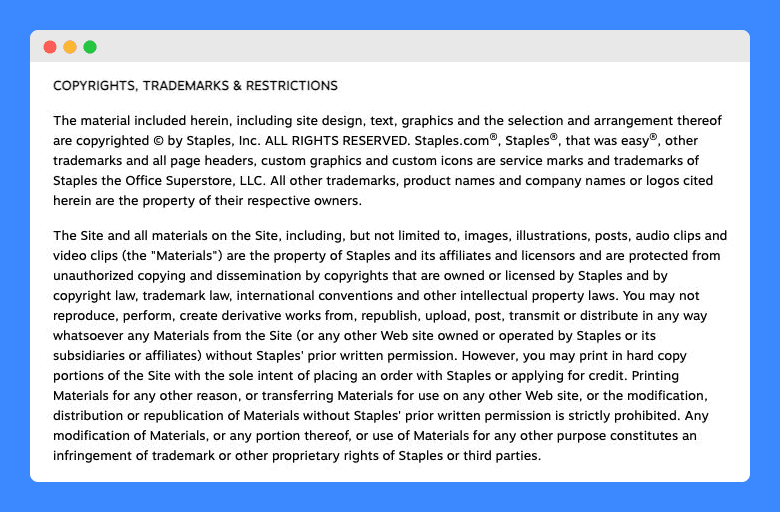 Errors & Product Discrepancies
Because Staples sells products both on its website and in-store, it includes a product and information clause that states that product availability and price may vary based on location.
Moreover, it states that while the company attempts to display its products on the website in an accurate manner, it cannot be responsible for any discrepancies in size, shape, and color as customers are viewing the website on their own computers.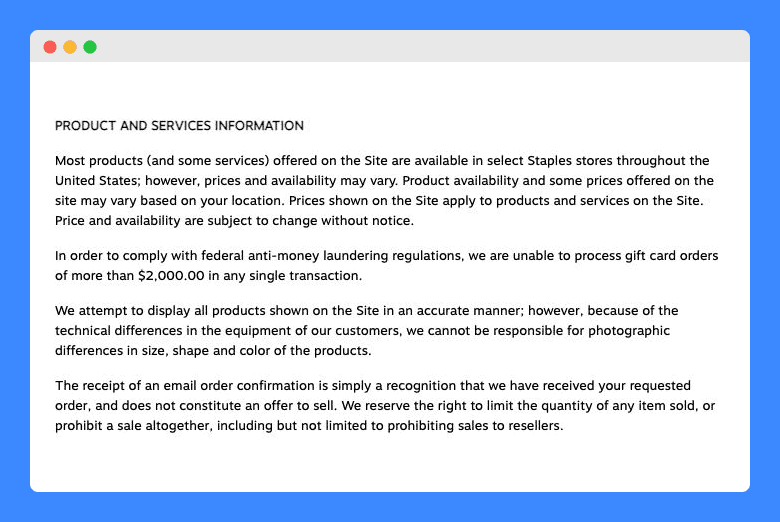 Similarly, it includes a clause that allows them to rectify any typographical errors, inaccuracies, or omissions – including regarding price – even after an order has been placed.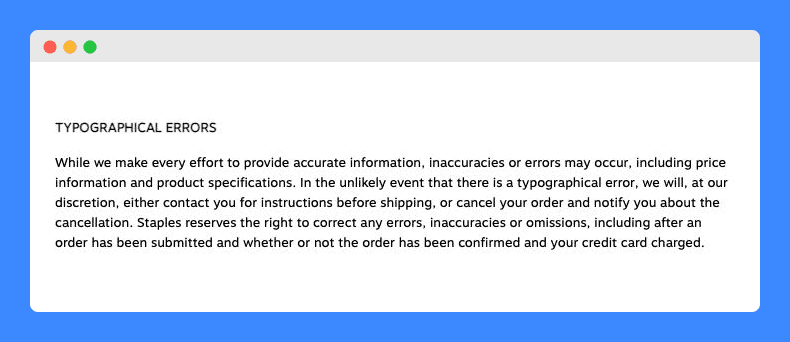 Links
Staples links to third-party websites which the company does not control – users are warned that, by clicking those links, they are accessing those websites at their own risk.
Furthermore, Staples mentions that, by providing a link, it does not endorse or accept responsibility for the content or use of that website.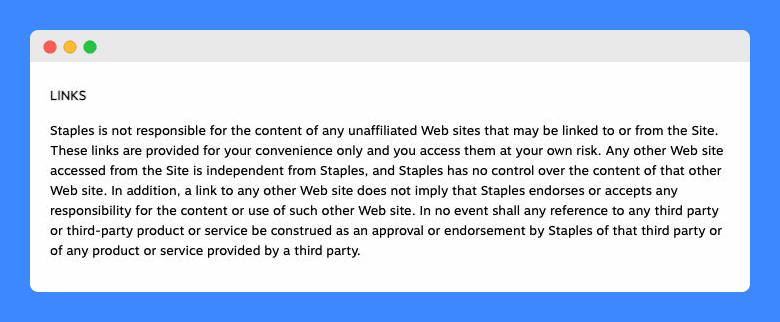 Other Policies
While Staples does not directly refer to its shipping or returns and exchanges policies, these are easily accessible through a side menu located next to its terms and conditions as well as through the Legal & Policies section of its website.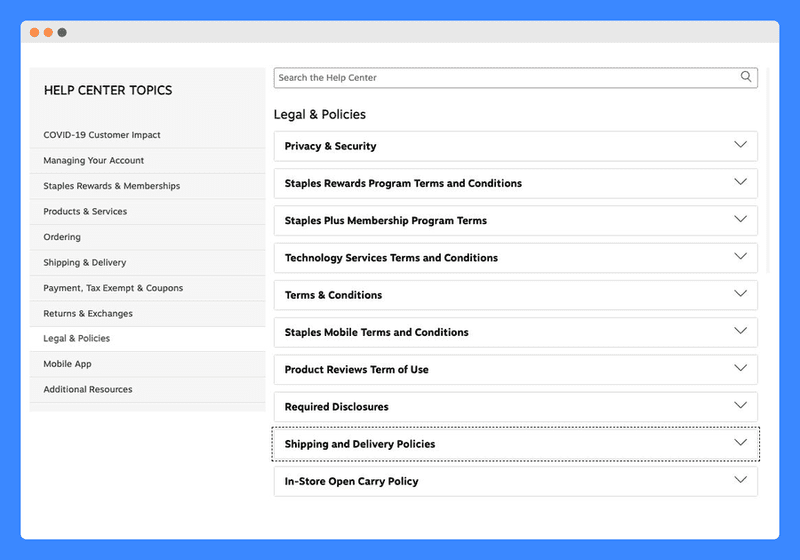 Note the existence of specific terms and conditions for its rewards, membership, and mobile programs as well as for the technology services that it offers.
Shopify
Shopify is one of the most popular eCommerce platforms on the Internet – powering millions of online stores located all over the globe. The platform is accessible through a web browser on which business owners can manage their online store. In order to have access to the service, users must pay a monthly plan subscription fee along with transaction fees.
Kudos should be given to Shopify for the readability of its terms of service – clauses are summarized in layman's terms next to the legalese, which makes it easy to find the information that you are looking for by quickly scrolling through the document. Note however that Shopify does state in the preamble that those summaries are not legally binding.
Here are just some examples of clauses included in Shopify's Terms of Service.
Limitation of Liability
Shopify includes a clause that specifies that the company is not to be held liable for any damages resulting from the use of or inability to use the service – keep in mind that Shopify powers an incredible number of online stores that could directly suffer a loss of profits if the platform was down.
Service is provided on an "as is" and "as available" basis i.e. at the user's own risk.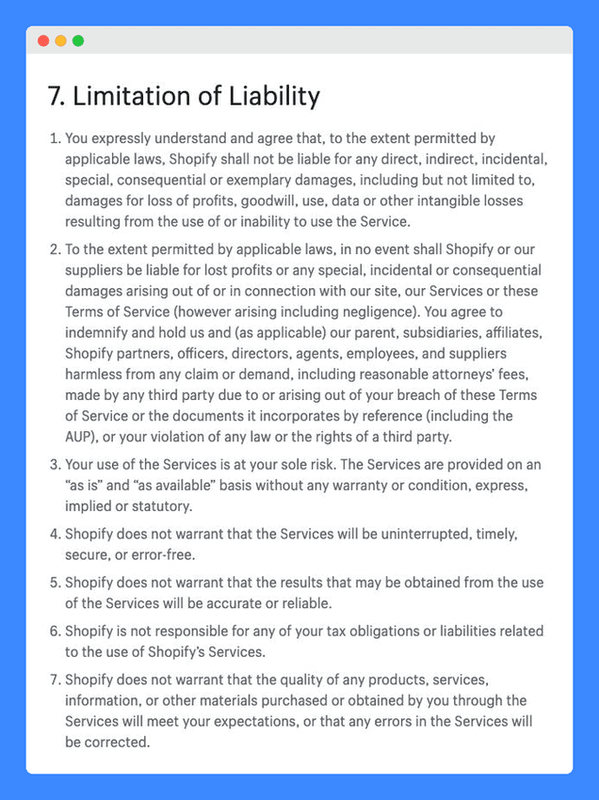 This is important for potential users to know before they choose to use Shopify as their eCommerce platform.
Intellectual Property
Shopify's intellectual property clause is a bit different as users upload their own content on their Shopify stores – therefore, the company confirms that users retain all intellectual property rights over their materials.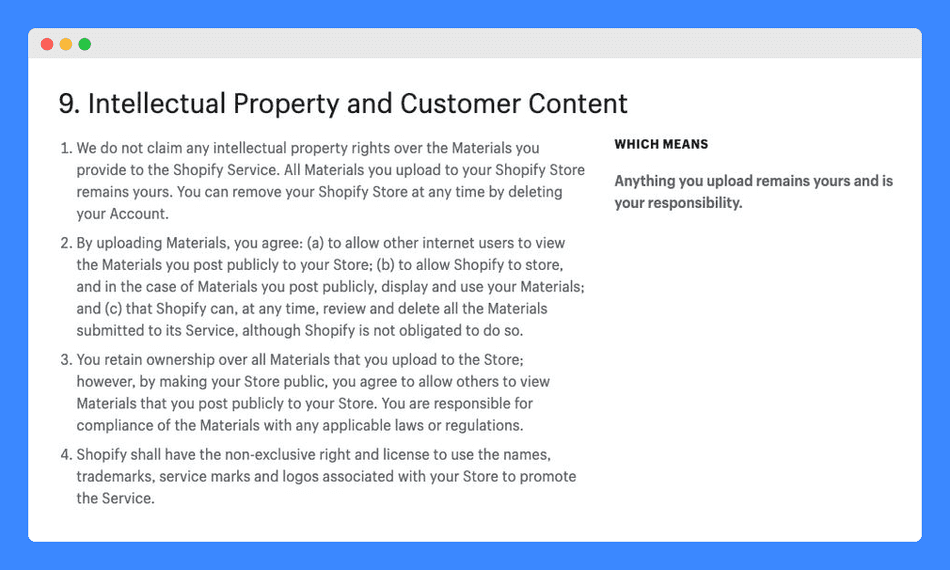 Note how Shopify reserves the right to use the names, trademarks, service marks, and logos associated with a user's store to promote its services.
Payment Methods
As mentioned earlier, users must select a monthly plan in order to be able to use Shopify to sell online. To that effect, Shopify includes a detailed "payment of fees" clause that sums up everything there is to know about the payment methods that are accepted and their billing practices. Here are some excerpts: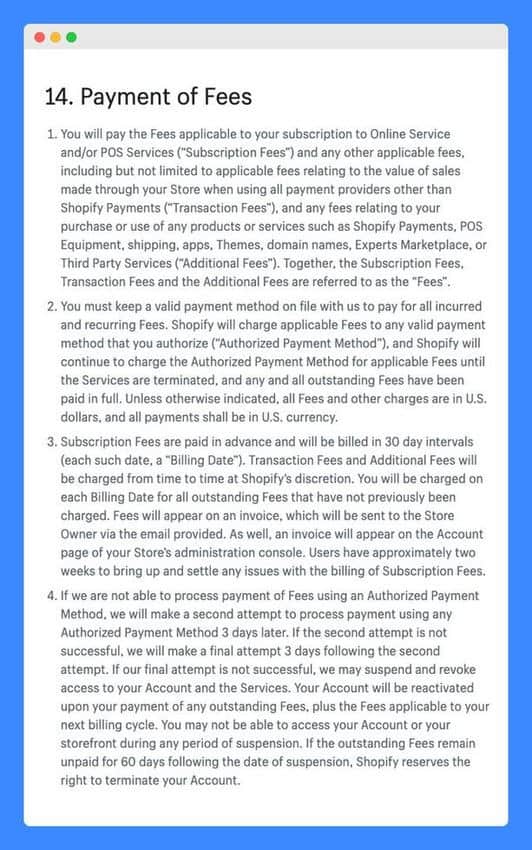 This clause notably specifies that a valid payment method must be kept on file in order to pay all applicable fees. It specifies that those fees are charged in US dollars and those subscription fees are to be paid in advance and are billed at 30-day intervals. Shopify will make three attempts to process fee payments before suspending and revoking access to a user's account and online store.
This type of information is important to mention in your terms and conditions as well as during the account creation process in order to avoid any misunderstandings with your users.
Account Cancellation and Termination
Shopify's terms include a clause that explains what happens when a user cancels their account or when the services are terminated by either party.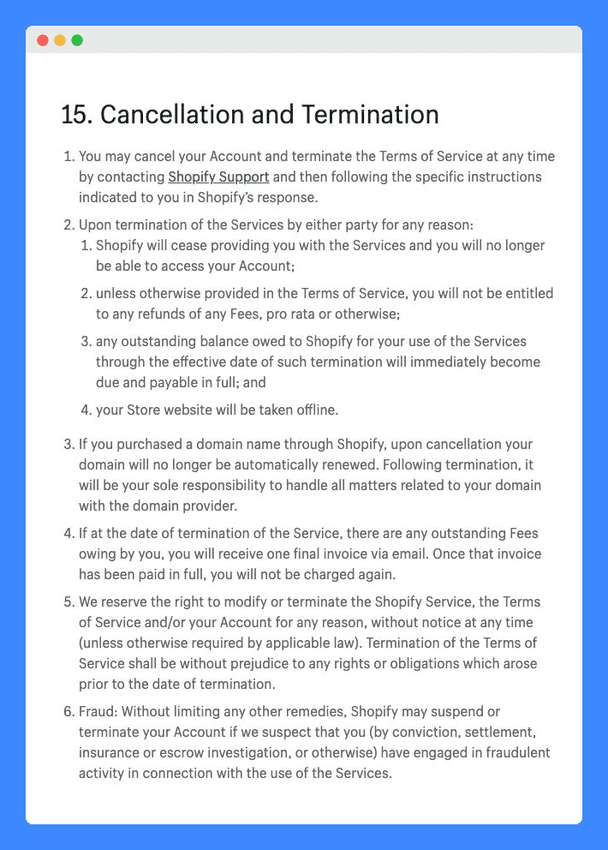 It specifically mentions that any domain purchased through Shopify will not be renewed upon cancellation, which is important for users to know as this is often a very valuable brand asset.
Note the handy hyperlink to contact the Shopify Support team who can provide assistance with the cancellation process.
Service & Price Modification
If you provide software as a service, you may want to include such a clause in your terms – this warns users that Shopify may change its prices at any time upon 30 days' notice and that it may modify or discontinue the service entirely with or without notice.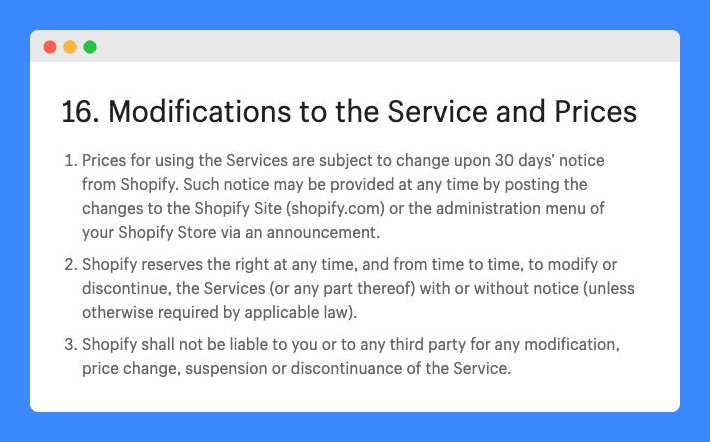 Software products are ever-changing and features are added and removed from time to time, which can justify price increases. In other cases, the software relies on a third-party's API which is not guaranteed to be forever accessible, thus it's necessary to warn your users of such possibility and give yourself some flexibility in your terms.
Peloton
Peloton sells high-tech home workout equipment such as bikes and treadmills, alongside which users are prompted to sign up to a rolling membership in order to access live recording or recorded guided workouts that are streamed directly on the machines' built-in screens. A mobile app is also available for download for people that wish to try the workouts without having to purchase the equipment.
Due to the nature of the services that they offer and the products that they sell, Peloton's terms of service are in-depth.
Age Restrictions
There is an age requirement to be able to purchase a Peloton membership, 18 years old or the legal age of majority, and another to participate in the classes themselves – 14 years old for the bike and 16 years old for the treadmill. But that's not all, the terms include additional requirements: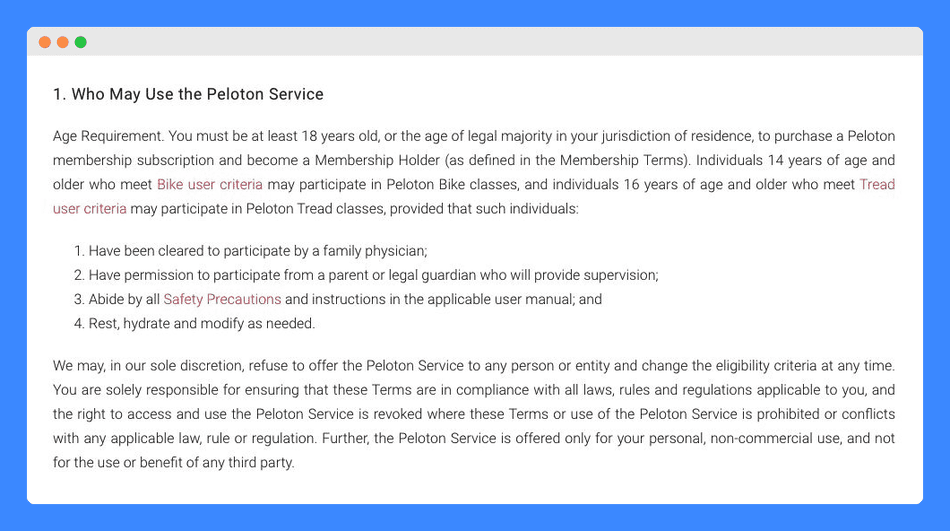 Note that this clause refers to "Bike User Criteria" and " Tread User Criteria' which are very specific in regards to whom can use the workout equipment: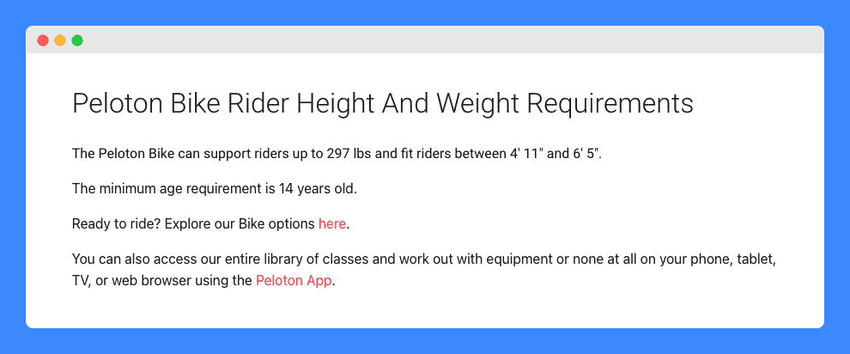 This is likely in place to protect the company should someone that doesn't meet their age and fitness requirements use their products and suffer damages.
User Content
Peloton users are die-hard fans of the brand and, as such, voluntarily share reviews and photos, and videos of themselves using the equipment. For that reason, Peloton has a detailed user content clause in its terms and conditions: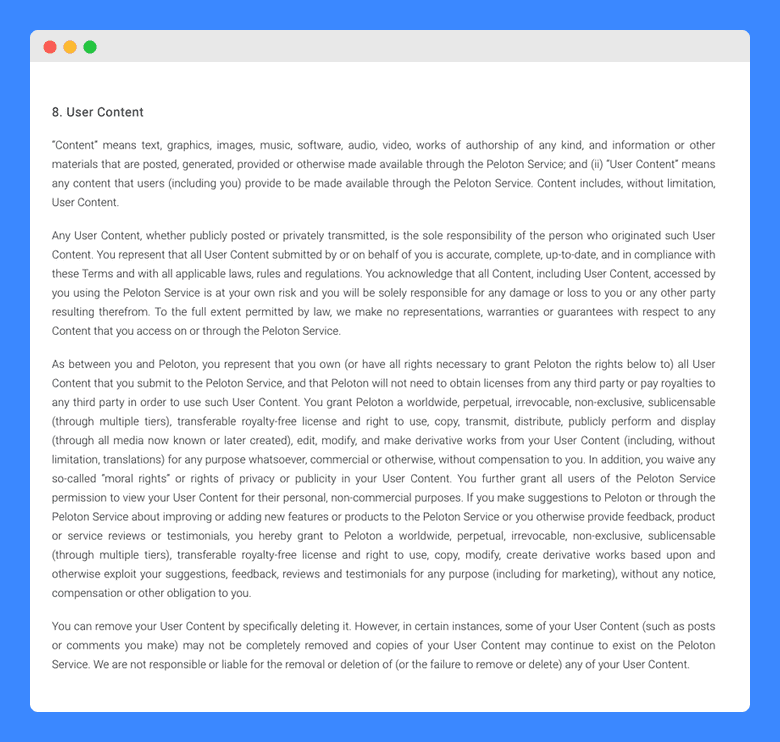 Note how Peloton reserves the right to use that user content for any purpose, commercial or otherwise, without compensation to the customer.
Moreover, Peloton also mentions that any feedback or suggestions that it receives about improvements or new features that could be added, testimonials or reviews can be used by the company for any purpose, including marketing, without having to compensate the user.
General Prohibitions
As you know, terms and conditions can be used to set guidelines in regards to how your website, app, or product should be used. Peloton has a clause that does just that. Here are a few examples of what the company prohibits: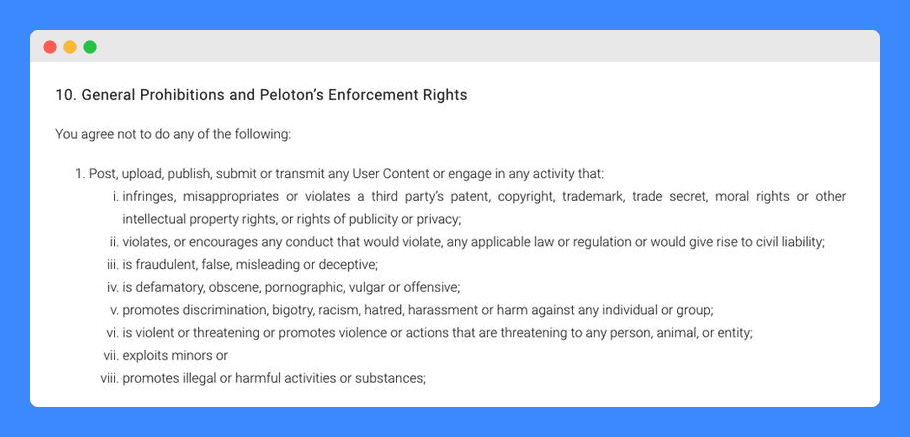 And the list goes on to include other reprehensible conduct such as trying to reverse engineer their software or collecting personally identifiable information from other Peloton users through the service without their express permission.
Note that Peloton mentions that it reserves the right to take down or disable access to user content that violates its terms.

Here is a great example of how terms can be drafted to take into consideration the particularities of a business:

Peloton has created a community of like-minded individuals, with people planning to attend the same virtual classes without knowing each other in real life.
To protect the company, Peloton states that they will not be held liable for any loss, damage, injury, or other that could happen as a result of a user interacting with a third party found on or through its services – those matters are solely between the members that met or found themselves through the platform (essentially, strangers).
Peloton mandates that all disputes are submitted to an arbitration process and, as part of the terms, users waive their right to bring a claim against the company through a class action: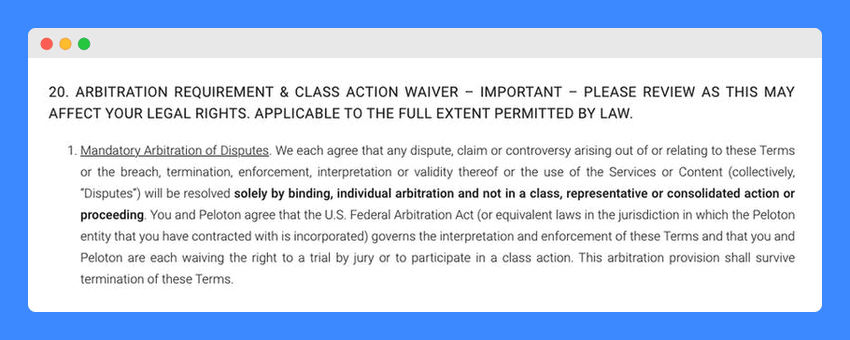 Peloton's terms of service incorporate a few other legal documents, policies, and procedures, which users are reminded of and invited to read by clicking the hyperlinks provided: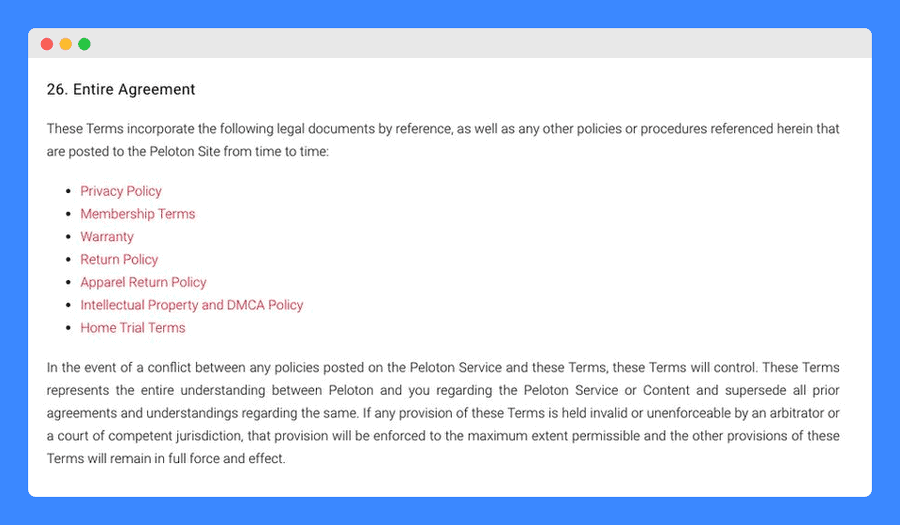 These are just some of the clauses included in Peloton's terms and conditions – if you operate a fitness company or any kind of application, this would be an interesting example to go through as it contains clauses such as disclaimers, IP clauses, safety warnings, and a force majeure provision, that could be of interest.
How To Draft Terms and Conditions For Your Website?
After thinking about how you would like your website or mobile app users to behave when they use your platform, defining the responsibilities of all parties, and identifying potential areas of liabilities, you are well on your way to being ready to draft your terms and conditions.
Our terms and conditions generator is a quick and easy solution that will allow you to have a customs agreement in a matter of minutes. Whether you operate a blog, an eCommerce store, or own a SaaS product, you will be able to include rules and guidelines tailored to your business.
Once you have drafted your terms and conditions, remember to set about reviewing them every few months to make sure that they remain up to date. And don't forget to notify your users of any changes to your terms, as they need to be fully aware of what their use of your product involves.