If you pay attention, you'll notice that most, if not all, of your favorite websites, have terms and conditions.
When launching an online business, it can be hard to understand why you need to spend time and effort creating terms for your users. Also, you might have no clue what to write and how to write it.
The good news? You don't need to be a legal expert to create these terms.
In this article, you'll learn the best practices for creating bulletproof terms and conditions and find examples of how other businesses legally protect themselves. We also put together a free terms and conditions template you may download and use as a starting point when writing your own.
PRO TIP: Don't waste your time and take the guesswork out of the legal jargon with this personalized terms and conditions generator trusted by over 150,000 businesses.
What are Terms and Conditions?
Terms and conditions outline what users can and cannot do with your website, products, and services. They lay out the rules to protect you in case of misuse and enable you to take action if it becomes necessary.
It's also referred to by other names such as terms of service (ToS) and terms of use (ToU). Even though they have different names, in fact – there is no difference. Any of these three terms (sometimes even referred to as user agreement) basically refer to the same document.
In order to use your website, products, or services, your customers usually must agree to abide by your terms and conditions first.
Are Terms and Conditions Required by Law?
No. You aren't legally required to have a terms and conditions agreement on your website. However, having terms and conditions is a good practice as it sets the "house" rules for everybody and creates a safer environment. This is especially important in some western countries where frivolous lawsuits are somewhat of a norm.
The bottom line, if you want your online business to thrive and be legally protected, this agreement will go a long way and may come in very handy when you least expect it.
Why Does Your Website Need Terms and Conditions?
While they are not legally required, terms and conditions set the stage for any successful business relationship. By making it clear and putting these guidelines in writing, business owners can avoid misunderstandings with their customers.
It also allows you to decide what you consider acceptable and which type of conduct could lead you to terminate a relationship with a user.
For example, if you have rules as to what type of user-generated content can be shared on your website, and someone posts something that goes against these, then you would have a leg to stand out should you decide to take that content down.
It can also help you limit your liability in regard to some situations, which could reduce the likelihood of facing lawsuits or reduce the damages that you would have to pay should it be demonstrated that your user was aware and had agreed to your terms.
When drafted properly, it allows you to maintain ownership and control over your website, products and services, and can help in maintaining a positive and pleasant relationship with your users as they will be aware of what constitutes acceptable behavior.
Not only that, it can address a lot of the questions that users may have and for which they would have reached out to you for an answer, effectively saving you time and resources.
What to Include in Your Terms and Conditions?
Terms and conditions should always be drafted with the particularities of your business in mind.
The first step when thinking about drafting these terms should always be to identify the risks and liabilities associated with your business or website in order to better address them in your terms.
Here are some clauses which are considered standard in terms and conditions agreements.
General Conditions & Termination
It is your website, therefore you can decide how it should be used.
It is common to see terms and conditions which include a list of prohibitions or general guidelines to be followed by users. These can be broad, such as stating that your services are not to be used for illegal or unlawful purposes or that users must not try to breach or test the vulnerability of your network or circumvent security measures.
If your platform is collaborative, meaning users are invited to share such as on a social media network, you could have a separate page with community guidelines, which you could link to in that clause.
You can reserve the right to terminate the contract or disable user accounts should there be a violation of any of your terms, guidelines, and conditions by including a termination clause – this is very common in the case of websites and SaaS applications.
After all, you want to be able to take action should someone misuse your product. You may even take a step further an create a detailed acceptable use policy to go along with your terms.
Copyright & Intellectual Property
While having an intellectual property clause won't guarantee that someone won't copy your work, it can certainly act as a good deterrent.
It also helps having a copyright notice that confirms and warns your users that the content on your website is yours and is not to be reproduced or re-used without your express permission. It re-affirms that you hold trademarks and ownership over certain elements of the website itself and over the products that you sell and should be a no-brainer.
DMCA Takedown Process
It is common practice to include a clause that explains how you process and respond to DMCA takedown notices.
You don't have to go into detail but you could summarize the important information, include a link to your contact form or email address, and link to your separate DMCA policy.
Products & Services
If you sell products online, you may wish to state that while you do your best to ensure that descriptions are accurate and colors adequately represented. You cannot be held responsible should there be discrepancies in size, shape, or colors with the products received by the customer as their computers may simply have been showing them differently.
The same goes for product availability. You could state that while you aim to ensure that a product for sale is in stock, you won't be held liable if there was a mistake and a product is sold out, in which case you reserve the right to cancel their order.
Similarly, you should recognize that errors do happen and you could, for example, give yourself the right to correct wrong information, such as prices, and to cancel or refuse to process an order that was made based on that information.
Your business may evolve along the way, therefore you may wish to include a sentence stating that you may add or remove features, products, or services from time to time without any prior notice.
Limitation of Liability & Disclaimers
Limitation of liability disclaimers is one of the main reasons why business owners take the time to include terms and conditions on their websites. When reasonable and drafted adequately, such clauses can help protect your business against claims and lawsuits and limit the amount of money that you would have to pay in damages.
While you cannot exclude your liability for just anything and everything, you could, for example, state that you will not be held liable should your users not be able to use your website or your product. This is important, especially if you offer a service or platform on which businesses rely on in order to operate.
It is common to see clauses that state that a service or website is made available on an "as is" and "as available" basis which means that a user's decision to use the service is taken at their own risk.
It's a good idea to have a separate website disclaimer that explains this and other related clauses in-depth.
User-Generated Content
If you allow your users to share comments or photos on your website or leave reviews of the products that you sell, you will want to have a section in your terms that governs their conduct and sets out what is acceptable and what isn't.
In this clause, you could reserve the right to monitor the user-generated content shared on your website and remove anything that goes against your guidelines. You could expressly ask your users not to post anything that contains obscene language or any material that could be considered harmful or violent or infringes on someone else's copyright.
You could also make it clear that you reserve the right to suspend or delete the accounts of repeat infringers. This will help you make your website a safe space where people can feel comfortable sharing their opinions, which is especially important if you operate a news site, blog, or forum.
From a business point of view, you could reserve the right to use the submitted content for marketing purposes which a lot of big box stores and eCommerce retailers do in order to promote products that get rave reviews. It's important for your customers to know that you plan on doing so, otherwise they could be surprised to see their words or photo used in a commercial!
Payment & Subscription Information
If you are selling products or services online, you may wish to specify the methods of payment that you accept, including your use of third-party payment providers if any (PayPal, Stripe, etc), and your payment terms.
Similarly, if you operate based on a subscription method, you should set out when payment will be taken and at what frequency.
Your customers should be able to refer to your terms to understand how they will be charged if they choose to cancel their subscription and when they will stop being able to access your website or services i.e. will it be immediately upon cancellation or will they have access until the end of the month.
If you offer a free trial period, you need to be clear with your users as to what happens at the end of that timeframe.
Will their credit card automatically be charged unless they cancel prior to the end date, and will it continue to be charged monthly unless they terminate their subscription? Will they still have access to what they have created during the trial period if they choose not to subscribe to your product or will their data be erased?
Writing this down in black and white can prevent bad surprises and, in the event that a customer is unhappy, you will be able to refer them to the terms and conditions that they accepted (provided of course that you diligently made sure that they were aware of them).
Links
If you, from time to time, link to other websites, you may wish to include a clause that lets your users know that this does not imply that you are endorsing all content on the third party's website and that you are not responsible for whatever happens when your users choose to follow a link and leave your website.
They should be considering the respective terms and privacy policies of these external websites.
Governing Law and Dispute Resolution
The beauty of the Internet is that it is far-reaching and accessible to people located across the globe. On the other hand, this can create a world of issues when disputes arise and need to be settled in court.
For that reason, you may wish to elect a governing law and a dispute resolution process. If your business is located in the state of California, you may wish to specify that any dispute that arises out of these terms and conditions or use of the website will be governed by the laws of that State.
You may also wish to subject all disputes to arbitration instead of going in front of the courts, in which case your users need to know so that they can make an informed decision before they start using your website or your product.
Contact Information
Any good policy should make it easy for users to contact the website or mobile application owner. Include your email and business address, as well as a contact form if you have one, and invite your users to contact you should they have any questions or concerns.
Updates & Notifications
Drafting terms and conditions is not a one-time thing. You will need to review these regularly to make sure that you keep up with any changes in your business or products offered as well as with applicable legislation.
Let your users know how they will be made aware of these changes. You could for example mention that you will update the date at the top of your T&Cs page in the case of minor changes but notify your users via email or a pop-up in your mobile app should there be any significant modifications.
If you want to spend more time on your business and less time drafting terms and conditions, use our terms and conditions generator. It will help you generate comprehensive T&Cs to protect your business, products, and services.
Where to Display Your Terms and Conditions?
Terms and conditions should be hosted on a standalone page of your website to make the information digestible for your users. It should link to your privacy policy to ensure that your website visitors know that it exists and applies, as well as to any other policies or guidelines that you have.
As a general rule, terms and conditions are made accessible through a hyperlink displayed in the website footer. This is good practice as it makes it easily accessible to website visitors and visible before they start navigating your website.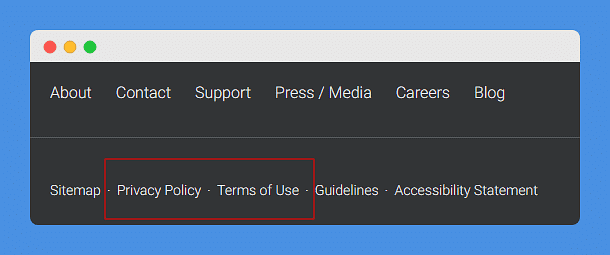 However, if you want to make sure that your visitors have read and accepted your terms and conditions, you should consider using a click-wrap agreement. This will allow you to retain the proof of acceptance, which could come in handy should you need to enforce those terms or should there be a dispute in the future.
How? You could have customers tick a checkbox or click an "I agree" button confirming that they acknowledge and agree to your terms during the account creation process or by using a pop-up that appears when they first land on your website.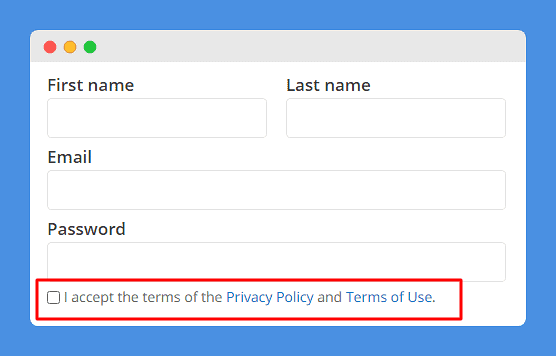 If you operate an online store, you could confirm their acceptance of your terms and conditions and privacy policy during the checkout process.
It is good practice these days to request affirmative consent from your users, so avoid using any pre-ticked boxes.
Terms and Conditions Examples You Can Learn From
Here are some website terms and conditions examples from different industries to give give you a better idea of what kind of clauses your own terms and conditions agreement has to include.
Roto-Rooter
One key clause in most terms and conditions documents deals with intellectual property rights. Here's an example from Roto-Rooter, a plumbing and water cleanup company with multiple service locations: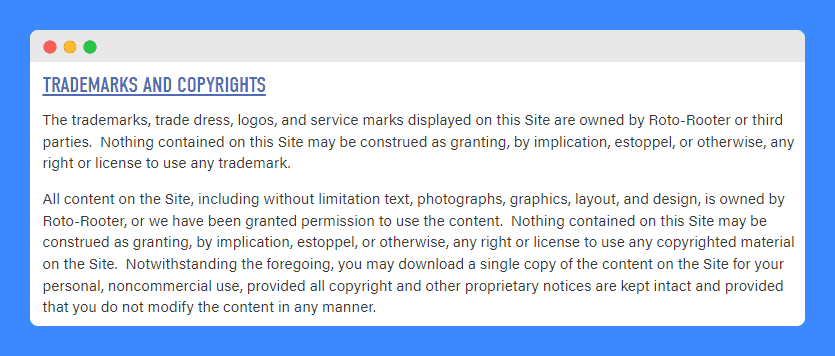 An intellectual property rights clause outlines the ownership of the materials that identify the business, such as its name, logos, taglines, and other similar elements. The goal of this clause is to establish whether other businesses or individuals can use your intellectual property and, if so, under which circumstances.
Keep in mind that to protect your work, you may need to copyright or trademark it. Simply including this clause in your terms and conditions might not be enough but will still certainly help with copyright infringement issues.
Serious Eats
Dispute resolution clauses are essential for businesses and online services. These clauses outline what happens in the case of a legal dispute with a user.
By agreeing to the terms, the user gives their consent to resolving disputes by following a specific set of guidelines. Let's look at an example from Serious Eats, an online food blog: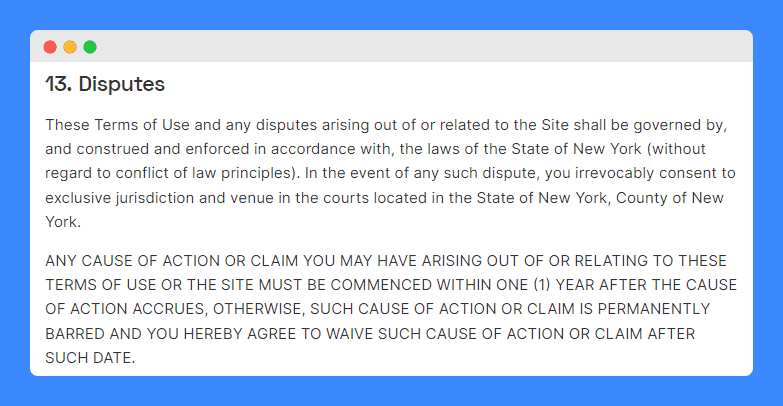 This particular clause states that disputes will be resolved in the jurisdiction where the business resides. Moreover, it gives users a timeframe in which to bring forth disputes before they become invalid.
It's important to understand that dispute resolution clauses need to be reasonable. If you include a clause that tells users they only have five minutes to bring forth a dispute, it's not likely to hold up in a court of law.
The Citizenry
Some businesses use content that users share with them as marketing materials. This may include sharing TikTok videos that feature your brand or showcasing customer reviews on your website.
This user submissions clause from The Citizenry explains that the company reserves the right to re-use the content that users upload to their site. The clause also discusses tagged content on social media. This means that when users tag the brand in a post, the brand gets the right to share that content:

Additionally, The Citizenry states that they don't pay royalties or provide compensation for user content. This means the company doesn't need to provide attribution to users that create content for the brand (although it's a good idea to do so!).
Leif Shop
Every online business needs to adjust prices periodically. This may involve increasing the cost of a service to end users, offering discounts during specific times, and more. Customers need to understand that you reserve the right to modify prices as you see fit.
This price modification clause from Leif Shop, which sells jewelry and home-decor goods, explains that the company can update product prices at any time:

Generally speaking, updating prices can be a challenge for SaaS companies. Users become accustomed to specific price points. If you change them, you might lose some of your customers.
Although this type of clause is perfectly valid, we recommend that you provide customers with notice if you plan on updating prices. That way, they'll have time to adjust to the changes before they come into effect.
Elna Cain
If you use external links on your site, it's important that you include them in your terms and conditions. The goal of the third-party links clause is to protect your company in case one of these external sites causes harm to users.
This sample of terms and conditions is from Elna Cain, a blogger and a freelancer. Cain is a professional freelance writing coach that uses her website to sell her services. The clause explains that the company isn't liable for the content you find on third-party sites when clicking on a link:

Ideally, you'll want to avoid linking to sites or services that you don't find to be reputable. A link from your website can be interpreted as a vote of confidence, so we recommend that you vet third-party links before including them in your content.
In practice, users might have negative experiences even with websites that seem reputable. This clause covers you in those events, too.
Matthew Woodard
One of the biggest challenges of being a freelancer is dealing with payments. That involves setting payment terms, negotiating when clients will disburse money, and what happens in the event that they don't.
If you're a freelancer, you can follow Matthew Woodard's example. He's a freelance web designer that includes all of his payment terms in a clause within the terms and conditions document: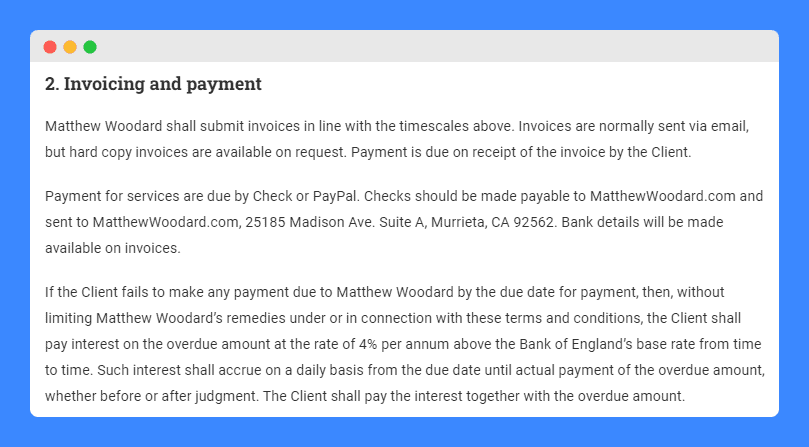 Although you should share all of this information while negotiating with clients, including it in your terms and conditions makes it easier to access.
With this approach, clients will be able to check payment terms at any time, and you always have the document to fall back on if you need to collect interest on unpaid invoices.
Detour
Small errors are common. You might set the wrong price for a product, enter the wrong description for a service, or forget to include important information in your product descriptions.
Errors and inaccuracies clauses cover exactly these types of situations. This clause lets users know that you're not liable for missing or incorrect information on your website and that you may update it at any point.
This terms and conditions example from the Detour coffee brand shows you how you can word this clause: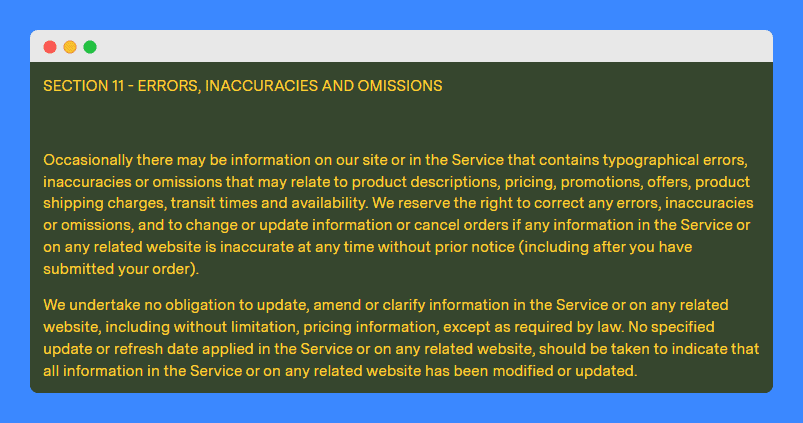 It's important to understand that this clause might not apply in cases where incorrect information leads to some type of harm to customers.
For example, if you advertise a type of food as free of allergens but that information is mistaken, an error and inaccuracies clause might not protect you from liability.
Alfred Coffee
Most clauses in your terms and conditions will usually cover some kind of information about acceptable uses of your services. A specific prohibited uses clause can provide more context into how users are allowed to interact and engage with your products and services.
Here's an example from the Alfred coffee store: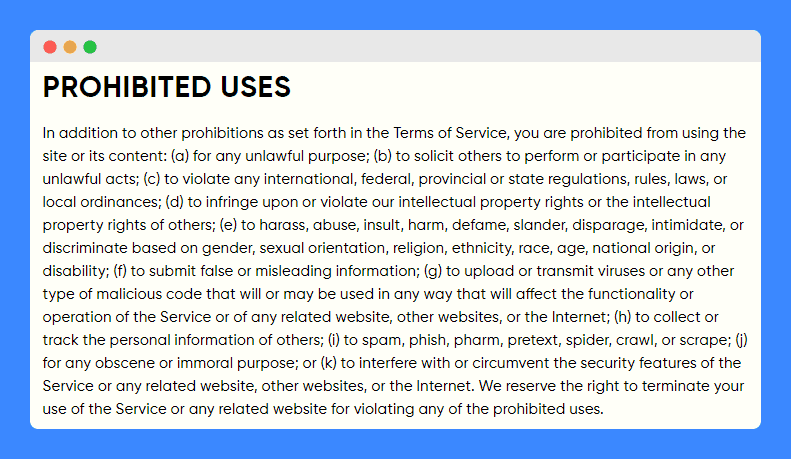 In most cases, this clause indicates that users can't commit illegal acts with your products. If they do, you reserve the right to terminate their use of your services. The purpose of this clause is to protect your name and company if customers decide to use your products or services for malicious purposes.
For example, if you run a web hosting business you can terminate user accounts if they host illegal content. Not doing so when you're aware of the malicious user could potentially make you liable, which is what makes this clause essential in most terms and conditions.
Power Digital Marketing
It's important to understand that not all the clauses in your terms and conditions are enforceable. In some cases, local legislation might override a clause or it may be written in such a way as to be unenforceable.
A severability clause acknowledges this potential issue and makes it known that if a clause is not valid, it can be amended. This example is from Power Digital Marketing, an online marketing group:

The clause bypasses potential issues by making users agree to amend provisions in the terms and conditions, so they can be enforced following the document's intent as closely as possible.
The language also reiterates that if one clause is invalid due to local legislation, it doesn't affect the rest of the terms.
Negative Underwear
Generally speaking, one of the primary purposes of terms and conditions is to shield your business from liability. It tells users how they're allowed to use your products and services and under what terms you can terminate the agreement.
A limitation of liability clause reaffirms this by explicitly stating that your business is not liable for damages incurred due to misuse of your products or services. This can be further supplemented by the no-responsibility clause in your disclaimer.
Here's an example from the Negative Underwear online store: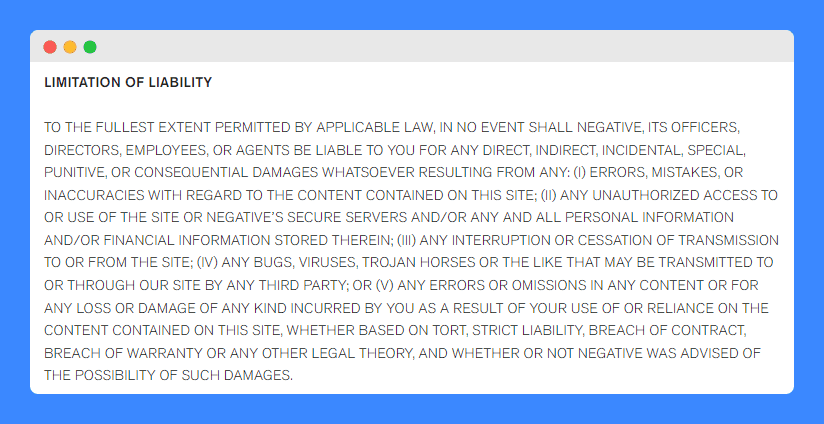 The clause not only shields you from users seeking damages from misuse, but it also covers temporary loss of service, errors or omissions on the website, and a breach of the site resulting in data loss.
It's important to understand that in the case of data breaches, your business might still be liable or open to fines, depending on the regulations that apply in your jurisdiction.
For example, the General Data Protection Regulation (GDPR) specifies that you need to meet certain minimum requirements when it comes to data protection or your business can be fined.
Sample Website Terms and Conditions Template
When it comes to what you should include in your terms and conditions, there are what could be considered standard clauses. Ultimately though, you should always consider the specifics and requirements of your business to cover all the bases.
To simplify this task for you we put together this website terms and conditions template to get a head start.
Feel free to download it in your preferred format and simply adapt it to your business, taking into consideration the services or products that you offer and the risks and liabilities that come with those.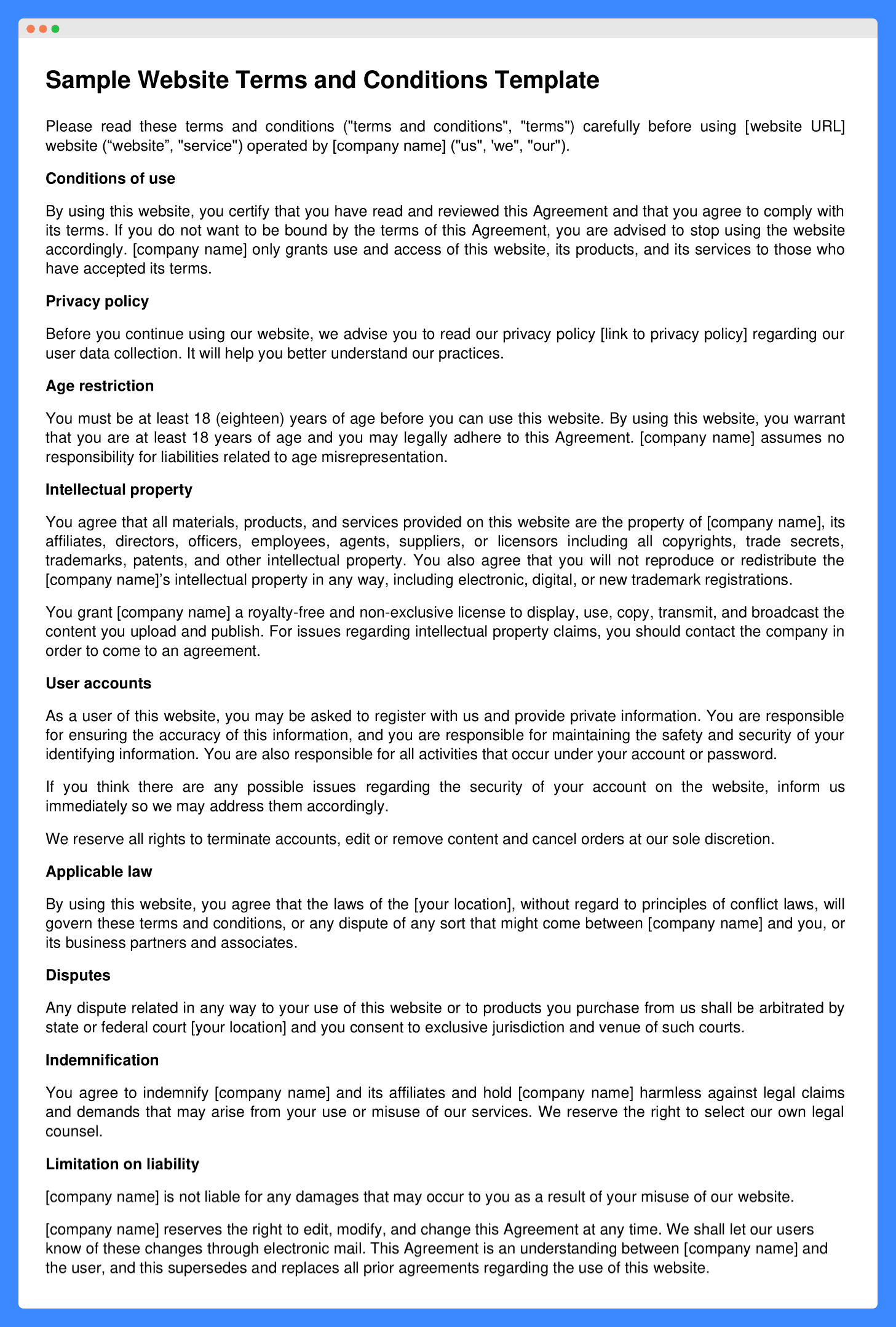 How to Easily Create Terms and Conditions for Your Website?
Legal documents can seem intimidating if you're not familiar with legal terms. If you would like to make it easier, consider using our professional generator to create bulletproof terms and conditions for your website without getting a headache.
It'll automatically put together all the required elements based on your needs and requirements to keep your business legally protected so you won't have to worry about it.
Create Terms and Conditions using WebsitePolicies
Take the guesswork out of the legal jargon with our smart generators & create terms and conditions personalized to your needs in minutes. Here's how:
Step 1: Navigate to the terms and conditions generator.
Step 2: Answer some questions about your business and how you operate.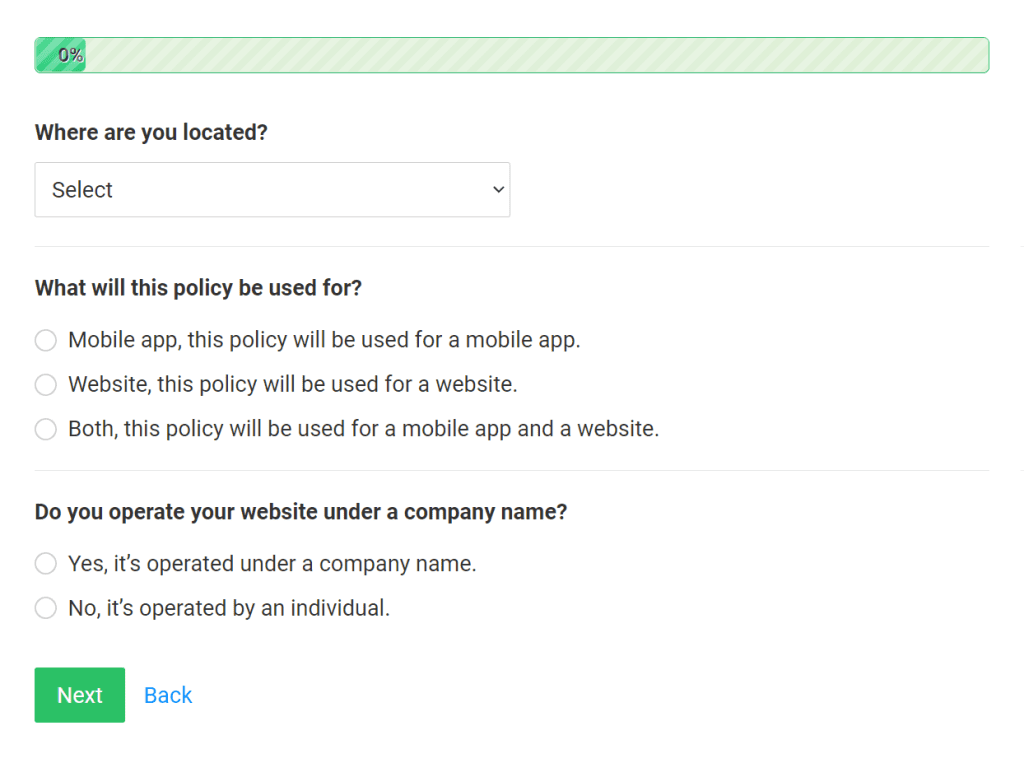 Step 3: Create an account and publish or copy your personalized terms and conditions.
Drafted & backed by attorneys. Trusted by 150K+ businesses.
Frequently Asked Questions
Are the terms and conditions legally binding?
Yes, the terms and conditions are legally binding. By agreeing to the terms and conditions, your customers agree to the terms and the rules set by you when using your products and services.
Can I copy someone else's terms and conditions?
You should never use someone else's terms and conditions as every business is unique and thus should have its own set of rules.
While you may offer a similar product to that of your competitor, you may be operating your business very differently. Not to mention that copying someone else's work could also be considered copyright infringement, which is definitely troubling that you want to avoid getting into.
Do I need a lawyer to write my terms and conditions?
No, you don't need a lawyer to write your own terms and conditions but you may certainly have them review your policy for extra peace of mind. It'll also come out much cheaper than hiring one to draft it from scratch.
Can I use a generic terms and conditions template?
You may certainly use one as a starting point as long as you add the elements important to your business as most of them are very basic and limited in terms of coverage.
Can I write the terms and conditions myself?
Yes, you can write terms and conditions yourself if you don't mind spending time on research. It's much easier to use an online generator though to save time and avoid common mistakes.
Where should I display my terms and conditions?
The most common place to display your terms and conditions is in the footer of the website along with the other legal policies. If you have a signup form, it's a good idea to display it there as well so it's easy for your customers to agree to it.
Why is it important to have the terms and conditions on my website?
If something goes wrong and someone sues you, having terms and conditions in place can help limit your liability. They can also help deter people from misusing your website. If people know that there are consequences for misuse, they may be less likely to do so.