You have taken advantage of one of Shopify's ready-made themes and created your website and now you're all ready to sell products online, right? Not so fast.
While this may seem like a second thought in the excitement of setting up your first eCommerce store, you must consider the various legal documents that any good business should have. A comprehensive privacy policy, an easy-to-understand cookie policy, clear shipping, and refund policy, and detailed terms and conditions.
Having terms and conditions, while not required by law, is important for any eCommerce business owner as they regulate the relationship between your business and your customers.
By setting out guidelines as well as the rights and responsibilities of each party, not only can it prevent misunderstandings, but it could also be helpful to have should a legal dispute arise.
The policies mentioned above all need to be easily accessible on your Shopify store. Here's how to proceed when it comes to your terms and conditions.
PRO TIP: Don't waste your time and take the guesswork out of the legal jargon with this personalized terms and conditions generator trusted by over 150,000 businesses.
How to Write Terms and Conditions For Your Shopify Store?
As a business owner, you get to decide what you want to include in your terms and conditions. However, it can be helpful to have a starting point – you can use our terms and conditions template and add on to it, taking into consideration the particularities of your business, including the risks and liabilities associated with it.
If drafting your own terms and conditions seems overwhelming, you could use our terms of service generator for Shopify instead. Not only will it save you time, but by answering just a few questions you will have comprehensive terms that include all standard clauses commonly seen in T&Cs as well as additional ones tailored to your business practices, products, and customers.
Here's an example of how you would use our generator to create terms and conditions for Shopify.
1. Tell Us Where You're Located
In order for our generator to consider applicable global and local laws, you will need to tell us where your business is based.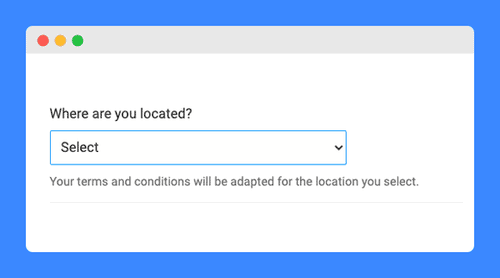 2. Your Business
In this second step, you will need to indicate if, in addition to your Shopify website, you have a mobile app on which your customers can shop or receive rewards.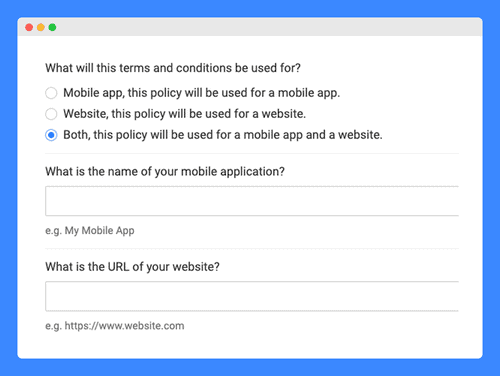 3. Type of Policy
We offer two types of policy: a basic or a premium version, the latter of which is suited to commercial websites, which is likely to be your case if you are selling products on Shopify.
One of the benefits of selecting the premium policy is that we will be providing you with free lifetime updates and notifications as well as give you the option to add additional clauses for maximum protection.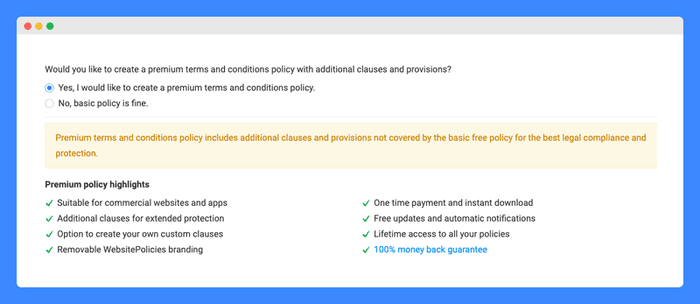 4. Your Business
At this stage, you will need to tell us if you are operating your business under a company name or under your own name.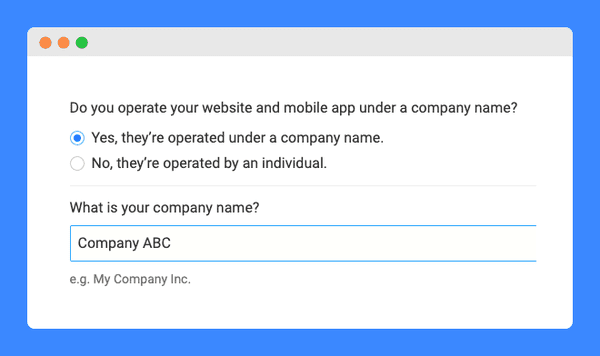 5. Customer Account Creation
A lot of eCommerce websites allow customers to create an account while browsing in order to save items to a wishlist, during the checkout process, or to leave product reviews.
If that's your case, then you will need to answer yes to the first question at this step. This is important as language will be added to your terms to give you control over those accounts, notably the power to suspend or disable the accounts of customers who violate your terms.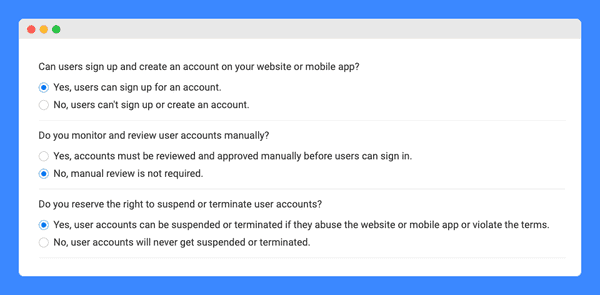 6. Minimum Age
Some online stores require that customers be of a certain age in order to use the website or place an order and that minors get their parents to agree to both terms and conditions and their child's use of the website.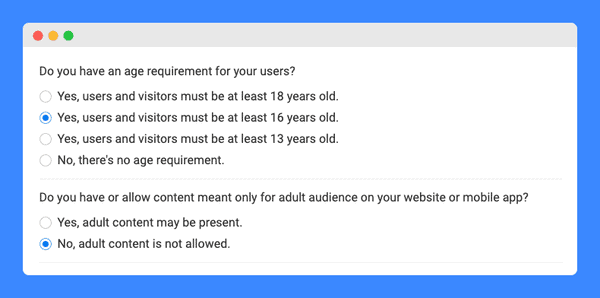 7. User Content
Product reviews are a powerful marketing tool – there's nothing quite like a happy customer that willingly decides to share their opinion and a photo of themselves in your clothes!
You can make it clear in your terms and conditions that content shared by your users is their sole responsibility and that they must have the appropriate rights over the content that they choose to share on your platform.
You can also take this opportunity to state that any reviews and photos shared on your website can be re-used by your company, for marketing purposes for example, and give yourself the right to take down illegal or inappropriate content.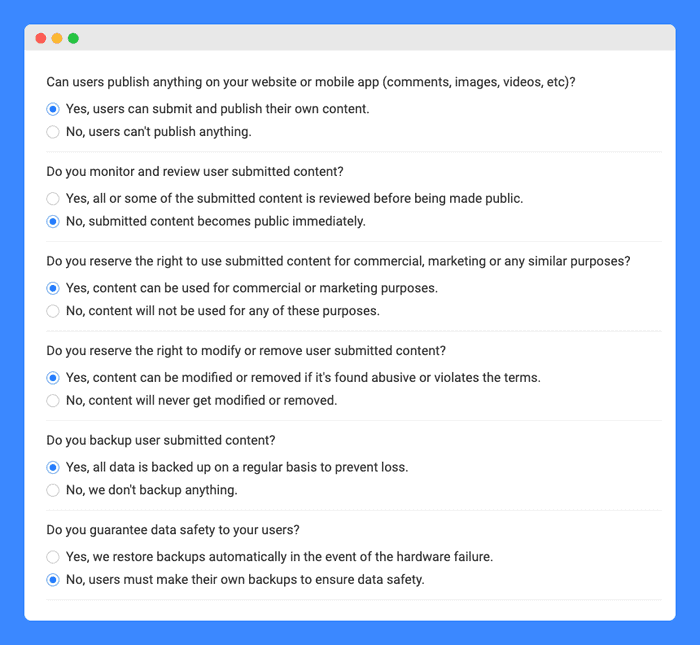 8. Your Products
We need to know about your business in order to generate terms and conditions that include relevant and specific clauses and disclaimers. You can tell us a little bit more about the products that you sell by answering the following questions.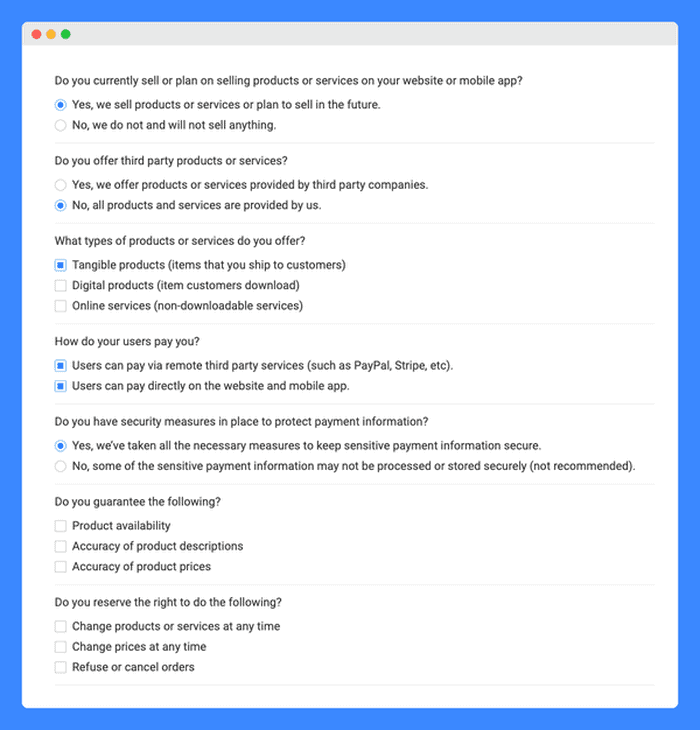 It can be difficult to guarantee product availability and accuracy of product descriptions and prices, especially when you're just starting up.
You will have to determine if you want to be able to modify or cancel an order if, for example, there was an error in the price displayed or if you will be taking the hit in the hopes that this will make your customer come back for another purchase later on.
You may also want to add that, while you do your best to ensure that products are accurately pictured and described, there can be some minor differences between what the customer sees on their screen and the actual physical product due to differences in the technology used to view the website.
9. Marketing
Any successful eCommerce store will eventually use email marketing to reel potential and past customers back in, moreover, you may be using affiliate links in blog posts or serving third-party ads. In any case, you will need to indicate so at this stage by answering the questions below.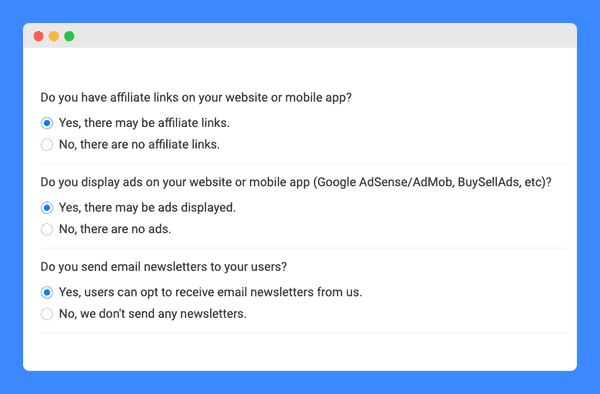 10. Additional Clauses
You will have the option to add clauses in order to make your terms and conditions as specific and tailored as possible.
You may wish to add a disclaimer of warranty if you want to sell your products as is, without any further warranty or guarantees. Thus, potential customers need to know if that's the case as this could affect whether or not they wish to go through with a purchase. Putting your warranty disclaimer in writing and asking your customers to accept your terms and conditions will go a long way should it ever be challenged in court.
You may also want to add an intellectual property clause to reinstate your ownership over your trademarks, patents, and copyright, including the website and its content, and remind website visitors that they may not use your logo, brand, or content without your express permission.
These two examples are just some clauses that may be relevant for an online store, but here are some other ones that you can add using our generator.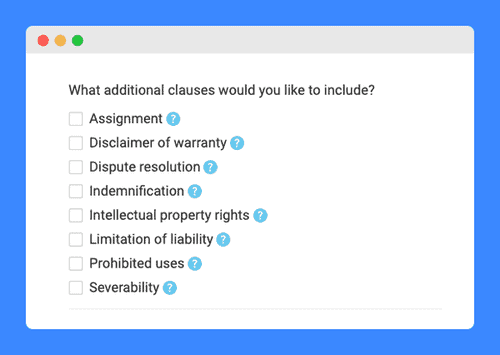 11. Contact Details
You likely already have a contact page on your website, but you should also provide contact information in your terms and conditions to encourage customers to reach out to you should they have any questions about your terms and conditions.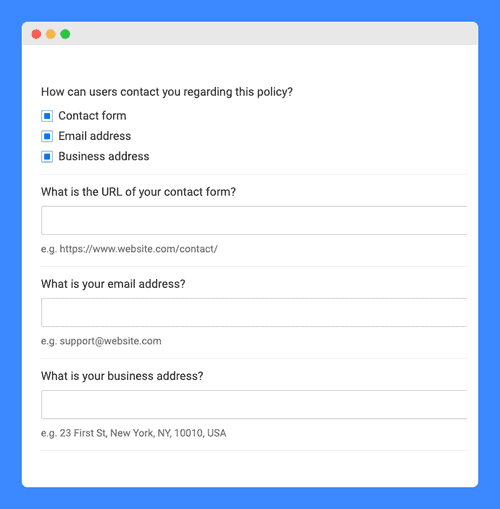 12. Policy Updates
Drafting terms and conditions are not something that you can do once and forget about. You should read and revisit them every few months as the law and your business evolve. You may well identify new areas of liability along the way or realize that the same questions always come back. These are all things that you can address on your terms.
By providing as much information as possible and being transparent with your customers, you will not only be protecting your business but you will be making your customer's online shopping experience better as they will trust your business and know what to expect when buying from your store.
If you do update your terms, remember to notify your customers in one of the ways below. If the changes are significant, you may wish to send them an email or use a pop-up to request their consent once again.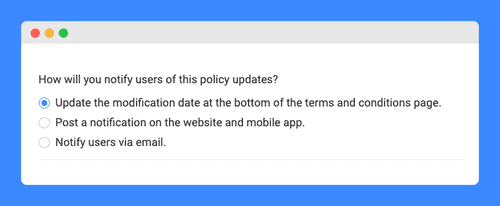 How to Add Your Terms and Conditions in Shopify?
The Shopify store is full of apps that allow you to generate policies, including terms and conditions. However, if you have the option to use a generator such as ours instead of installing another app on your Shopify store, we would highly recommend it.
Why? Every time you add an app to your website, you slow down its loading speed which, in turn, directly affects user experience. Potential customers, especially those that are not familiar with your brand, may not have the patience to wait for your website to load which could potentially mean losing a sale.
On the other hand, if you use an external generator, you have the option to simply copy and paste the text of your terms that you will have received by email, which can actually be faster than adding an app to your store.
Adding terms and conditions to your Shopify store is a breeze. Simply follow the steps below!
1. Log in to your Shopify account and, from the admin screen, click on Settings in the bottom left corner and on Legal.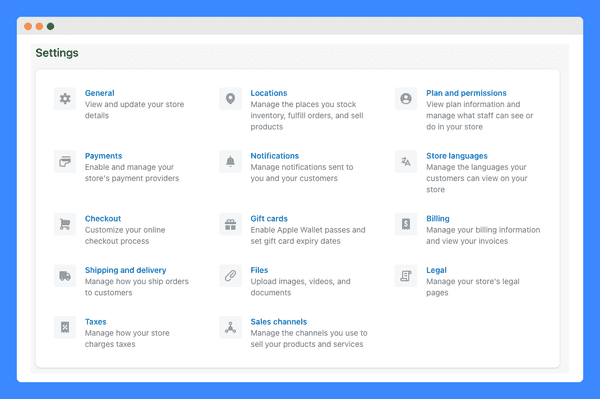 2. Simply copy and paste the terms and conditions that you have generated in the box: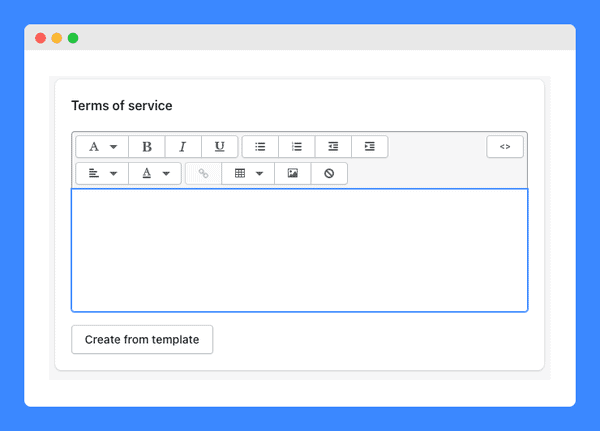 3. Don't forget to click Save in the upper right corner. There you go, you have added terms and conditions to your Shopify store.
A hyperlink will now appear in your website footer once customers are at checkout.
You can also add a link to your policies, including your terms and conditions, elsewhere such as in the footer of your homepage, during the account creation process, and on your product pages. This is good practice as you want your customers to read your terms and make sure that they agree to them before navigating your website or placing an order.
Here's how to proceed:
1. Back on your Admin screen, click on Navigation in the menu on the left: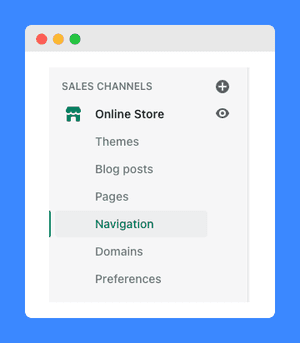 2. There, you will be able to add your policy to one of your existing menus or create a new one which you can title "Legal" or "Policies". Add your terms and conditions as a menu item by selecting Policies from the drop-down and Terms of Service.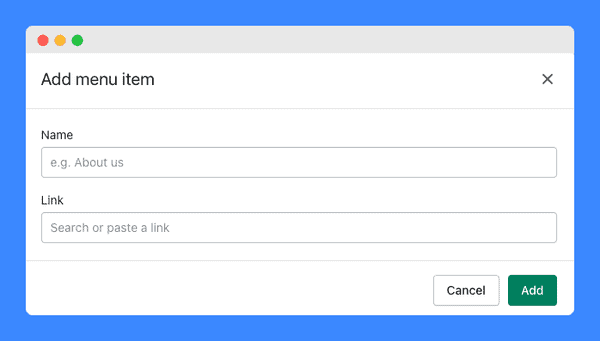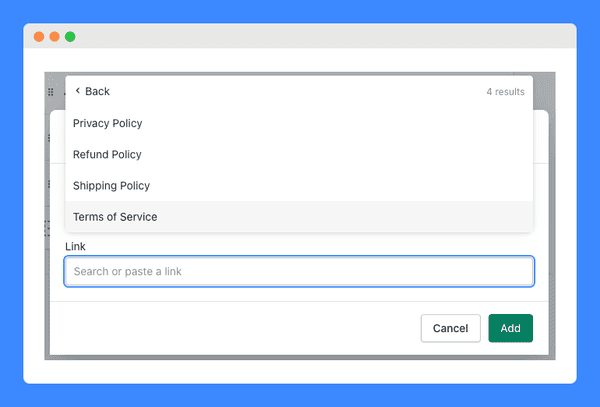 There is also another way to go about adding your terms and conditions to your Shopify store. You could create a new page to host your terms.
Here's how:
1. In your "Admin" panel, click on "Pages" under the "Online Store" tab
2. Click on "Add page"

3. Title the page "Terms and Conditions" and copy and paste your terms in the content box before hitting save.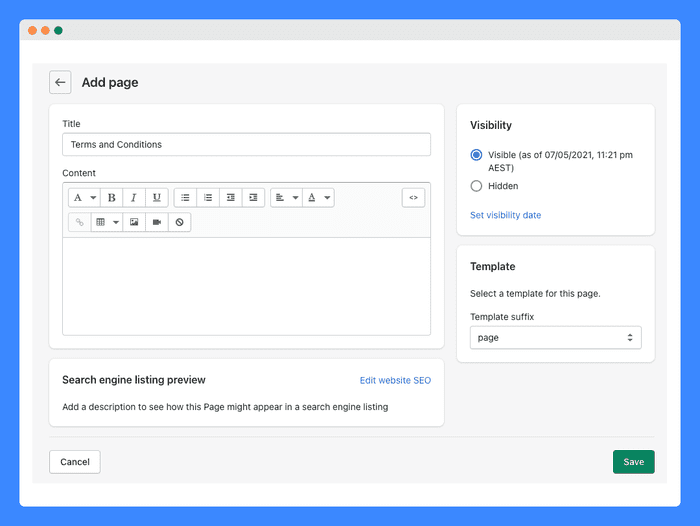 Once it is published, you can follow the same steps as above to add the page to one of your menus, thereby making it easily accessible to your store visitors.
Set up Your Shopify Store For Success From the Start
While this may not be the most exciting part of starting your new eCommerce venture, you will be glad you did so at the start rather than once the business is booming.
If you are detailed and transparent in your terms, have a good think about the questions that your customers may have about your business practices and reflect upon how you wish to operate your business. This way, you will be protecting yourself by avoiding misunderstandings as well as saving yourself time as customers may find the answers that they are looking for on your terms without needing to contact you.
If you have generated your terms and conditions and followed the steps above to add a hyperlink to your policies in your website footer and menus, you have taken a step in the right direction by making them easily accessible to your users.
However, it is also important to make sure that your customers have actually read your terms and agree to them. Therefore, you may want to add another hyperlink and a checkbox that they need to tick as a pop-up when they first land on your homepage, during the account creation process, and/or at checkout to confirm that they agree to your terms and conditions.
Requesting affirmative consent from users is now considered a best practice as it allows you to keep records, which could be useful should a dispute arise.
We know that the legal aspects of running an eCommerce store can seem scary and the last thing that you want to think about when there's already so much that you have to do to bring a product to market.
Our Shopify terms and conditions generator is a great cost and time-effective solution to help you create terms that are custom-tailored to your business; we also have similar solutions for all your cookies, refund, and privacy policy needs. Why not give us a try!