Yes, it's cliché to say that most people don't read terms and conditions and as such business owners, especially those just starting out, don't bother writing one at all.
A quick survey of eCommerce websites will reveal that many eCommerce stores have outdated or ineffective terms and conditions agreements. Some don't even have any at all.
Going by any of these routes opens your business to many uncertainties and liabilities that are harmful to business growth.
You see, no law will question you for not having a terms and conditions policy for your eCommerce store. But, you can bet that there are fraudulent customers and attorneys ready to take advantage of you.
Yes, you read that right!
So, if you are yet to launch your eCommerce store, or already have one, then keep reading to avoid being in an unwanted situation when you're least prepared for it.
PRO TIP: Don't waste your time and take the guesswork out of the legal jargon with this personalized terms and conditions generator trusted by over 150,000 businesses.
What is an eCommerce Terms and Conditions Agreement?
An eCommerce terms and conditions policy is a set of legal rules and guidelines for store owners and their customers.
It lays forth the ground rules for clients using your online store. And when a dispute happens, it serves as a legal reference for reaching a solution everyone's happy with.
You may read a more thorough explanation of all of the technicalities in this article.
Why Should You Have Terms and Conditions?
Last year, my friend, Bill started a bodybuilding supplement online store which was doing pretty well. I mean, orders and sales were trickling in.
The story changed two months later when he received multiple chargebacks from the same customer. Quite troubling, right?
He decided to suspend the customer's account to avoid further fraudulent activities. You'd think that it would be the end of it? Unfortunately, not in his case.
One week later, the customer sued him for almost $10,000 because he didn't have proper clauses explaining when someone's account could be suspended in his terms and conditions.
And there's Ciara who runs Young Nails, a nail polish eCommerce store, and didn't realize her website was missing a policy until Google regulations for ads and promotions forced her to look into it.
These stories are proving to be the norm and not the exception.
This is why the best time to set out your terms and conditions policy is even before launching the business.
This way, you protect your business from any legal disputes and give customers clear expectations before anyone decides to take advantage of you.
Ciara also shares the same views.
"When setting up your new website, it should be a necessity before the website launches. So you know it's done and won't cause issues down the line."
Still not convinced? Here are other benefits you enjoy by creating terms and conditions for your store.
1. Builds Trust
Giving up money, personal data, and credit card numbers requires trust.
Customers are more likely to trust you when they have confidence in the security of their personal information.
And one way to assure them of their data security is in your terms and conditions policy.
2. Offers Legal Protection:
As said earlier, terms and conditions are not required by law, but they help avoid legal disputes.
Such disputes can cost you valuable time, money, and resources. Moreover, these issues become severe and costly as you climb the eCommerce ladder.
A term and condition agreement is ideal for ensuring a smooth online marketplace. In addition, it keeps lawsuits away from your business.
3. Prevents Abuse of Your Services
Have you heard of "wardrobing" – where people buy outfits, wear them, and return them to the online store (for a refund)?

Or the popular promo fraud where customers game the system to max out promo offers multiple times?
Some go as far as creating multiple fake accounts to max out the promo deals.
You see, there are one thousand and one ways to abuse an eCommerce service. This is why you need a guideline of acceptable standards for customers to abide by when on your site.
Specific clauses within the terms and conditions can help provide this guideline. And spell out consequences when customers violate such rules.
4. Protect Your Intellectual Property
The eCommerce industry thrives on content. Hence the need to protect your digital properties from unauthorized use.
Your eCommerce site's intellectual property is your images, logos, content, and design.
Protect your intellectual property by outlining them in your terms and conditions. Copyright protection in eCommerce terms & conditions dissuades copycats and crooks.
Important Clauses For Your Online Store
Now, let's look at the essential details to help you create a robust and unique terms and conditions policy for your brand.
1. Limitation of Liability
Limitation of Liability addresses product distortion, warranties, personal injury, third-party content, etc.
It clarifies what you will be liable for in case of product damages and other unforeseen events.
For example, who handles damages that occur during a transaction? You, the buyer, or the delivery company?

2. Pricing and Payment Terms
Your pricing and payment terms should answer questions like:
How can buyers make payments?
Are there any additional fees or taxes added to the prices of products?
Any specific currency buyers must pay with?
Do you review product prices? How often?
Any discount on prices?
Do you charge any subscription fees on your online store?
What payment processor are you using?
The idea is to answer every pricing-and-payment-related question, including your transaction process.
This gives your customers a sense of security and peace of mind when purchasing from you.

If your business offers a money-back guarantee, clearly explain your refund process in your terms and conditions in detail.
3. Shipping, Returns, and Refunds
Buying from an eCommerce store goes beyond a single product of concern. Customers want robust offers like free delivery, fast shipping, money-back guarantees, etc.
That is why your policy must touch base on product delivery and shipping.
Confusing policies in this regard could cost you leads and vital customers.
If you're a drop-shipper, conduct due diligence when selecting a supplier and create a supply chain contract since they rely on suppliers to deliver products. This helps keep both parties responsible.

4. Dispute Resolution
Customer experience matters when shopping online.
But no matter how hard you try to make shopping easier, conflicts are bound to happen. How you deal with these issues can be helpful or detrimental to your business.
Having an action plan for customer dispute resolution can make a big difference.
As an eCommerce business, here are some ways to go about dispute resolution.
Direct negotiations: allow you to contact a dissatisfied customer to mediate directly. It's your chance to get feedback and resolve issues without involving third parties. But, again, your terms and conditions agreement should say how long and how it will be done.
Mediation services: a customer may be furious and find it hard to speak directly with you. If you can't agree with a customer, hire a corporate mediation service to help you. For this to be effective, legal regulations, binding principles, location, charges, and the procedure should be part of your terms and conditions on dispute resolution.
In Court: This could be a small claims court or a proper court. Your terms and conditions should state the court's location and jurisdiction.
Small claims courts assist in resolving issues involving small sums of money – less than $10,000. It is available in most countries/states and does not require an attorney. However, a proper court can deal with cases involving higher sums.
But why take your case to court when you can settle directly with your customer? Direct negotiation is your best option. It is cheap, and there's a better chance you won't lose such customers.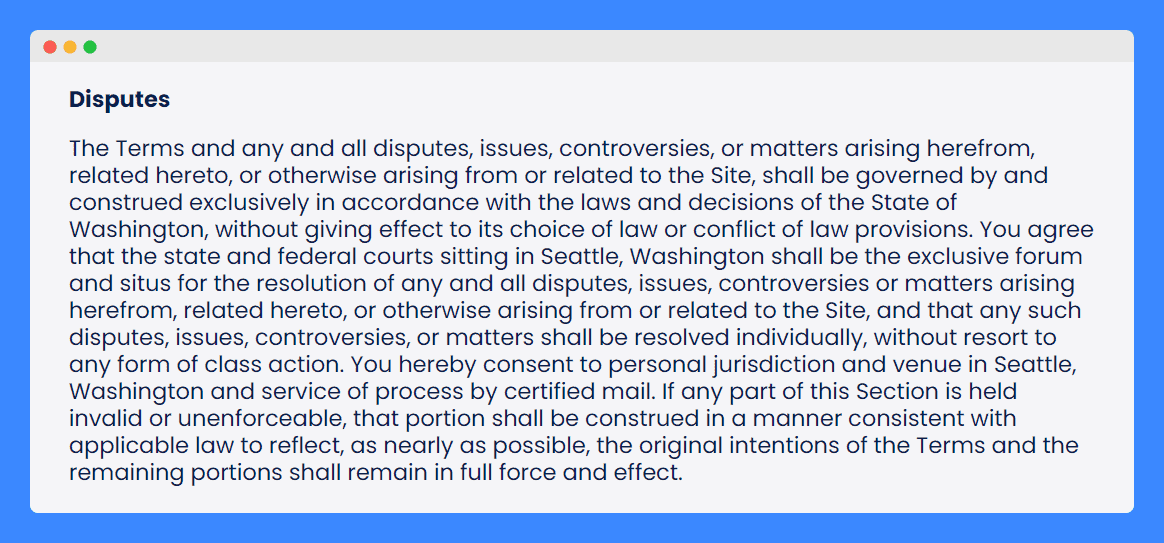 5. Product Review
This is also known as user-generated content (UGC). It refers to content created by users (in this case, customers).
Reviews, ratings, and testimonials are UGC and serve as social proof. They help other customers make better purchasing decisions.
You can't control what reviews your customers leave. But you can set acceptable standards, language, and tone of communication.
Your customers should know your policy on who can use and access their content.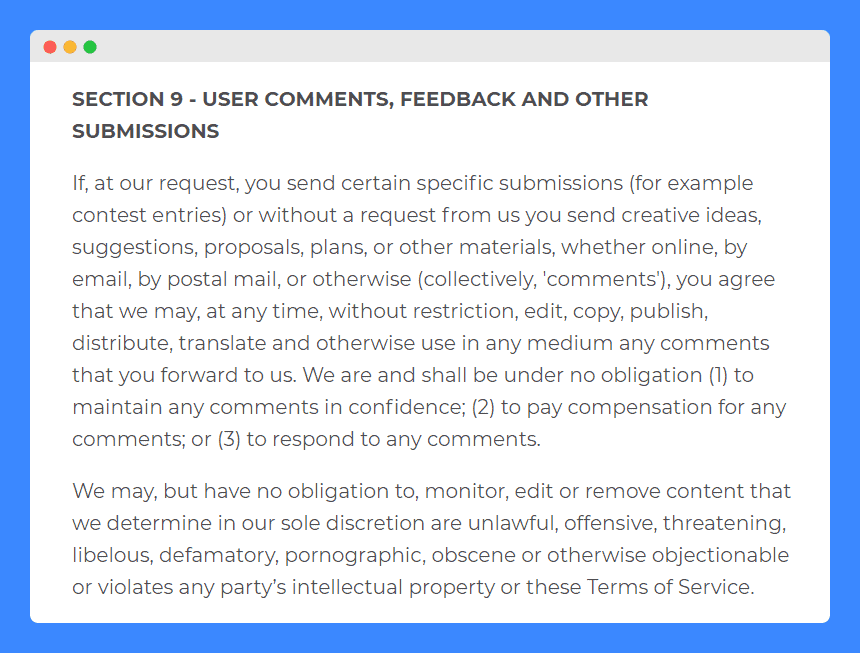 6. Promotions and Sales
It is a norm for stores to run promotional campaigns like discounts, free shipping, bonus, etc.
Your terms and conditions must reserve rights to set regulations for promotional campaigns. And how customers can be part of it.
Set time limits and constraints to avoid lawsuits or unethical charges.

7. Amendments to Agreement
The industry is fast-changing, and so is your business. Hence, the amendment process for the agreement is an important section to include.
It keeps your customers informed of any changes or policy reviews that may affect the way you do business.
Customers should know how often you update your terms and conditions policy. This way, customers know when to expect changes and look out for any policy review.
Another consideration is how you will notify customers if a policy change occurs.
For example, will customers get an email to that effect? And will there be options to accept or decline the new policy?

How to Create eCommerce Terms and Conditions?
Finally ready to write your own terms? There are a few ways to go about it:
Copy Someone Else's Terms
Do I even need to explain why it's such a bad idea…?
And no, it doesn't matter if that "someone" has the same type of products/services and operates the same way as you do.
Moving on.
Templates (Why They Suck)
There are many eCommerce terms and conditions templates you can find on the internet. However, using such templates is a recipe for legal crisis because:
They're way too generic and not personalized to your particular business.
They contain too much filler text (yes, the document looks long and impressive but ultimately useless).
Many of these templates are outdated.
Using a template is a big unreasonable risk for something so sensitive as a legal policy. Not to mention that templates are an easy target for shady attorneys who look for victims.
Hire a Lawyer
Getting a lawyer is a good option when you have the budget for it and you'll get a document tailored to your online store.
But hiring a lawyer can cost you anywhere from a few hundred to thousands of dollars. This is too expensive and unnecessary for most business owners especially if you're just starting out.
Use an eCommerce Terms and Conditions Generator
A good terms and conditions policy generator is the most cost-effective solution for most business owners because:
You're in full control since you'll be the one answering the questionnaires about your business. After all, nobody knows your own business better than you.
You get personalized terms and conditions policy for your business in just minutes.
And it is much more affordable when compared to hiring a lawyer.
It's regularly and automatically updated so you won't need to worry about it again.
The best part is you get to spend the rest of your saved money on growing your business instead of paying lawyers for writing and updating legal documents.
Create Terms and Conditions using WebsitePolicies
Take the guesswork out of the legal jargon with our smart generators & create terms and conditions personalized to your needs in minutes. Here's how:
Step 1: Navigate to the terms and conditions generator.
Step 2: Answer some questions about your business and how you operate.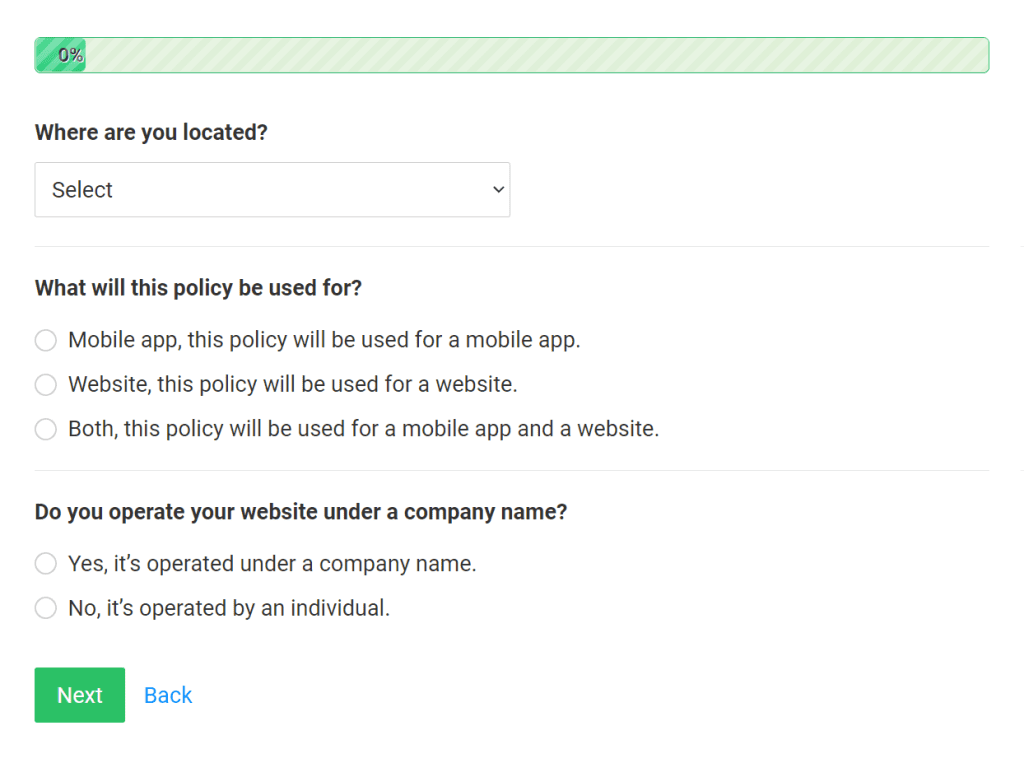 Step 3: Create an account and publish or copy your personalized terms and conditions.
Drafted & backed by attorneys. Trusted by 150K+ businesses.
Wrapping Up
Terms and conditions should not be an afterthought for any eCommerce store. It is vital to earn customers' trust, prevent legal disputes, and regulate how customers interact with your brand.
Again – you should, by all means, avoid generic templates. Create a policy personalized specifically to your business and how you operate it.
With the right legal documents, your business will avoid any setbacks and unwanted surprises.
Frequently Asked Questions
Does my online store need terms and conditions?
While it's not a legal requirement, your store should have a terms and conditions policy. It builds trust with your customers, prevents legal disputes, and limits your liabilities amongst other things.
Do I need eCommerce terms and conditions if I have no sales yet?
Yes. Whether you have no sales or are banking millions, you want to start off on the right foot when it comes to the legal side of running any business.
Should I get a lawyer to draft my terms and conditions?
You can but most people will benefit more from a personalized online generator as it'll provide you with a reliable document much quicker and cheaper.
Where is the best place to place my terms and conditions on my eCommerce website?
Your terms and conditions policy should have a dedicated page of its own.