eCommerce is more popular than ever and this is a trend that will continue to evolve over the next few years. Hundreds of options to choose from, access to global retailers, the ability to get the best price possible on a specific product, there are a number of benefits to online shopping.
On the other hand, online shopping is riskier, in the sense that customers do not get to see or try on the products before purchasing them. This is a major deterrent for shoppers when looking to buy items of higher value or placing an order with an unknown or smaller retailer.
How can you convince a prospective customer to buy your products? Simple — by offering them a money-back guarantee.
PRO TIP: Don't waste your time and take the guesswork out of the legal jargon with this personalized refund policy generator trusted by over 150,000 businesses.
What is a Money-Back Guarantee Policy?
A money-back guarantee policy is a statement from you, as a business, promising your customers that they can get their money back should they be unhappy with the product purchased from your business. It can take the form of a few sentences on your website's return and refund policy or constitute a policy in itself.
A money-back guarantee policy can be used as a powerful marketing tool to help convert potential buyers into paying customers, especially if you emphasize the fact that you have one. Indeed, it has the effect of de-risking purchases made on your website which, as a potential first-time buyer, could make the difference between deciding to go through with a purchase or not.
By having such a policy front and center on your website, you make it clear to your customers that you strongly believe in the quality and value of your products, which helps build trust.
Who Can Benefit from Having a Money-Back Guarantee Policy?
Money-back guarantees clearly benefit consumers as it makes buying something online easy and risk-free, knowing that they can easily get their money back should they be unsatisfied with their purchase.
On the other hand, businesses can also reap the benefits of offering a satisfaction guarantee as it removes barriers to purchase and thus has the potential of bringing in sales from potential customers that may not be familiar with the brand or its products.
Having one could be a great strategy for startup businesses or for companies launching a new line of products for which a market needs to be carved out.
Conversely, in a saturated market, having such a policy in place could be a good way to help differentiate a brand from its competitors other than by simply selling at lower prices. People will generally be prepared to pay more for peace of mind.
Should You Offer a Money-Back Guarantee?
If you use claims such as "results guaranteed" or "the best type of product you'll ever try" it might be a good idea to have a money-back guarantee policy. By doing so, your customers will be able to try your product for themselves, validate your claims, and contact you should their experience with your brand be less than satisfactory.
The same goes if you operate in a competitive industry in which consumers have a lot of options. This could help you gain the upper hand over your competitors.
Digital products often come with a money-back guarantee as, most of the time, the customer cannot get a preview of the content before going through with their purchase. This is the case for digital services, software, eBooks, or online classes, for example.
There usually is a limited timeframe in which customers can request a full refund for that type of product to avoid people downloading and sharing the materials with others or completing the course in full and requesting their money back.
On the other hand, if you sell perishable or personalized/custom-made products, having a money-back guarantee may not be the best idea from a business perspective as you would not be able to resell the returned products and thus would have to take a financial hit every time someone takes advantage of your policy.
It might also not be the best idea to offer a money-back guarantee if your shipping fees are extraordinarily high, which could be the case if you sell oversized products such as furniture, as you would be losing money on those shipping costs (unless you plan accordingly in your terms and conditions, of course).
In any case, you should keep in mind that having such a policy in place will have an impact on your customer service department as well as on your accounting practices as you may have to plan and adjust for those refunds in your statements.
Moreover, you should always check local legislation as some countries make refunds mandatory under certain circumstances.
How to Avoid the Abuse of the Money-Back Guarantee Policy
While most people mean well and will appreciate you having such a policy in place, there will always be some that will try to abuse or take advantage of your generosity.
To protect your business from people misusing your money-back guarantee policy, you should include some guidelines and terms and conditions.
1. Ask for a reason
You could request that your customers describe in writing what they disliked about your product or the reason for requesting a refund. This will require extra effort on their part, which could act as a deterrent for ill-intentioned individuals, and allow you to get feedback on your products which could be constructive and help you with future product development.
2. Get contact details
You should also request contact information from the people requesting a refund. This will allow you to keep a customer register and identify repeat offenders that keep ordering products from you just to request their money back a few days later.
3. Offer store credit
An interesting strategy, especially if you sell a large number of products in the same category, is to offer store credit instead of a full refund. This makes it interesting for you from a financial perspective as your revenues will be easier to forecast.
To make this option attractive to your customers, you could be even more generous and offer them the option of getting 110% of their money-back. For example, if they purchase a $100 dress from your website and return it, they receive a $110 store credit (you could also offer both options – the customer can choose between a $110 store credit or a $100 refund).
4. Offer a lifetime warranty
In a similar vein, you could offer a satisfaction guarantee in the form of free lifetime repairs or replacements rather than a refund if you deem that having a money-back guarantee is too risky for your business.
5. Charge restocking fee
Lastly, you could add a handling charge or restocking fee in the case of money-back guarantee returns to be deducted from the amount refunded to the customer. This will act as a deterrent and limit returns to people that are truly unhappy with their purchase while covering the cost of processing the return and repackaging the product.
In most cases though, the increase in sales that you will experience from offering a money-back guarantee should make up for the number of people that misuse your policy, that is, of course, if you don't make promises that you can't hold.
Money-Back Guarantee Examples
Here are a few examples of money-back guarantee policies used by major retailers and companies across the globe.
Digital products
DigitalMarketer sells a range of online workshops, courses, certifications, and marketing playbooks through its website, in addition to offering a membership and subscription option.
Due to the nature of the digital products that it offers, the following money-back guarantee can be found in DigitalMarketer's terms and conditions:

DigitalMarketer specifies that this guarantee covers the price of the product only and not the shipping and handling fees and details the procedure to follow to request a refund: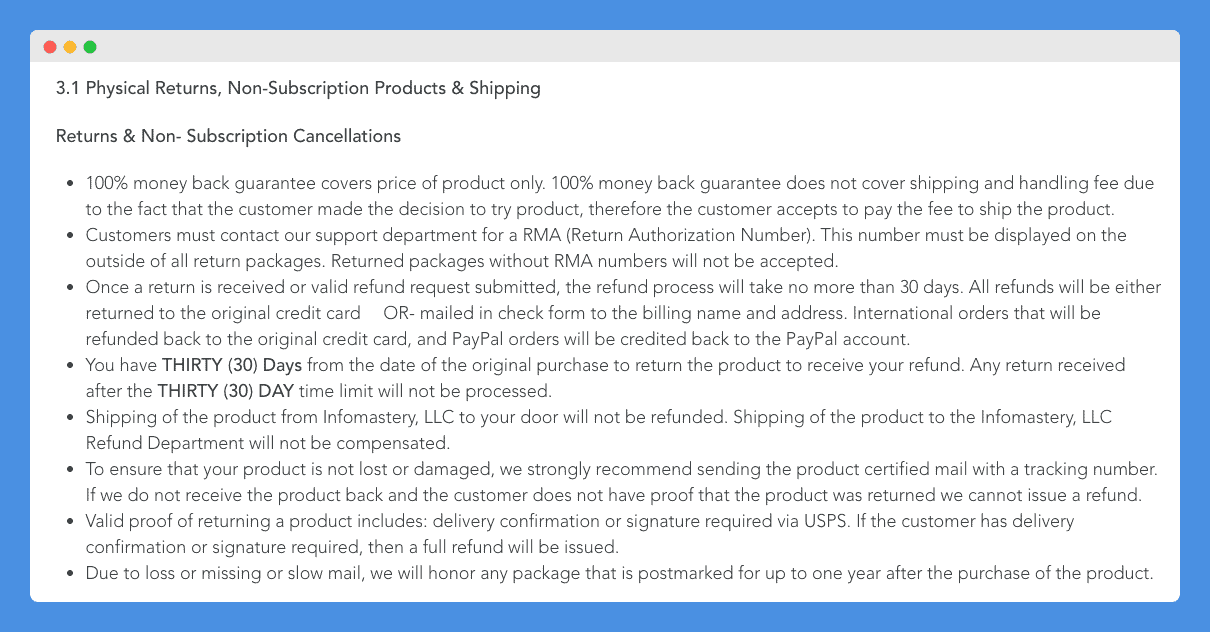 Retail stores
Costco has a notoriously generous return policy which includes a "risk-free 100% satisfaction guarantee". Here is how the retailer publicizes this information on its website: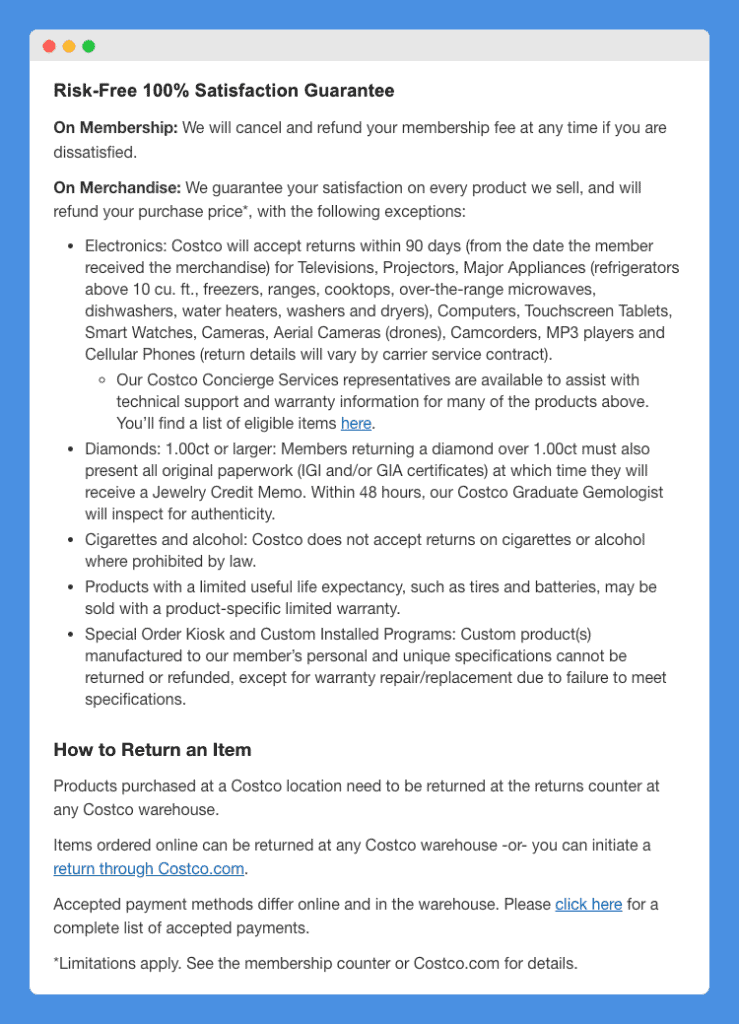 As you can note from the above, there are some exceptions and limitations depending on product type but it remains very favorable to the customer as there is no applicable time limit for most products.
While offering such a broad satisfaction guarantee may seem risky from a business perspective, it most likely has contributed to Costco's success and built customer loyalty as it makes the purchasing process almost risk-free.
Outdoor clothing and equipment retailer L.L. Bean offers the following one-year guarantee on its products and uses it as a marketing tool:

It goes on in more details when you scroll down the page and in the retailer's return policy, notably by setting out special conditions and circumstances in which a refund or return cannot be processed:

This serves to limit their liability and builds trust with their customers as it shows transparency; shoppers know what to expect and how to care for their products should they wish to, later on, benefit from L.L. Bean's guarantee.
Service businesses
Money-back guarantees are not only applicable to products, it is increasingly common to see them in the services industry.
Whether it be online coaching, marketing agencies, or fitness professionals promising specific results, more and more services-based businesses seem to use a guarantee as a powerful sales and marketing tool.
Here is an example from MBF Personal Training located in the United Kingdom: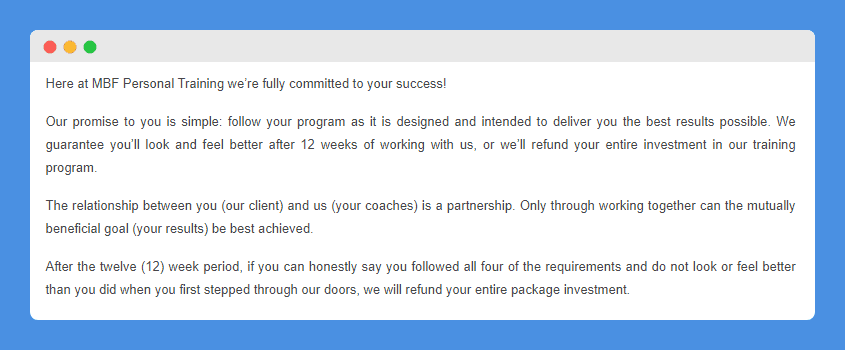 Note how they use a badge to grab the reader's attention and put emphasis on their client satisfaction guarantee; this is a strategy to build trust with potential clients and promise them that if they put in the required efforts (detailed in the guarantee text above) they will see results and a return on their investment.
This is also common practice for at-home workout fitness providers such as Beachbody:

The timeframe under which a customer may request a refund depends on the fitness program purchased.
Sample Money-Back Guarantee Policy
Your money-back guarantee policy should be easy to read and to understand for your potential customers. This will help break down the barriers that could exist between you and a sale by building trust and, eventually, loyalty.
You should state that you believe in and stand for the quality of your products and thus offer a generous satisfaction guarantee. You should clearly spell out and detail the terms and conditions under which you will issue a refund such as conditions for a refund, the time period in which a refund can be requested, the process to follow to request a refund as well as any other applicable limitations.
Here is a sample money-back guarantee policy:
We stand by the quality of our products and are confident that you will be satisfied with your purchase. If, for any reason, you are not happy with our products, we offer a 30-day money-back guarantee. Simply contact us by emailing hello@customerservice.com and we will process a refund for the full purchase price to the original payment method.
Of course, this is very succinct and generic and, in most cases, you will want to be more specific or link to a detailed section in your return and refund policy in which you address the specifics. This may include circumstances where customers are entitled to a refund, the condition that the product should be in to be eligible to benefit from this policy, information required from the customer to process a refund, etc.
Bringing Attention to Your Generous Return & Refund Policy
An easy way to let your customers know that your business has a money-back or satisfaction guarantee is by making it obvious and highlighting it on your website, in your return and refund policy, and in your advertising. Don't hide it, use it as a marketing tool.