With the rise of social media platforms such as YouTube and with younger generations carrying their smartphones on them at all times, content creation in video format has become more popular than ever. Videos make it easy to share information with your viewers in a more informal manner and using a conversational tone.
However, just because something isn't put in writing, doesn't mean it won't have any consequences.
Words have weight, whether written or spoken.
This is why some of the legal policies that you would normally use on your website or your blog should also be implemented on your YouTube channel.
PRO TIP: Don't waste your time and take the guesswork out of the legal jargon with this personalized disclaimer generator trusted by over 150,000 businesses.
What is a Disclaimer?
A disclaimer is a statement to your users, readers, or viewers in which you set out your responsibilities, the risks associated with using your content as well as disclaim your liability.
Some disclaimers are optional while others are required by law, which is the case for affiliate disclaimers, for example.
One thing that all types of disclaimers have in common is that they should be easy to understand, concise, and prominent.
While having a disclaimer will not guarantee that you won't get sued, it could have a dissuading effect and help limit the number of claims against you.
Where to Display a YouTube Disclaimer?
There are a few ways to go about this. You could display your disclaimer:
As a pop-up, in the first few seconds of your video
By including a short-form disclaimer as an introduction in the first few seconds of your video, you can rest assured that your users will have seen your disclaimer as it will be hard to miss. In addition, you could have the person on the screen read the disclaimer out loud or refer to it.
The good thing about including it in your video is that the disclaimer will appear even if your video is embedded on a website.
In the video description
Most videos on YouTube have a description in which products used are mentioned and credits are given. In the case of bloggers, this description often includes affiliate links, which is why this would be an ideal place to include the appropriate disclaimer.
On your YouTube's channel "About" page
You can include a general disclaimer statement to cover all the content that you post on your channel. This is particularly useful if you regularly share professional advice with your subscribers.
On your website
A lot of websites have a dedicated page where they display their video disclaimers. Your YouTube channel should, at a minimum, include a shorter version of that disclaimer as well as a link to the appropriate page on your website.
Your disclaimer should be prominent and thus should ideally appear in more than one place so that it is impossible to miss.
YouTube Disclaimer Examples
There are many types of disclaimers that could be included in a video. This all depends on your content and the industry in which you evolve.
When trying to determine which disclaimer should be displayed, think about the potential risks associated with your video. What could your viewers do or act upon and what could the consequences be? By doing so, you will be able to create the appropriate disclaimers to limit your liability.
Some types of disclaimers are more common than others:
YouTube "Use at Your Own Risk" Disclaimer
If there is a chance that someone watching your video might follow your advice and try to replicate what you're doing, then you need to have a "use at your own risk" disclaimer.
This serves as a warning that acting upon the content of your video may be dangerous and that you will not be held liable for the consequences that could arise from doing so.
This type of disclaimer is common in videos where people attempt extreme sports, recommend products to solve a problem or share their exercise program or homemade medical solutions.
You do not know your viewers nor their personal circumstances. They may risk suffering damages or hurting themselves when trying to copy you, thus the need for such a disclaimer.
By way of example, the regional municipality of Halifax shares arts and crafts ideas for children on their YouTube channel and include the following disclaimer in their video descriptions: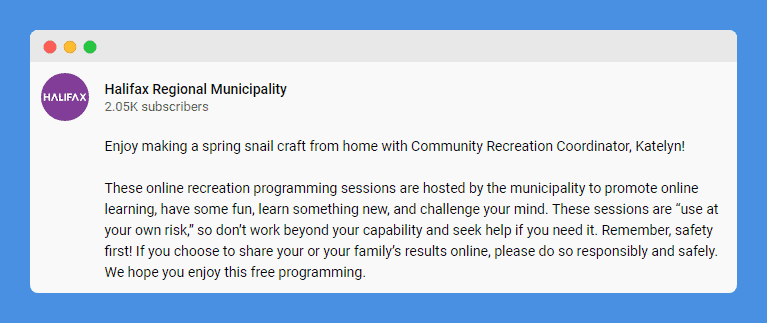 Halifax Regional Municipality's "use at your own risk" disclaimer can also be found on their website.
YouTube Affiliate Links Disclosure
Affiliate disclaimers can be seen in video descriptions from bloggers or YouTubers that share their favorite products through makeup tutorials, DIY projects or product reviews.
That is because having a disclaimer that lets your viewers know that you have a relationship with the brand that you mention or that you are being financially compensated to endorse a product is legally required in the United States by the Federal Trade Commission (FTC).
Moreover, it needs to be "clear and conspicuous" which means that it should be easily noticed and understood by your viewers.
The following affiliate links disclaimer appears in NikkieTutorials' video description, in which she reviews full-coverage foundations for her subscribers:

Having a links disclaimer like this one is very common for YouTubers sharing product reviews or recommendations on their channels. Some videos are sponsored and some are not, but most of them include affiliate links.
By displaying this type of disclaimer and being transparent with your audience, you are building a relationship of trust with them which in turn can help with your engagement. A win-win situation from both a legal and marketing perspective.
YouTube Copyright & Fair Use Disclaimer
With a lot of videos on YouTube using copyrighted materials, such as music or scenes from a movie, one may be tempted to add a fair use disclaimer to their channel.
However, having a copyright disclaimer will not protect you from a lawsuit if you are actually infringing on someone's rights by using their property without obtaining prior authorization.
But claiming that you are not intending to commit any infringement as you deem using their work "fair use" under section 107 of the Copyright Act could facilitate communication with the copyright owner and discourage them from filing a lawsuit against you.
This fair use copyright notice appears on Nik the Booksmith's YouTube channel, under each video, and on their "About" page: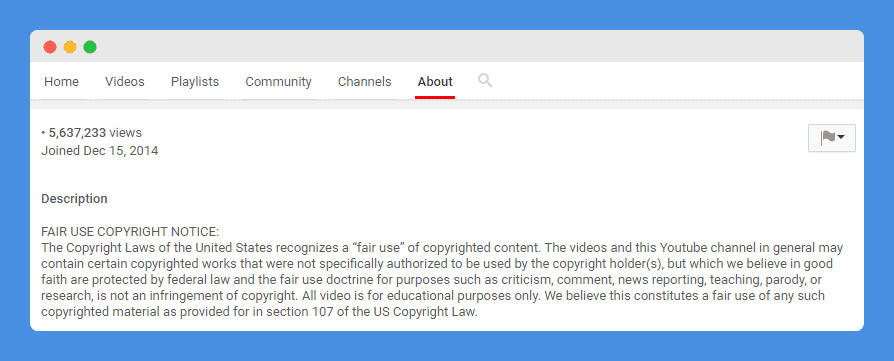 This notice by Nik the Booksmith includes examples of what is considered "fair use" under federal law.
They also include a copyright notice under each one of their videos with the goal of protecting their own work:

Nik the Booksmith shares bookmaking tutorials with their subscribers using products that they sell on their Etsy store.
This is good practice to both protect your rights as well as make it clear that you do not intend to infringe anyone else's copyright as you deem to be making fair use of their work.
YouTube Professional Liability Disclaimer
If you are sharing professional advice on YouTube, whether it be medical, legal, financial, or health and fitness related, you should make sure to include a professional liability disclaimer statement in your videos.
This will serve to warn the public that your video was created for informational and educational purposes only and that watching it does not create a professional relationship with you nor can replace receiving advice from a professional that is familiar with their personal circumstances.
Here is a disclaimer that can be found on LegalEagle's YouTube channel :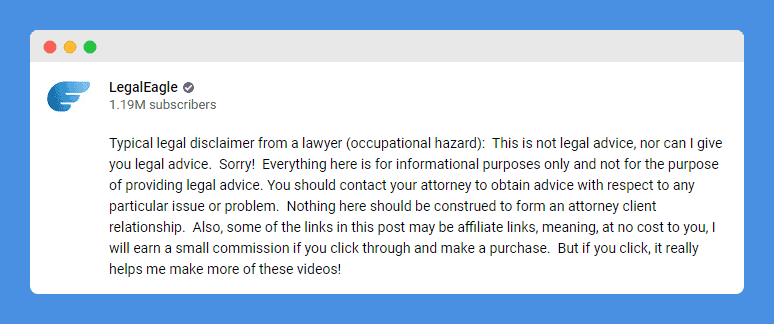 With almost 1.2 million subscribers, LegalEagle is one of the most popular lawyers on YouTube!
And here is an example of a medical liability disclaimer that can be found on Back Intelligence's YouTube channel and website:

Back Intelligence shares tips and exercises to help with neck and back pain on their popular YouTube channel. Note that this appears in their video description, which links to their website.
YouTube General Liability Disclaimer
Often used by businesses that share tutorials or how-tos on their channel as a way of attracting new customers, general liability disclaimers serve to warn users that the business will not be held liable for any damages that arise from the content shared in the video.
Here is an example of wording that is commonly used by service providers on their YouTube channels: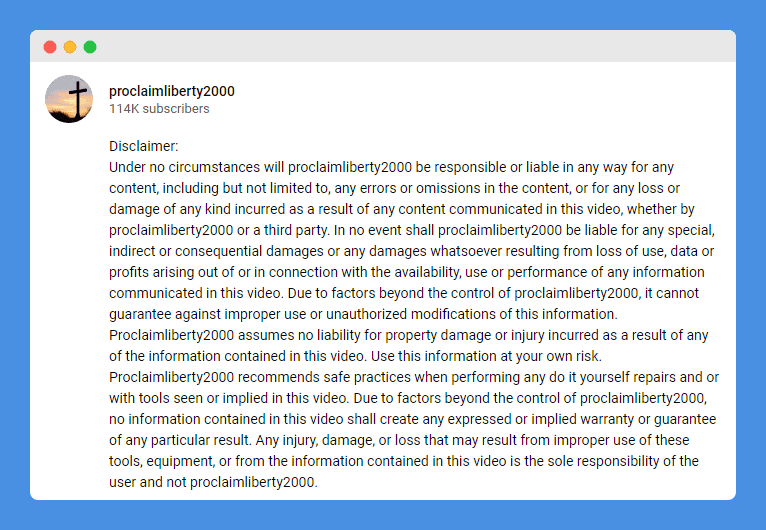 This individual (under the username proclaimliberty2000) shares tutorials on a variety of subjects with his subscribers – anything from car and mechanical repairs to plumbing and household tips. Some of his videos have more than 3 million views.
YouTube Third-Party Disclaimer
YouTube being a social media platform, the owner of the video does not have much control over the actions or comments of third parties once it is online.
People can comment directly under a video, express their opinion, and include links to third-party websites. It can sometimes be challenging to monitor all of this activity, especially if you have any kind of following on your YouTube channel.
This is why it can't hurt to put in place some general guidelines as well as a disclaimer in regards to third-party interactions with your content.
Back Intelligence has the following disclaimer on their website: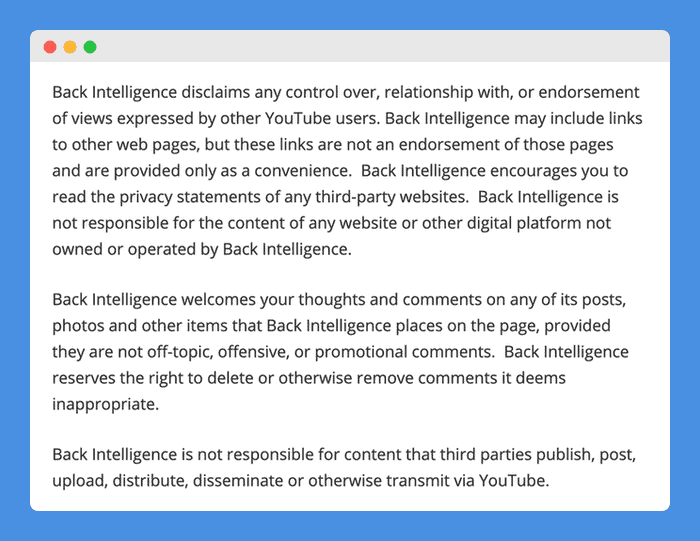 Back Intelligence reserves the right to delete comments that they deem inappropriate, which allows them to maintain some control over their YouTube channel.
Here's another example of what the Ontario Ministry of Children, Community and Social Services did on their website: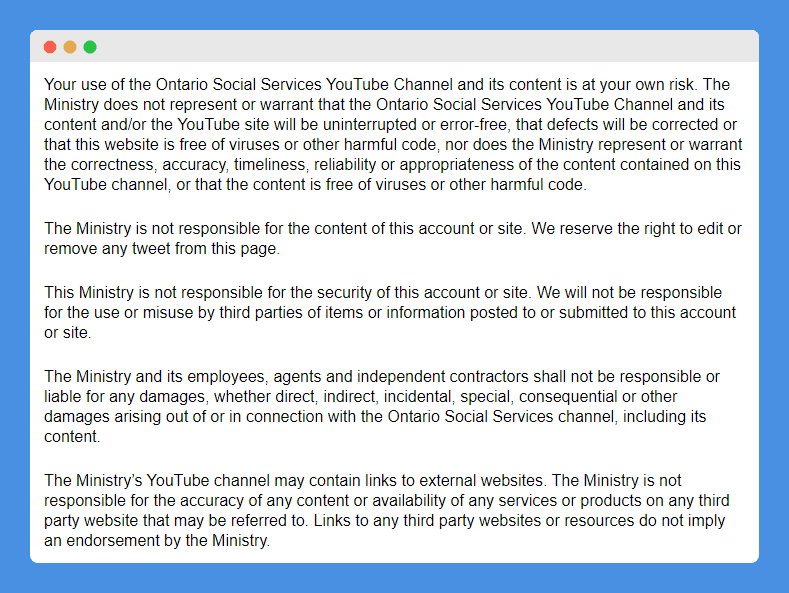 How do I Write a YouTube Disclaimer?
While these types of disclaimers may not all apply to your business or the type of content that you share on your YouTube channel, chances are that having at least one of them could be wise.
Think about who watches your videos, what they could take away from them, and the risks associated with following your advice. This should help you identify which type of disclaimer is appropriate in the circumstances.
The best way to go about it however is to have a disclaimer that addresses all of these points so you won't need to worry about missing something or including different disclaimers for different videos.
Use our YouTube disclaimer generator to cover everything we mentioned in this article and much more. Taking a few minutes to get it done now can save you a lot of headaches and financial liability later.