Building a mobile app is tough. App developers and business owners have to worry about things like graphic design, mockups, programming, and market research.
And just as you think you may have gotten it all figured out, you realized those aren't the only things you should worry about. What else is missing? Well, legal stuff like mobile app terms and conditions come to mind.
Although they're not the fun part of creating an app, terms and conditions are one of the most important parts, because one day they can save you from unexpected legal surprises, aka lawsuits.
Let's take a closer look at the terms and conditions for mobile apps, what they are, why they matter, and how they benefit you and your customers.
PRO TIP: Don't waste your time and take the guesswork out of the legal jargon with this personalized terms and conditions generator trusted by over 150,000 businesses.
What are Mobile App Terms and Conditions?
The terms and conditions for mobile apps, also known as the terms of service or terms of use for mobile apps, set out the rules, requirements, limitations, and restrictions that users must follow in order to use a mobile application.
These terms and conditions act as an agreement between you and your users, which helps protect the rights of both parties.
Don't confuse terms and conditions with a privacy policy or a disclaimer as they are completely different policies and serve different purposes.
Why Does Your Mobile App Need Terms and Conditions?
There are a number of reasons why your mobile app needs a terms and conditions agreement.
It helps to protect your app from being used in an unauthorized or illegal way.
If someone uses your app in a way that is not allowed by your terms, you may be able to take legal action against them. It also helps to protect your app from being copied or redistributed without your permission.
It can help to limit your liability if something goes wrong with the app.
If something goes wrong with your app, the terms and conditions help limit your liability. By having these terms in place, you can help ensure that your app is used as intended and that you are not held liable for any damages that may occur.
It can help to ensure that users understand their rights and responsibilities when using your app.
It is important for your users to read and understand the Terms and Conditions before using your app. By agreeing to the terms and conditions, users agree to abide by the rules and regulations set forth by your company.
Of course, there are many other reasons but these, in most cases, should be more than enough to serve as a reason to create terms and conditions for your app sooner than later.
Do App Stores Require Terms and Conditions?
The two popular platforms for publishing mobile applications are Google Play Store and Apple – both require you to have terms and conditions available.
On top of that, these app stores actually require you to agree to their own terms and conditions before you download or upload any app on their platform.
For example, Apple App Store requires users to agree to an end-user license agreement before proceeding with downloading an app.

Google Play is no exception and requires developers to grant users a "nonexclusive, worldwide, and perpetual license to perform, display, and use the Product on the Device."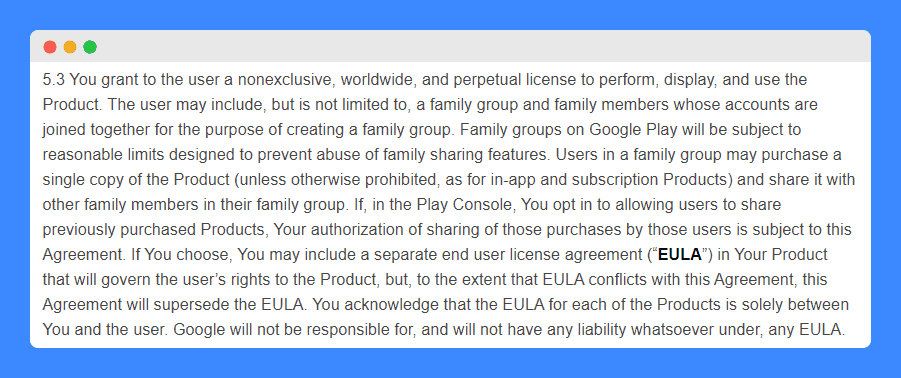 As you can tell, both of them protect themselves so why shouldn't you protect yourself too?
What Should You Include in Your App's Terms and Conditions?
How your terms and condition agreement will look depends on your app's functionality and nature. It will typically depend on:
If users can create an account in your mobile app
If users can post or create and post their own content
If you allow users to interact with each other
If you sell anything or accept payments
If you offer certain types of content
And more
Let's take a look at a few clauses that you'll typically want to include in your policy.
Prohibited Uses
A prohibited uses clause lets your users know what is considered banned behaviors and activities in your application. This will make sure that users know what they can and can't do when using the service.
The types of prohibited uses should be clearly stated so that there's no conclusion. On top of that, you may list out the appropriate actions that will be taken if someone violates these terms. You may even create a separate acceptable use policy to expand on this further for better legal coverage.
Intellectual Property
An intellectual property clause defines what parts of the app are owned by you. Intellectual property can include your app's logos, designs, artistic creations, images, and symbols directly related to your app.
As you might have guessed by the name, this clause protects your intellectual property within the app and discourages users from potentially copying your app's idea, design, or other features and reselling them as their own.
Disclaimers and Warranties
The disclaimers and warranties clause is helpful in limiting your legal liabilities. This ensures you are not held legally accountable should there be any injury or potential losses because of app use.
Account Termination
You would probably also want to make it clear that you have the right to terminate accounts that violate your mobile app's policies. At the end of the day, you should have the power to decide when and why to delete someone's account promptly before they cause any more damage.
Clauses to Include for Different App Types
Depending on the type of mobile app you're launching, you may need to add some additional clauses in your terms and conditions that you don't usually see across some of the simple apps.
Simple Apps
In case you think that a simple app that barely does anything shouldn't require terms and conditions – think again.
Even if your app doesn't really do anything and simply shows some content or performs basic calculator functions, what if somebody relies on that content to do something and suffers damage? You probably want to mention that.
Some of the basic clauses even simple apps should include are:
Accuracy of information
Intellectual property rights
Links to other resources
And more
SaaS Apps
Most SaaS applications offer users to create an account and many offer some types of trials. They may also rely on third-party services to operate or have certain cloud-powered features of their own.
With that said, there are definitely many things that could potentially go wrong and would need to be referenced in the related terms:
User posted content
Third-party services
Prohibited users
Dispute resolution
And more
Ecommerce Apps
eCommerce apps are usually an extension of an eCommerce website and would usually have the same terms and conditions as the online store itself.
For an eCommerce app, you'll want to include clauses that cover payments and purchases among some others:
User accounts and memberships
Third-party services
Payment methods
Limitation of liability
And more
Examples of Effective Mobile App Terms and Conditions
Here are a few examples of companies with well-written terms and conditions for their mobile apps.
King Games
King Games are in charge of many popular games so they know what they're doing when it comes to writing terms and conditions for their mobile games.
With these terms, King Games lists what content on the app belongs to the users. It states that information such as messages between users are all considered user content, and is your responsibility.
By including a list of what's considered user content, the app removes liability for anything users say or create with their content on the app.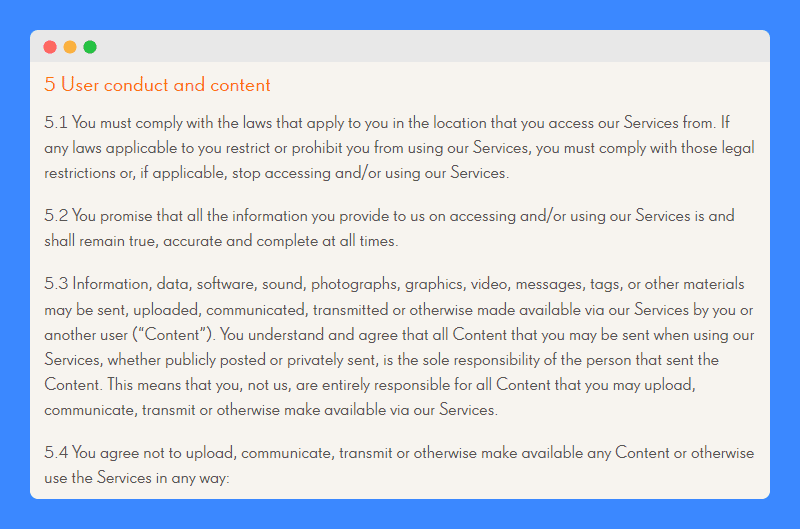 Insight Timer
Insight Timer is a sleep and meditation app. It's designed to help users reduce anxiety and sleep better.
This application's terms and conditions include a clause that states anyone who uses the app must create an account. It also states that by creating an account, you agree to the terms of service.
This is important for ensuring that anyone on the app is adhering to the company's policies. That way, the company protects itself through the clauses covered in the terms.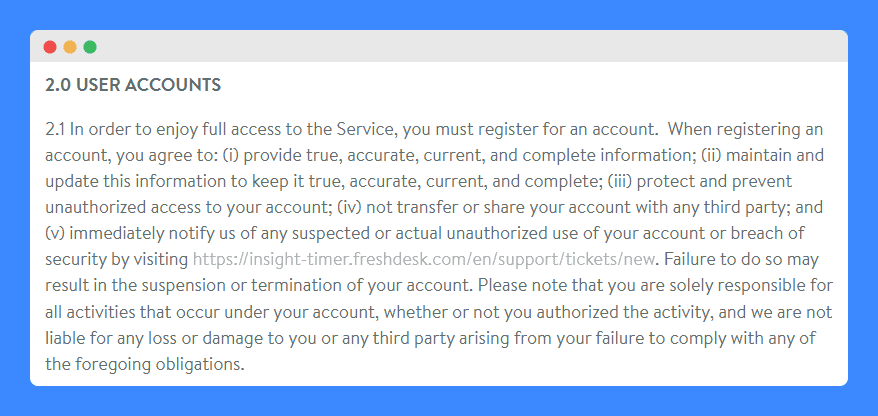 Active Network
Active Network is the owner of the popular fitness app Couch to 5K. This app's terms of service agreement includes a clause about their right to update the policy at any time.
In this clause, they state that users are responsible for regularly checking and reviewing the terms of service. If users violate a new policy, they will still be held liable because the app holds the right to update the conditions at any time.

Sample Terms and Conditions Template for Mobile Apps
Here's a generic template you may use as a starting point when drafting your own mobile app terms and conditions. Keep in mind that it's just a sample and doesn't include many of the important clauses you'd otherwise want to include.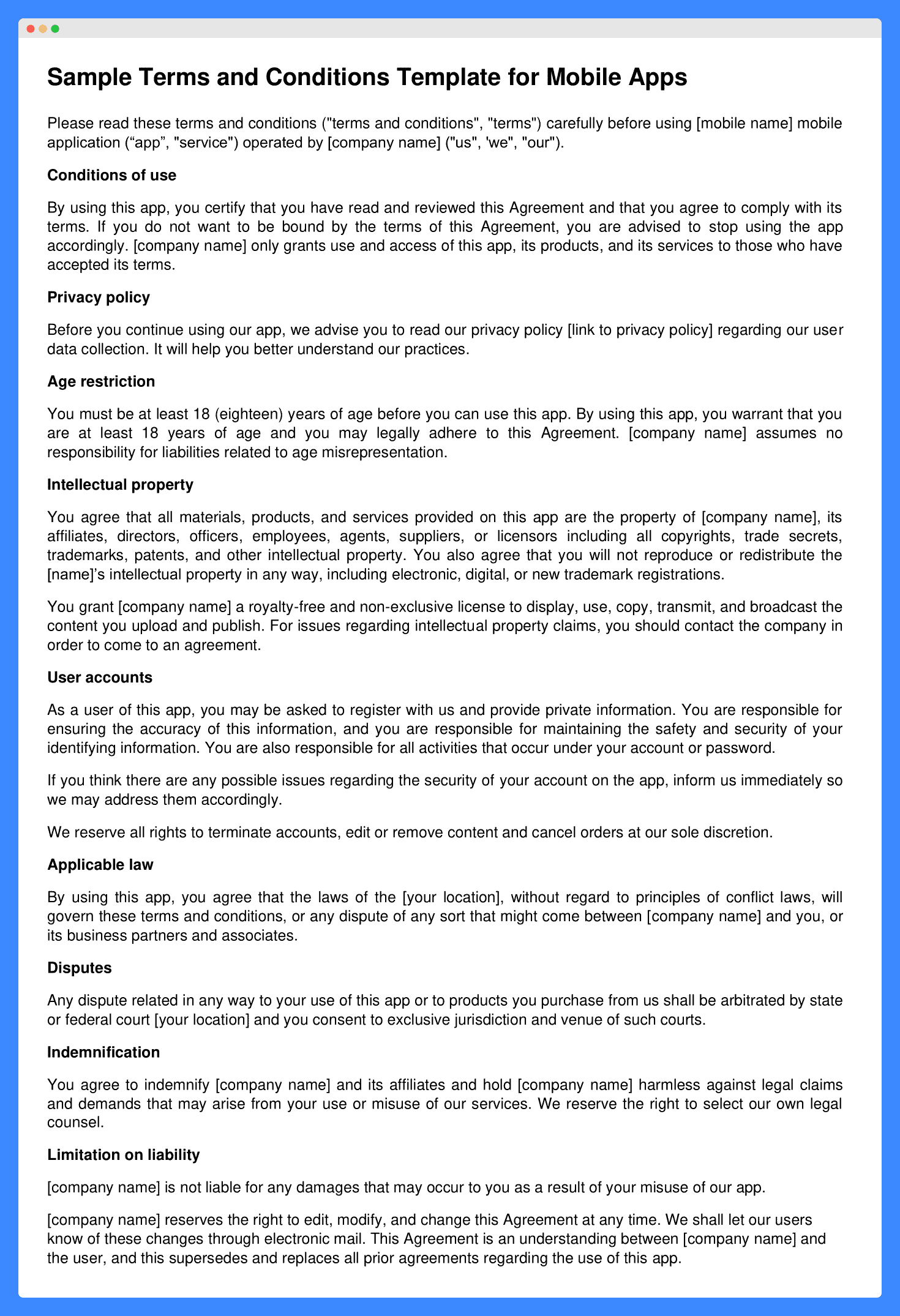 Frequently Asked Questions
Why are terms and conditions important for apps?
Terms and conditions are important for apps because they help to protect app developers and users. They spell out what users can and cannot do with the app to create a fair and safe environment for everyone involved.
Do app stores require terms and conditions?
Yes, app stores require terms and conditions for mobile apps submitted by developers. These terms and conditions typically include things like that the app may not be used for illegal purposes, liability clauses, and more.
Can I copy others' mobile app terms and conditions?
While you could certainly copy someone else's terms, you could be held liable for any legal issues that arise from doing so. Not only is this plagiarism, but every app is different, and another app's terms and conditions may not include everything you need for your own app.
Can I write my own app terms and conditions?
Yes, you can write your own app terms and conditions. However, it is important to make sure that they are legally binding and enforceable by not making mistakes. If in doubt, it's best to consult with a lawyer or use a generator.