We have already discussed the importance of having detailed and up to date terms of use on your website or application, as it will help protect your business by allowing you to set and enforce rules, protect your intellectual property and limit your legal liability.
To be considered valid and enforceable, your terms of use should be drafted in such a way that is understandable for your users and should be easy to find on your website.
Ideally, you should prompt your users to actively accept your terms, which can be done by using a clickwrap agreement in the form of a checkbox or button.
PRO TIP: Don't waste your time and take the guesswork out of the legal jargon with this personalized terms of use generator trusted by over 150,000 businesses.
Sample Terms of Use Template
Your terms of use do not have to be too elaborate. There are some fairly standard clauses that appear in such an agreement but they do have to be tailored to your business to be valid.
You may use this generic terms of use template below as a starting point. Note that this is just an example terms of use template only and that it does not contain every type of clause or important topic that you should add to such an agreement.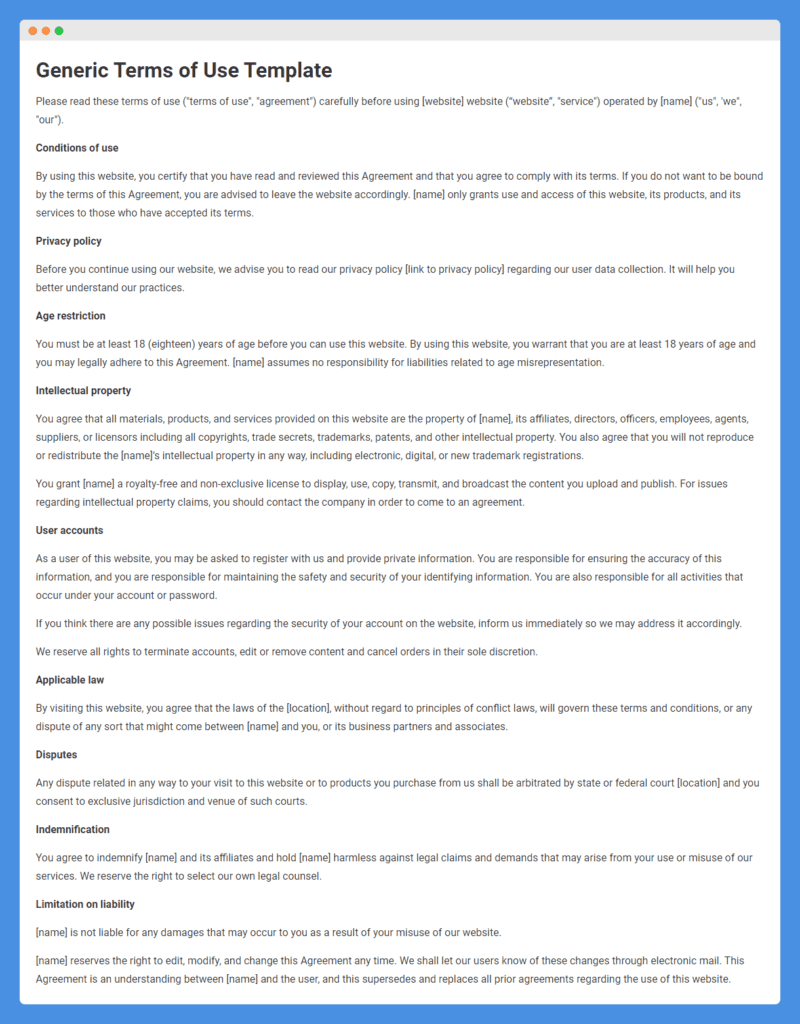 Terms of Use Examples
Here are 5 terms of use examples from different businesses and websites to give give you a better understanding of the clauses your own terms of use agreement has to include.
ASX
The Australian Securities Exchange (ASX) uses a browsewrap agreement and displays a hyperlink to its terms of use in its website footer.

Clicking on the hyperlink brings visitors to a page where the website owner is identified and where a warning is given to them: by using this website, visitors confirm that they accept these terms of use along with other applicable notices and disclaimers.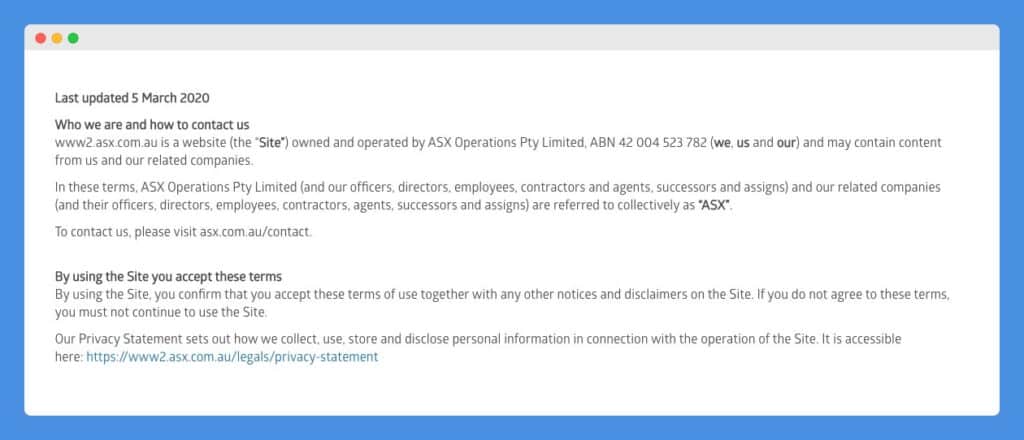 The terms of use themselves are comprehensive but to the point. Since the ASX shares market data and prices on its website on which users could reasonably decide to rely on to make investment decisions, its terms of use include disclaimers to that effect.

The ASX also includes a detailed list of what it considers prohibited uses of its website, though it's a much better idea to place these in an acceptable use policy: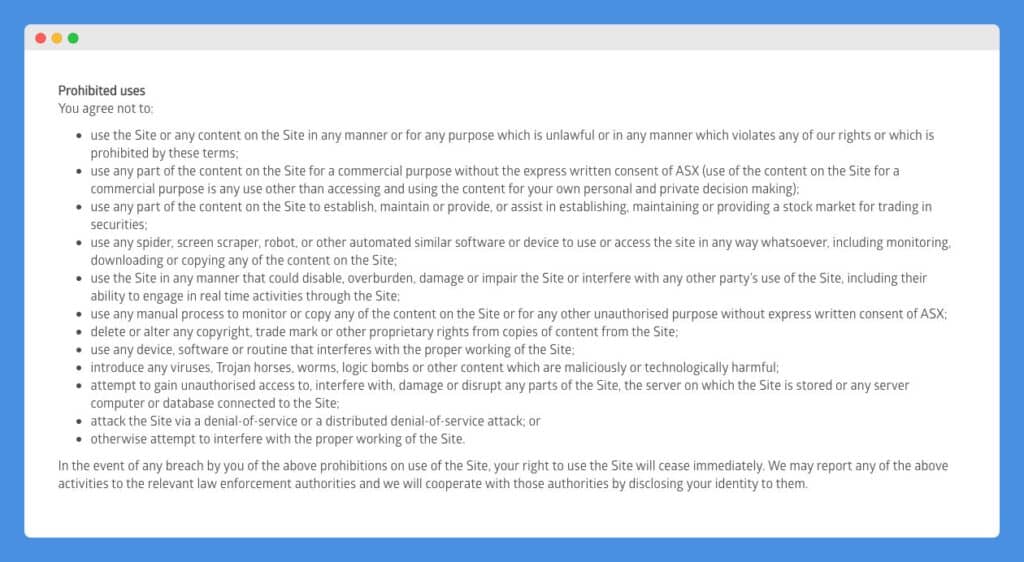 Canva
The graphic design platform, Canva, offers software that is free to use with the option of purchasing premium memberships to access additional features. The interface allows users to use templates, graphics, and stock photos that are provided free of charge.
When signing up for an account, Canva warns potential users of its service that by signing up, they have to agree to Canva's terms of use. Including such wording is good practice as it gives users another occasion to read through your terms of use before they start using your product.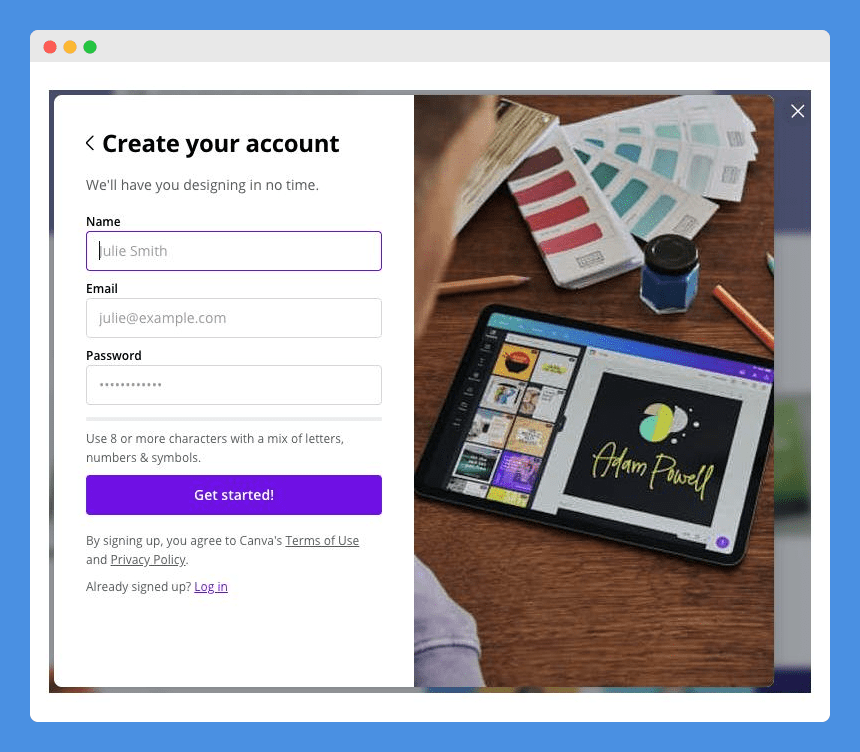 Canva specifies in its terms of use that one must be at least 13 years of age in order to use its services and be able to form a legally binding contract.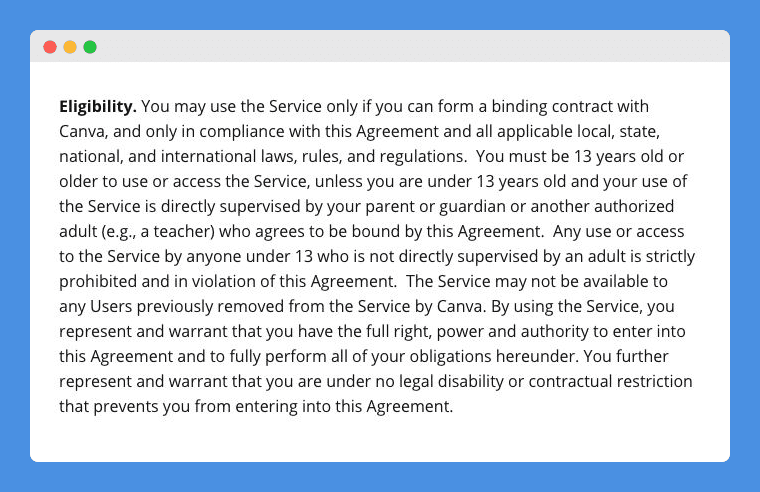 As you will see from the screenshot below, Canva summarizes in plain language the clauses of its agreement, which is helpful for people who may not be comfortable reading through what could be considered legalese.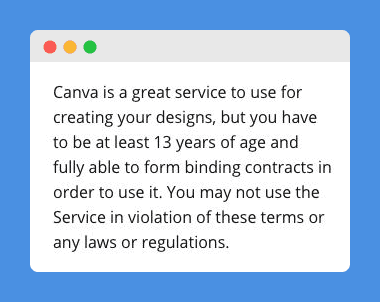 Since Canva provides templates and encourages users to upload their own content, it includes a clause regarding intellectual property in its terms of use and emphasizes the fact that it owns the content mentioned below along with its associated rights. It also includes a whole section about DMCA notices and the steps to follow to notify Canva of alleged copyright infringement.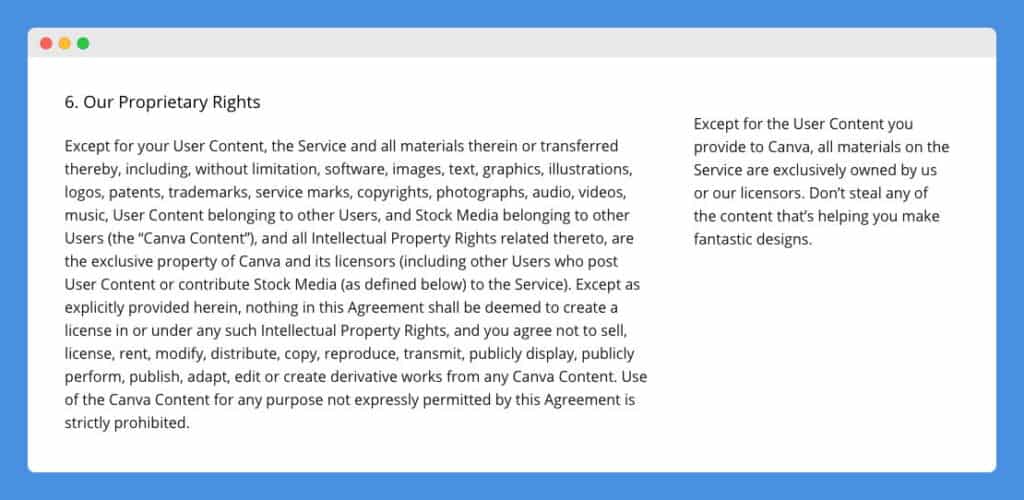 Canva includes an arbitration clause in its terms of use, which has become standard practice over the years in the software industry. It also specifies that this agreement is governed by the laws of California and that any dispute will be resolved in the courts of Santa Clara County.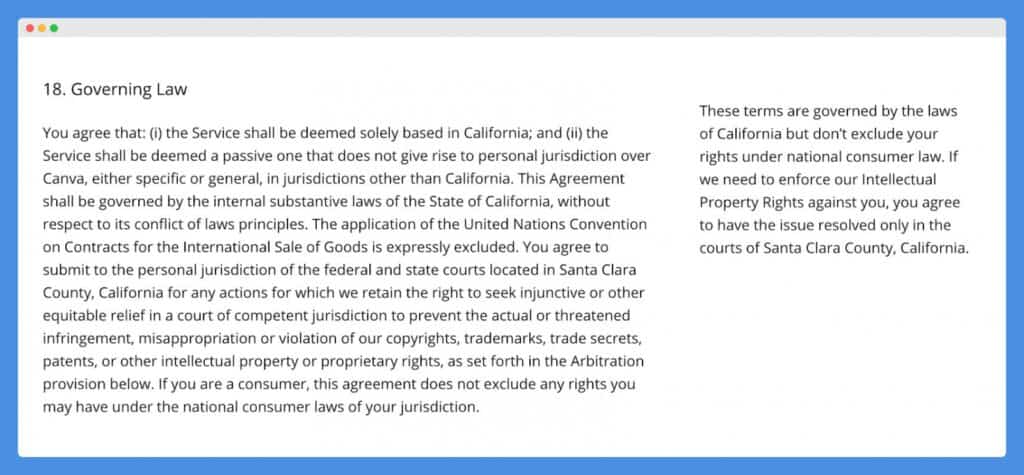 Mailchimp
Email marketing service Mailchimp has thorough terms of use which apply to any person that chooses to use or sign up for Mailchimp.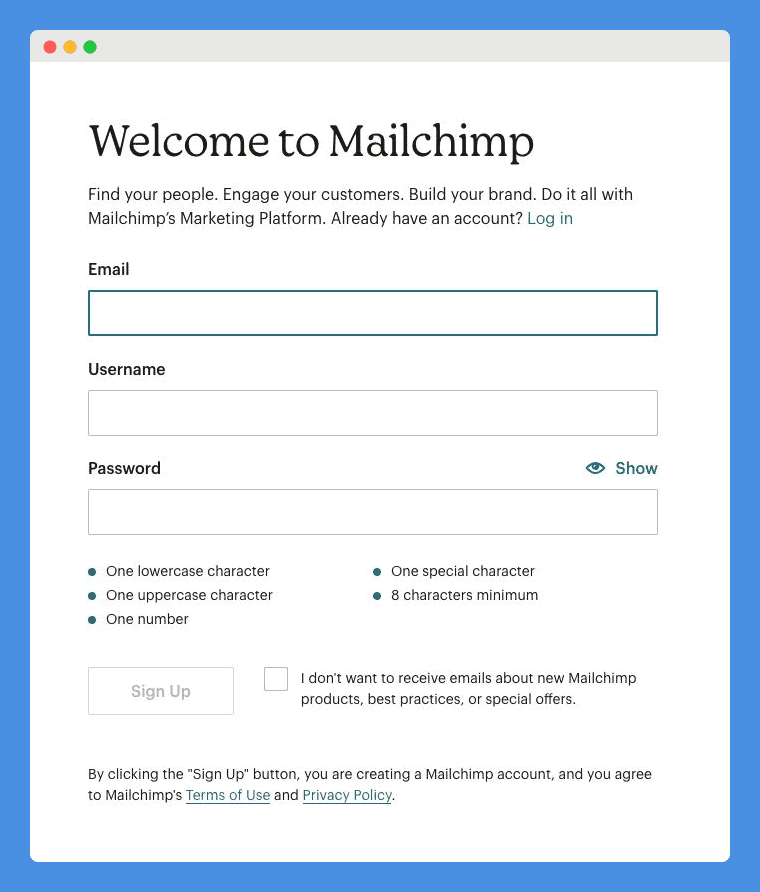 Due to the variety of businesses that use Mailchimp to send emails to their subscribers and due to the fact that, as a simple service provider, it does not have direct control over the content that is sent through its platform.
Its legal policies page is very detailed and includes a separate acceptable use policy for even more details on prohibited uses to help them keep their network safe from abuse.
There is also a section in Mailchimp's standard terms of use that details the general rules to abide by and the situations that could lead to the company having to issue a warning, suspend or delete an account.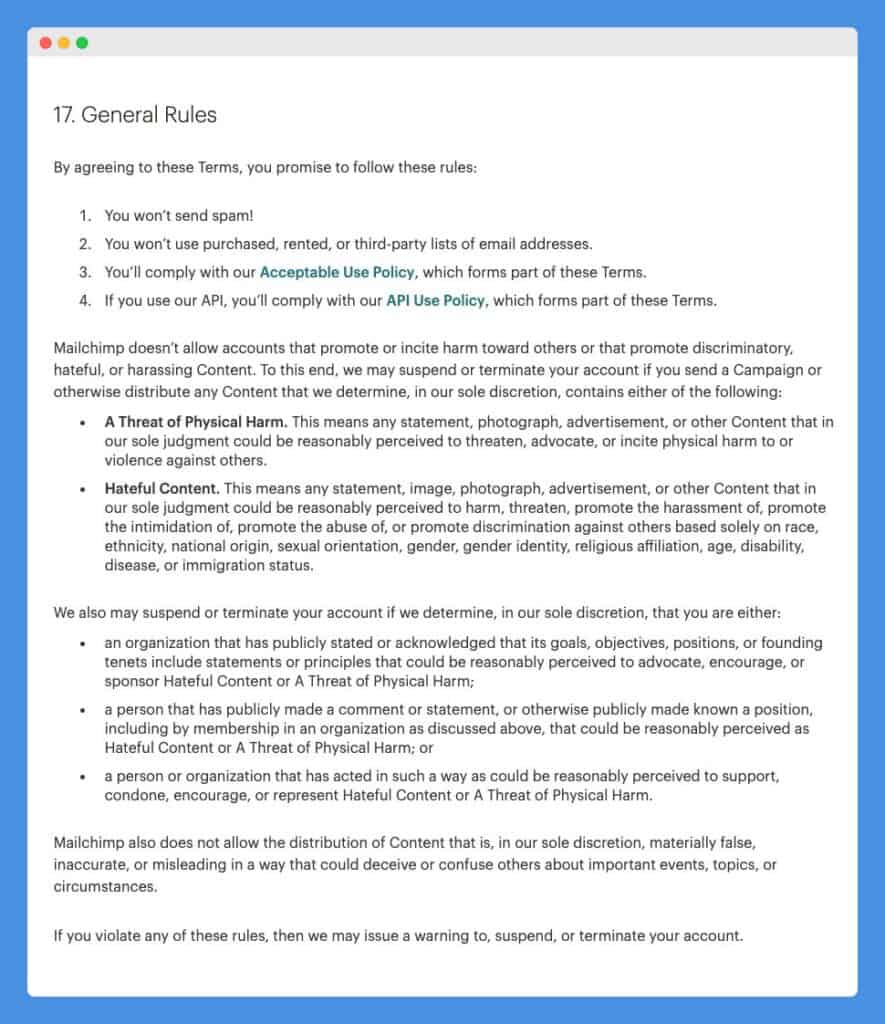 As most terms of use do, Mailchimp includes a section referencing its privacy policy, to address how the company collects, processes, and uses the personal information of its users. Instead of summarizing its policy, it includes a hyperlink that leads to its privacy policy which is required by law in many countries.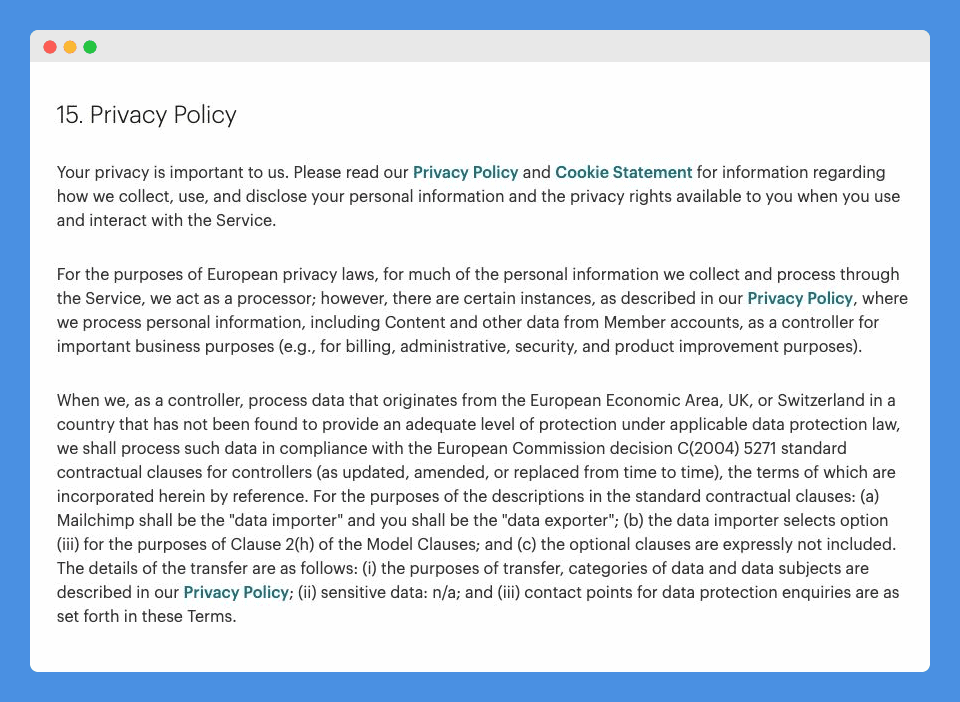 Saks Fifth Avenue
Terms of use can look a bit different for e-commerce websites. For example, luxury retailer Saks Fifth Avenue makes a distinction between its website terms of use and its purchase policies, which forms part of its terms of use and covers important information such as shipping, returns, and taxes.

In other words, its terms of use apply to anyone that visits the website while additional terms and conditions apply to customers that decide to go through with a purchase.
Saks' terms of use include a disclaimer that covers third-party links that appear on its website. The company disclaims any liability for the content or products sold or provided on these third-party websites as it holds no control over them.

The retailer also includes a fairly detailed paragraph in which it addresses warranties, disclaimers, and limitations of liability.
Saks notably mentions that its website and its content is made available on an "as-is" and "as available basis", specifies that products purchased on its website are subject to their respective manufacturer's warranties and limits its liability to the amount paid by the customer for the product purchased on its website.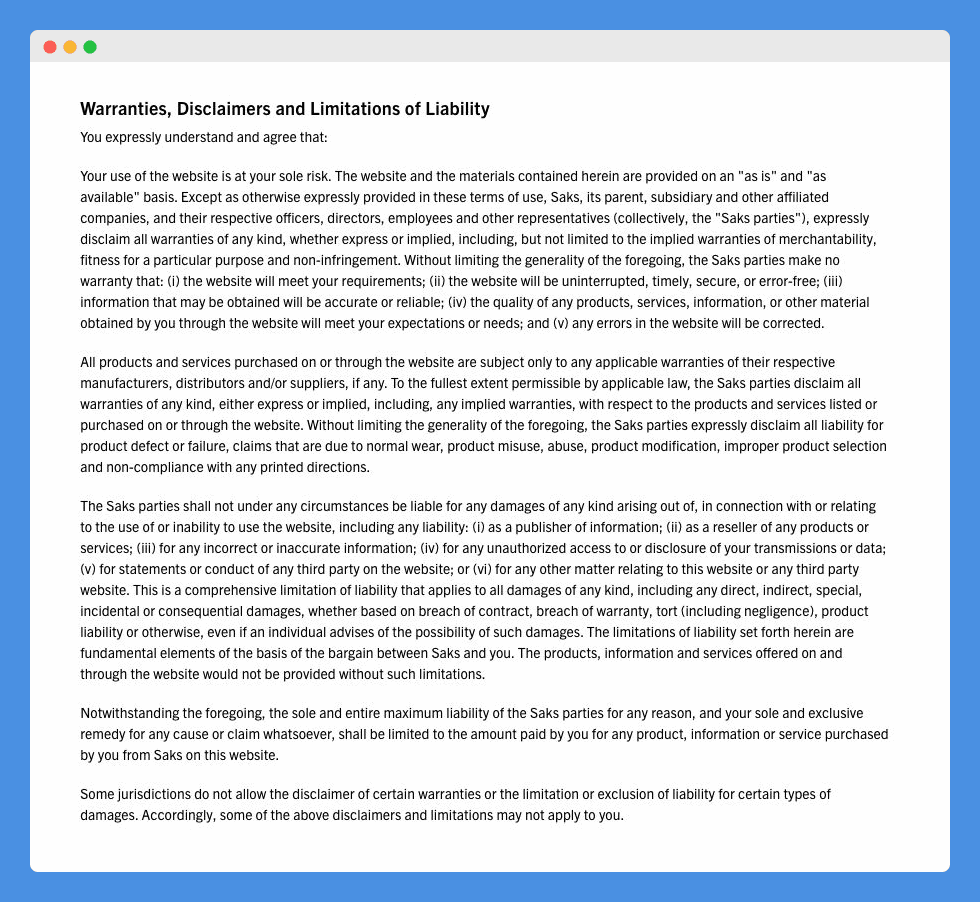 The Wall Street Journal
The Wall Street Journal offers subscription-based digital products to its readers. Users are prompted to agree to a subscriber agreement and terms of use upon registration for the service.
These terms of use contain guidelines regarding user-generated content, as readers are invited to comment on articles that they read and interact with each other. Having such a clause is essential if you own a news aggregator, a blog, a forum, or any website where people can express themselves freely.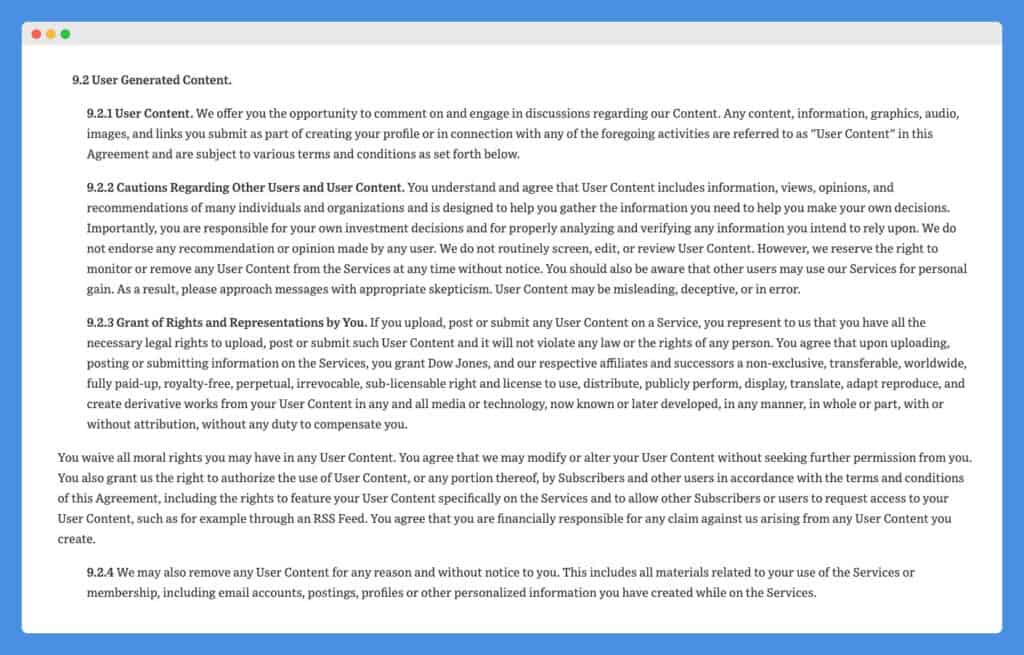 In this clause, The Wall Street Journal reserves the right to monitor and remove any user-generated content at their own discretion and without notice. It also specifies that by posting content on its platform, users grant The Wall Street Journal a royalty-free and perpetual license to use their content as detailed above.
In addition to the above, its terms of use include guidelines that are more specific to a subscription model such as this one, for example, terms regarding fees and payments and cancellation and renewal processes as well as a very detailed clause that contains limitations and restrictions on the use of the content provided by The Wall Street Journal.
How To Draft Terms of Use for Your Website
Drafting terms of use for your website does not have to be complicated. You can use the template provided above and add on to it to customize it to your business or you could simply use our terms of use generator which will create a tailor-made agreement in just a few minutes.
If you have a website, taking the time to include terms of use on your website is a simple but important step that you can take to establish clear guidelines for your users and protect yourself and your business from a legal point of view by limiting your liability.