We have already discussed the importance of having a shipping policy in place to build a relationship of trust with your customers and set clear reasonable expectations.
If you are just starting a business that will offer local or international shipping, you may want to use our shipping policy template below and have a look at what major online retailers are offering their customers in terms of delivery options.
PRO TIP: Save time & money with the professional generators trusted by over 150,000 businesses and create essential legal policies personalized to your needs in minutes.
Sample Shipping Policy Template
Your shipping policy should be easy for your customers to understand. This is not the time to draft a complicated document full of legal jargon. You want to make sure that they know what to expect in terms of shipping and delivery – the more information the better.
Here is a generic template that you can use as a starting point for your shipping policy. Note that this is an example and that your shipping policy should be tailored to your business, the products that you sell, and the countries that you sell to.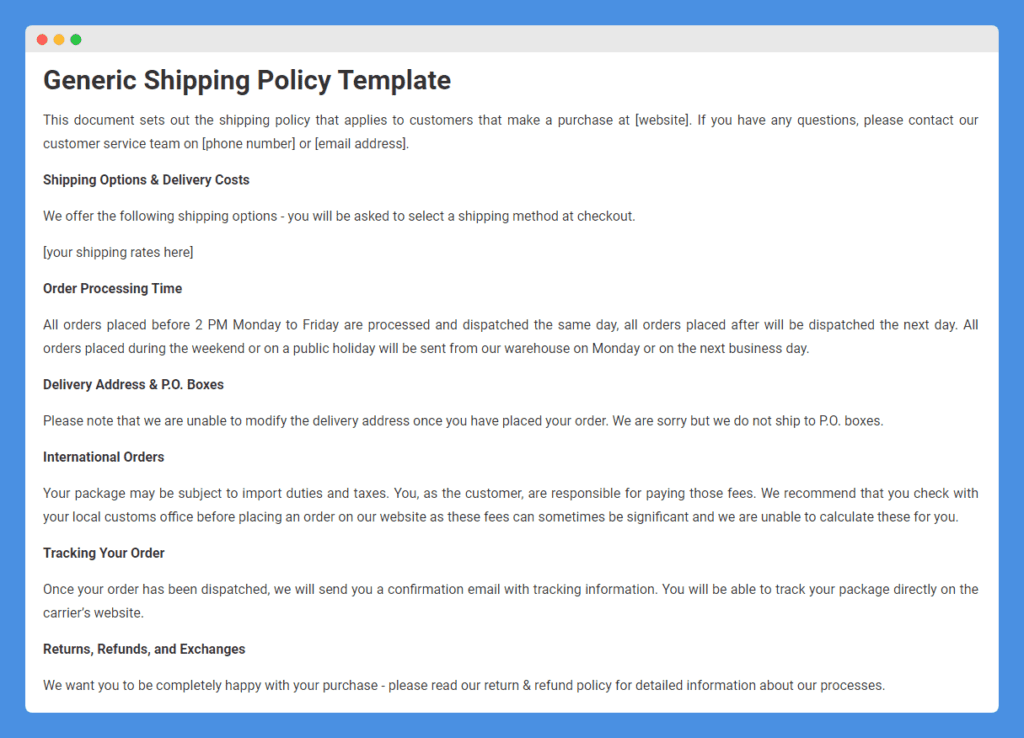 Shipping Policy Examples
Here are 5 shipping policy examples from different industries and website types to give give you a better idea of what kind of topics your own shipping policy has to include.
Sephora
Beauty retailer Sephora displays shipping information in its website footer, in its "Help" section.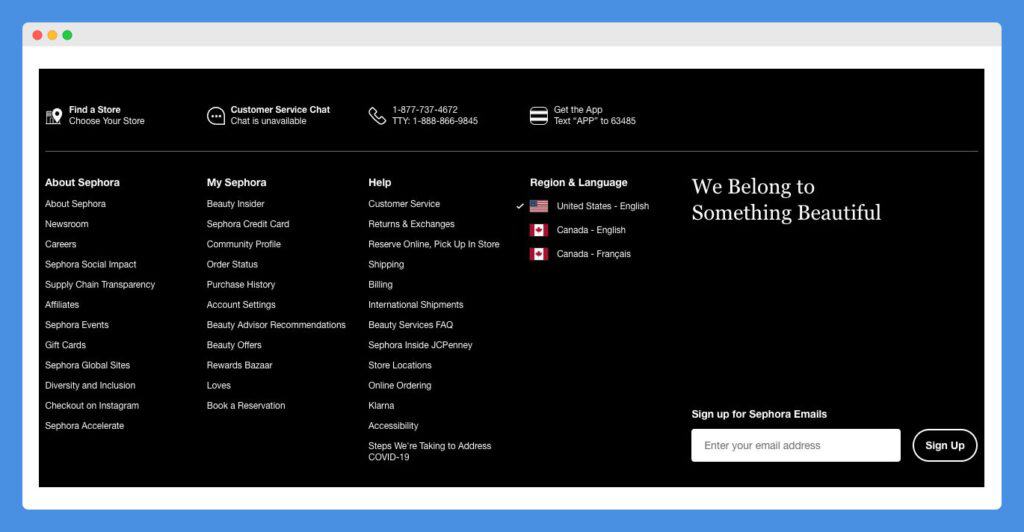 Sephora has local websites for each country in which it operates, therefore the shipping information that appears in this section on www.sephora.com is targeted specifically to US customers.
It does offer the option to order from the US website and ship internationally to select countries through global e-commerce provider Borderfree – there is a section on the website dedicated specifically to international shipments as well as a list of international websites: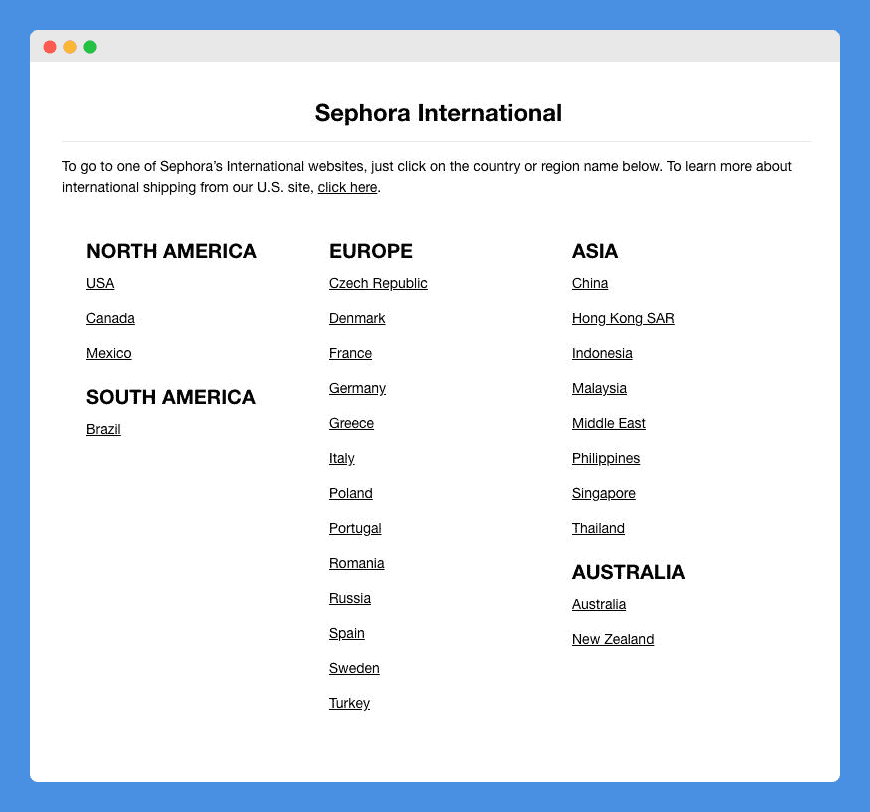 Sephora uses a table to display shipping costs and delivery times, making it easy for online shoppers to get that information at a glance: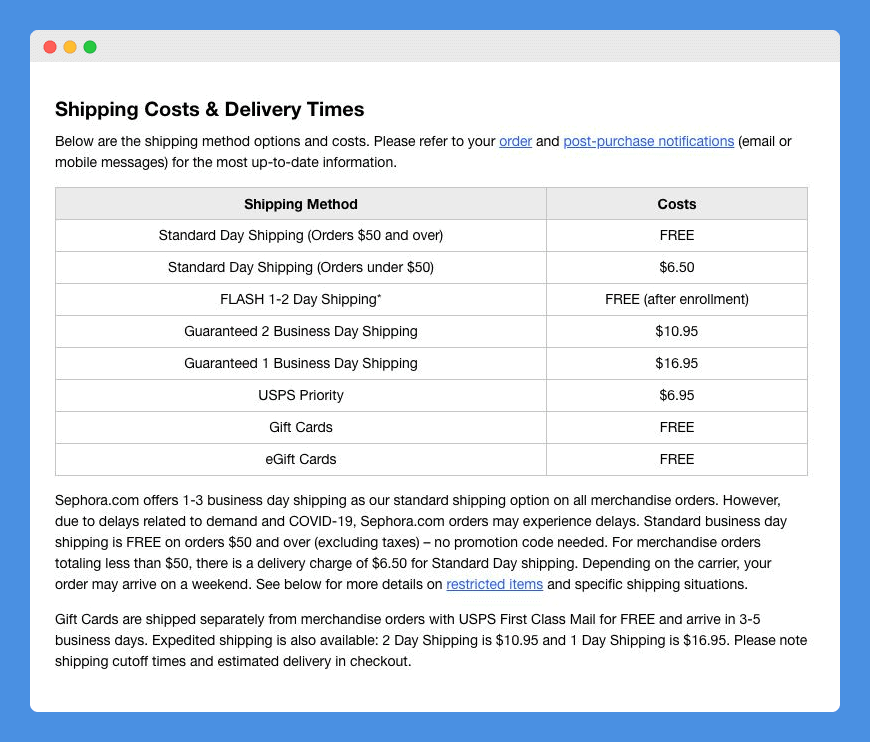 This table is followed by a list of restrictions and limitations, for example for parcels going to P.O. boxes and military addresses.
Sephora also explains how it processes and ship orders so that customers can take that into account if they need a delivery by a certain date: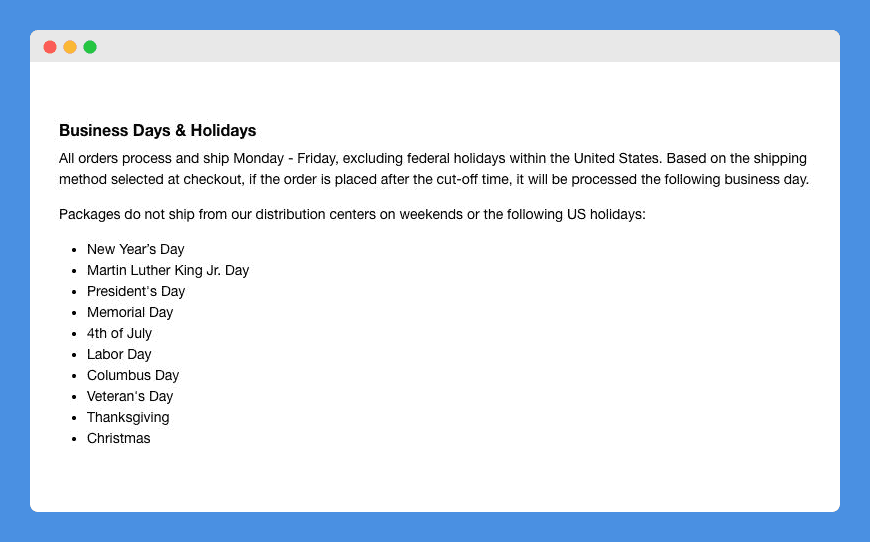 Last but not least, Sephora informs its customers that orders are generally shipped out within 1 to 2 business days and that they can expect to receive an email with tracking details. That tracking information also appears in customer accounts upon signing in.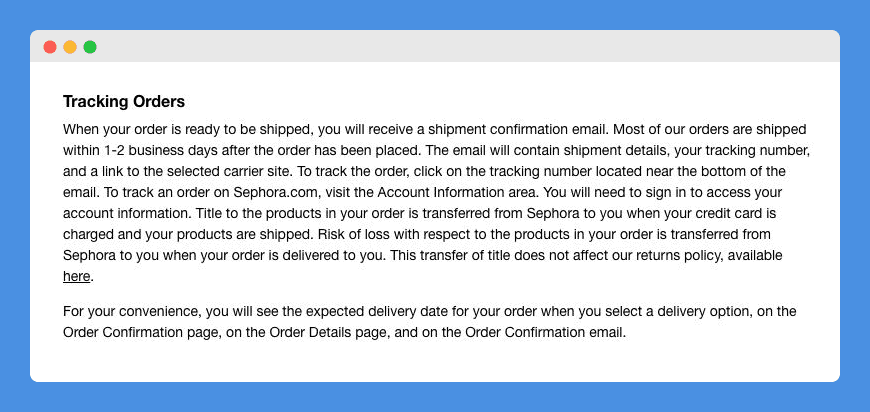 Wayfair
US-based furniture giant Wayfair uses a different technique to display its shipping policy as it is obviously a major selling point for the company. When a visitor lands on the homepage, Wayfair advertises free shipping on everything plus two-day delivery on thousands of items in a conspicuous manner:

To learn more, you must click on a small hyperlink in the upper right-hand corner of the page which generates a pop-up: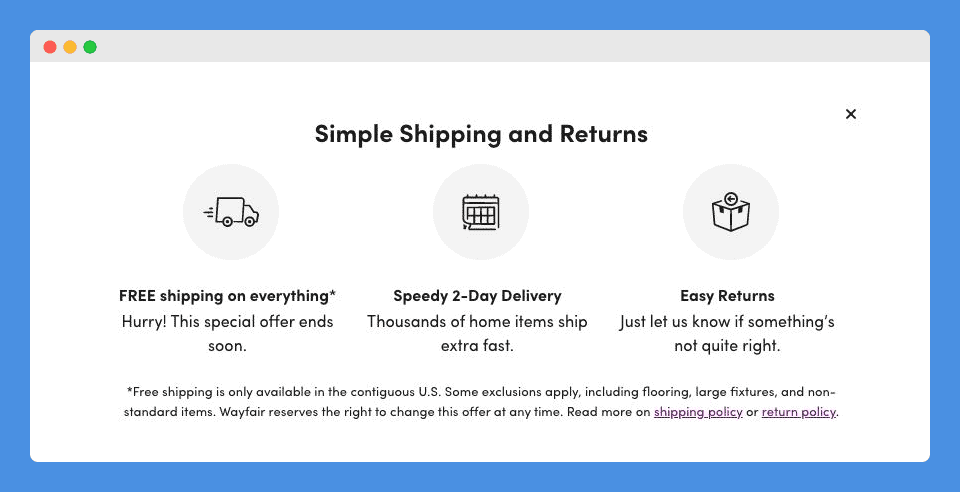 The actual shipping policy can be accessed by clicking on the hyperlink in purple, which also refers customers to delivery-related questions in the Help Center.
Wayfair specifies that small items are sent via UPS or FedEx and that larger items, such as furniture, are sent via trusted carriers.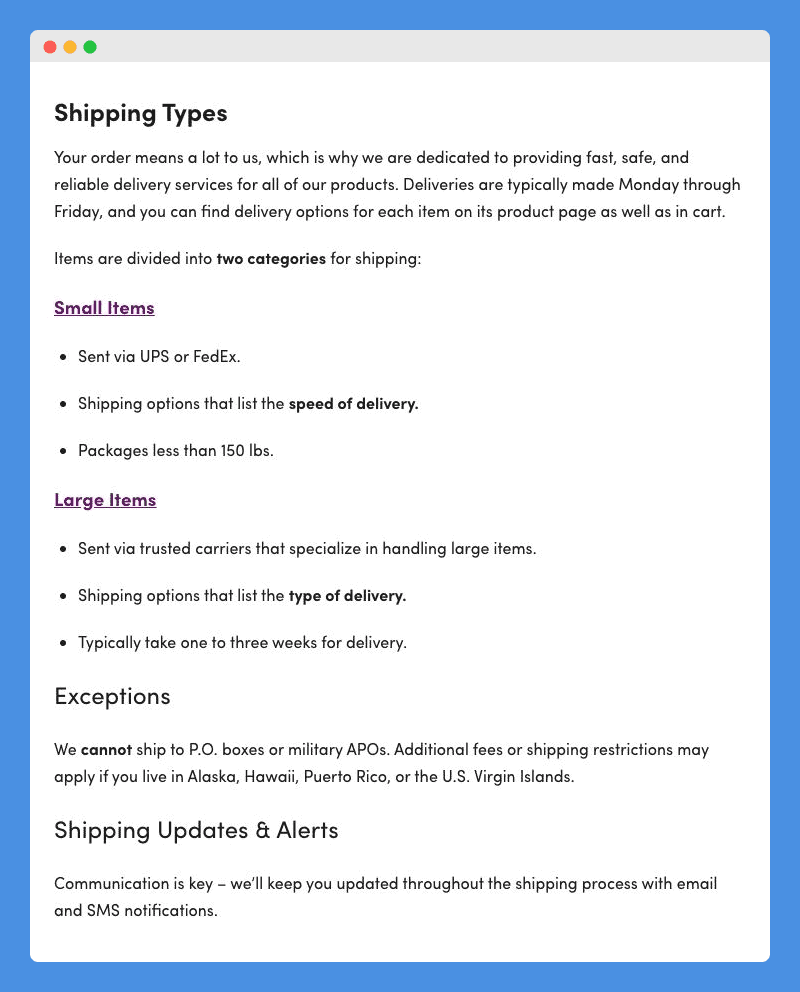 If a customer is buying a sofa from Wayfair, which is considered a large item, he or she will get to choose the delivery method at checkout as well as get a delivery date estimate. The process is explained in detail in the Help Center: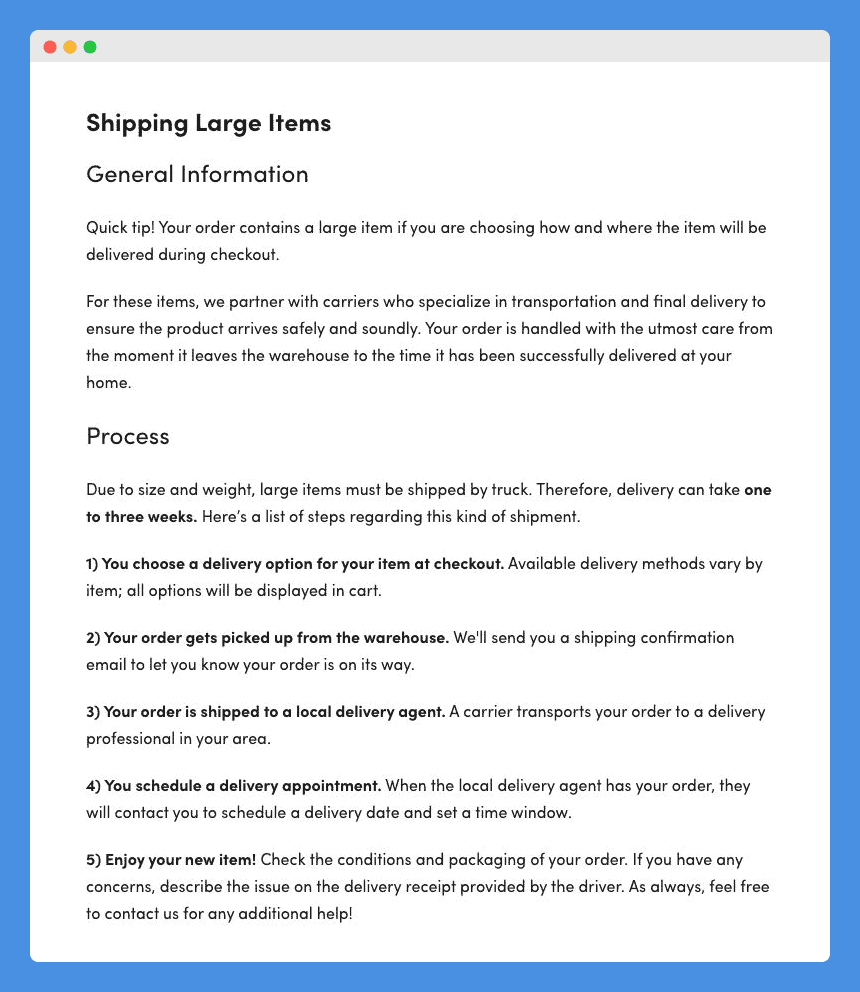 This is great as it provides transparency into the company's processes and most likely reduces the number of inquiries that it receives in regards to shipping large items.
Wayfair offers a few delivery methods, such as curbside (customer unloads), curbside (Wayfair unloads), outside the front door or inside home drop-off, room of choice delivery, or an all-inclusive delivery package that includes delivery, packaging removal, and assembly. These options are all explained in detail on that page.

L Space
L Space is a fashion and swimwear brand based in California that ships to customers worldwide through its website.
Reference to L Space's shipping policy is made in its website footer: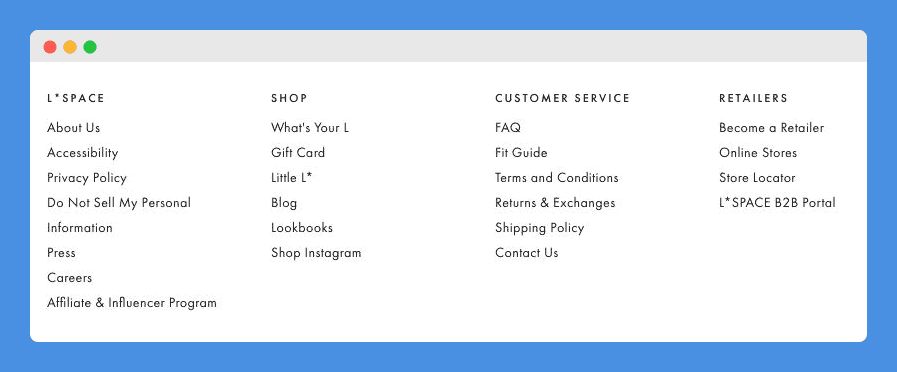 Its shipping policy is pretty typical of an online clothing retailer; it is clear but concise, written in easy-to-understand terms, and easy to skim through for an online shopper looking for a specific piece of information.
Here is how the company breaks down its shipping options, sets clear expectations by mentioning that customers should allow 7-10 days to receive their orders, and explains when orders are shipped depending on when an order is placed: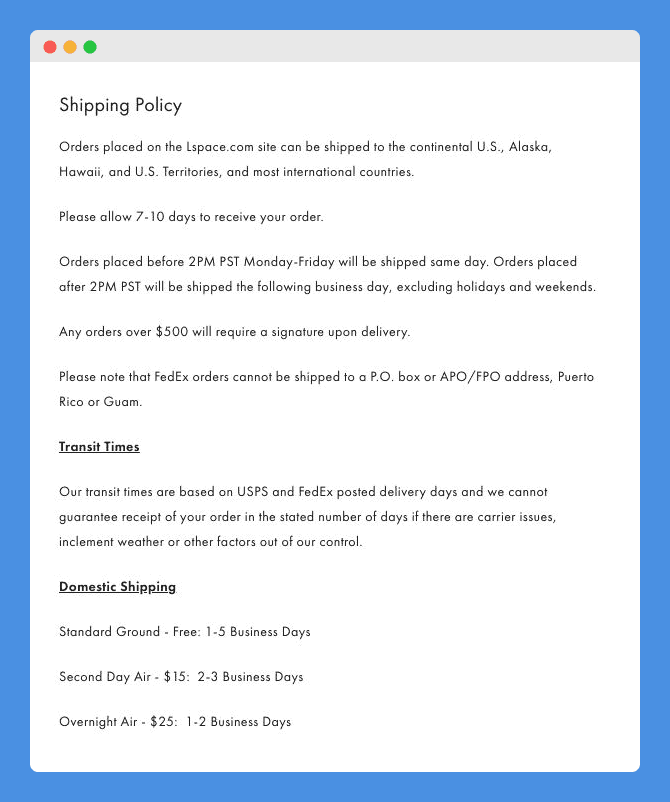 L Space has added a section specifically for holiday shipping deadlines: this is a great idea, as it helps customers plan their purchases, avoids disappointment, and protects the company should a package not arrive in time for Christmas.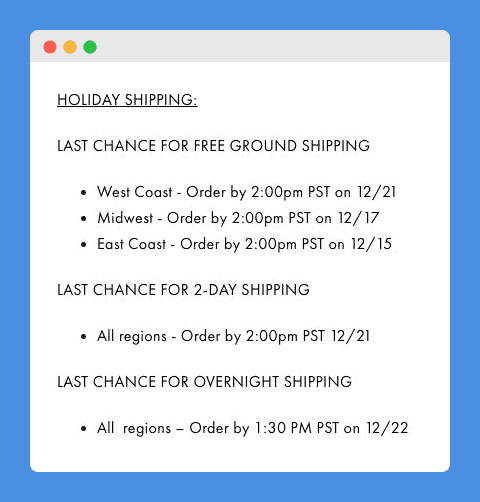 Moreover, the shipping policy has a section especially for international deliveries, as a different carrier is used, namely DHL Worldwide Express, which requires a signature on delivery. It is also in this section that the question of duties and taxes is mentioned: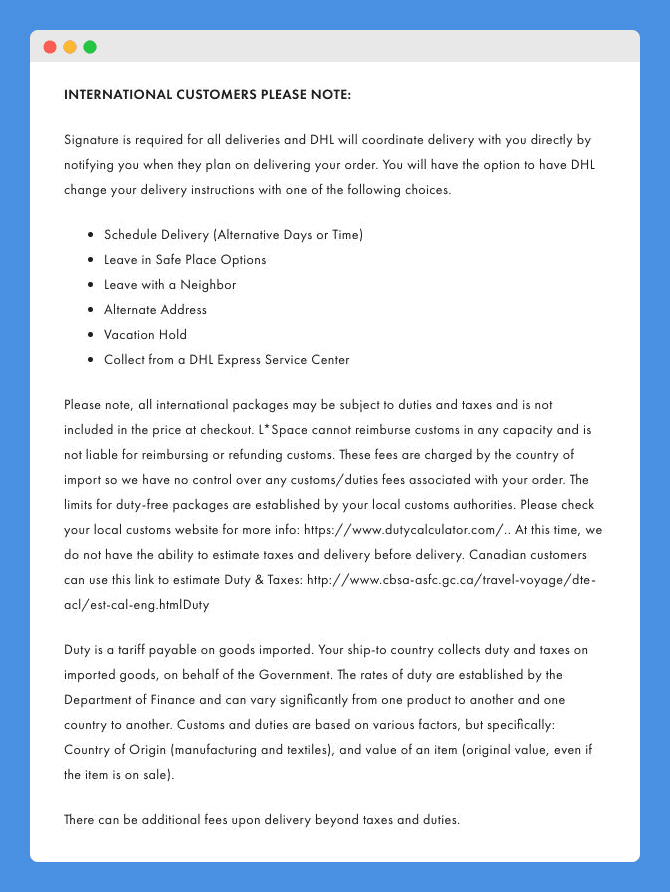 It's typically the case in eCommerce, the company specifies that packages may be subject to duties and taxes that are the sole responsibility of the customer and not of the retailer; L Space refers online shoppers to duty calculators.
Vistaprint
Vistaprint offers a range of customizable marketing products and printing solutions to small businesses; the company is known for its business cards, signs and banners, and promotional products.
Like other businesses mentioned in this article, Vistaprint includes a hyperlink to its shipping and delivery page in its website footer.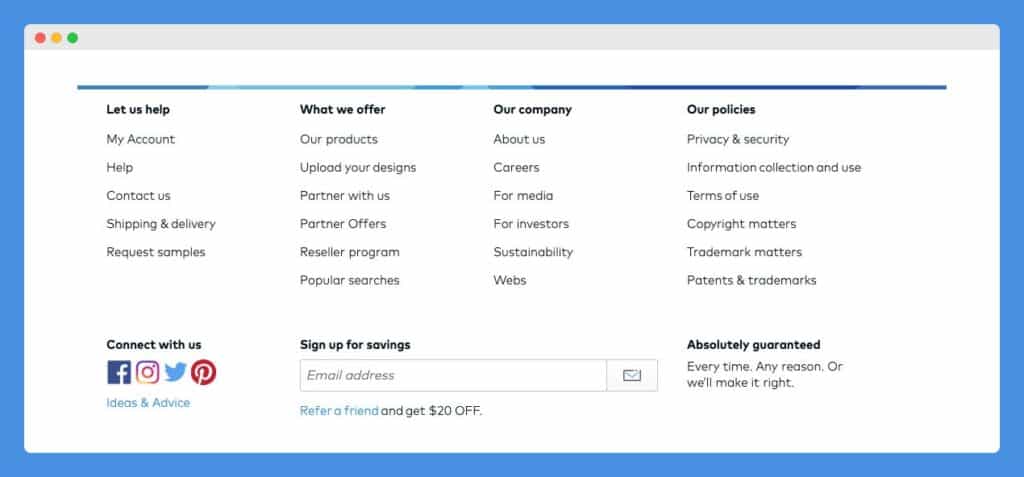 Customers are warned of current delays due to COVID-19; this warning is hard-to-miss as it is in bold, red letters:

This sets the tone and is a good way of reminding customers that they might need to be more patient than usual while awaiting their order.
Vistaprint's delivery fees depend on the order total, which is explained in a handy table, along with shipping options and standard delivery times from the day the order is placed (i.e. including production time):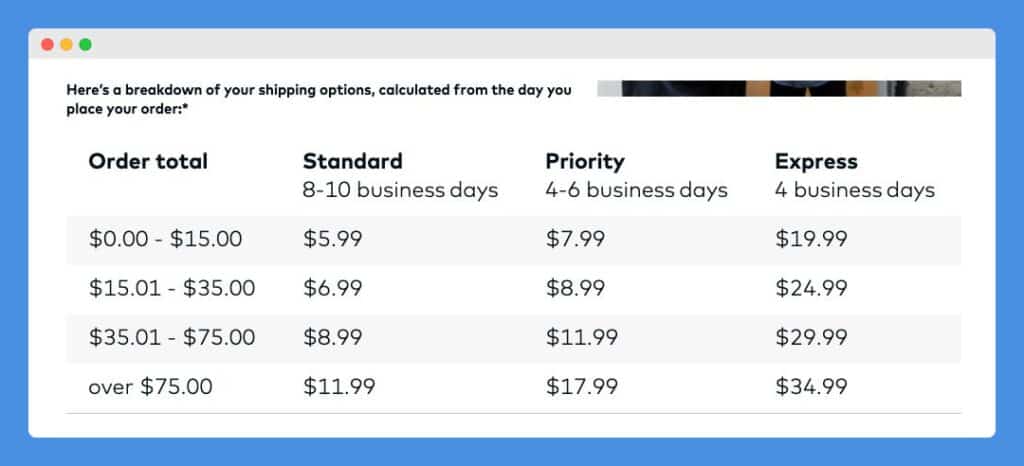 There is a list of exceptions for specific items such as sample kits, bags, and checks, which take longer to produce and ship.
Vistaprint includes a list of frequently asked questions, which makes it easy for customers to find the information that they are looking for, including what to do if they do not receive their package in time, as the shipping times are guaranteed:


Best Buy
Consumer electronics retailer Best Buy displays its shipping policy in the Customer Service section of its website, which is accessible through a hyperlink entitled "Shipping, Delivery & Store Pickup" placed in the website footer: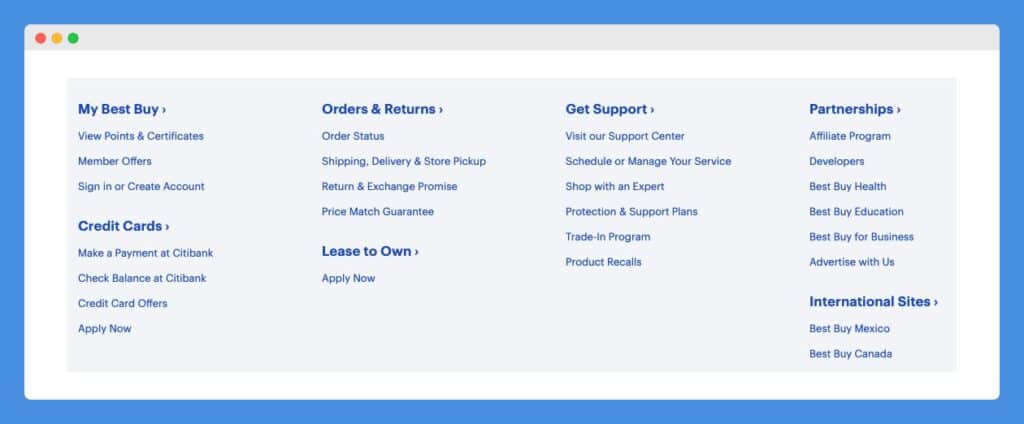 Best Buy does not offer flat-rate shipping; the cost is calculated based on the item ordered and the options, including costs and timing, are displayed on product pages and during the checkout process.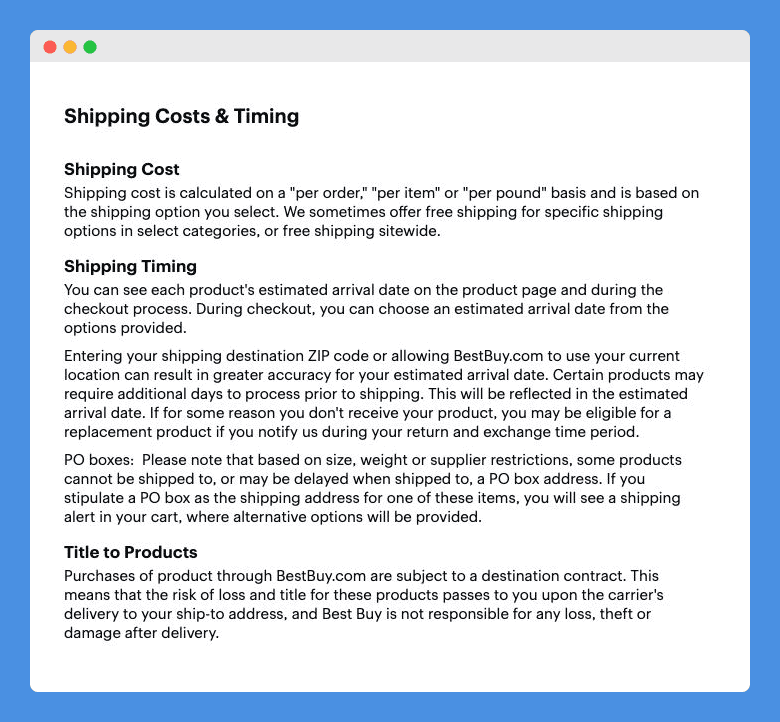 Here is what it looks like on the product page – it is based on the address inputted by the customer: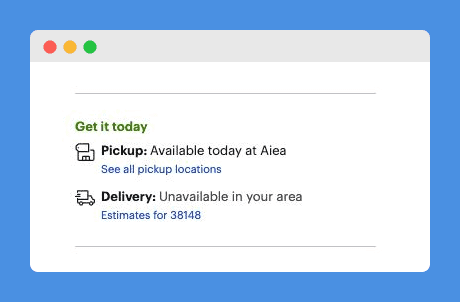 And on the checkout page: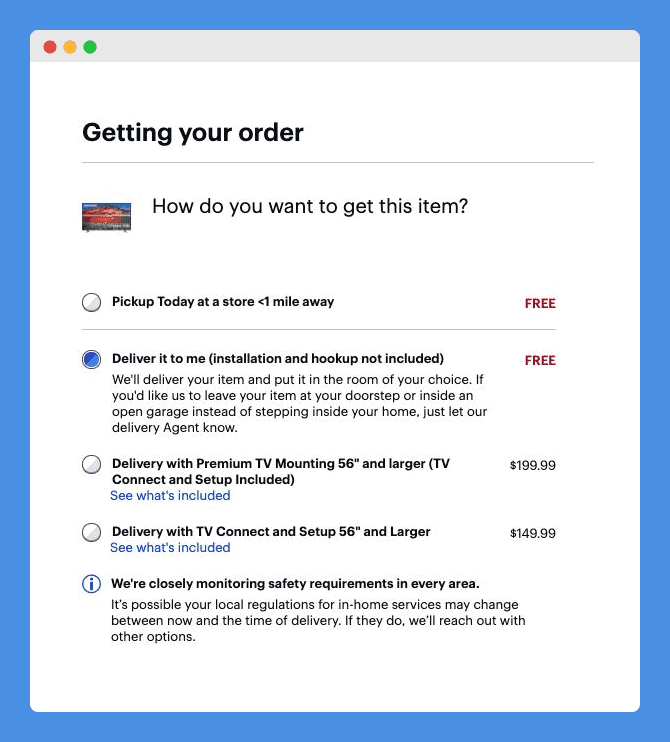 Best Buy offers curbside and in-store pickup for its products, which is a convenient option for customers that live close to one of their stores as it saves them time as well as shipping charges. The process is easy and spelled out on the website: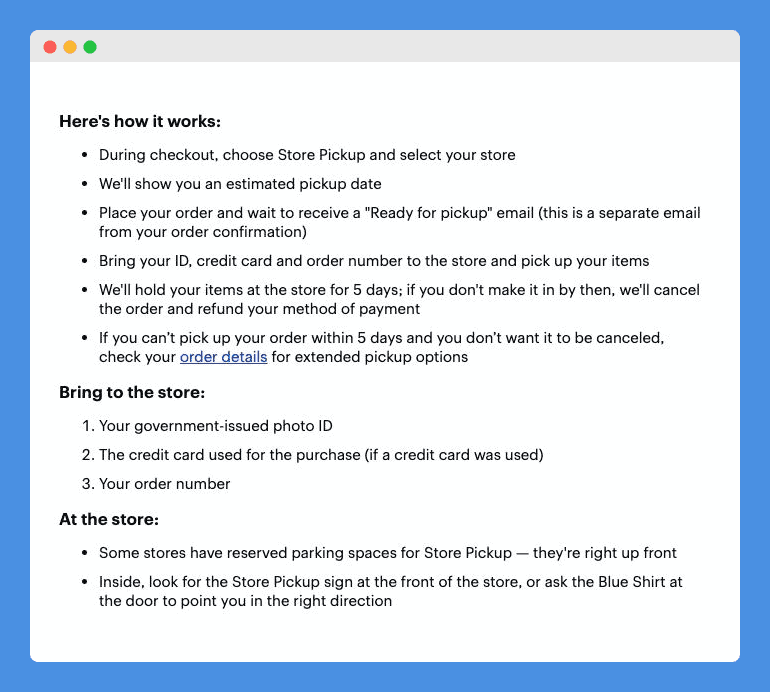 It also offers alternative pickup locations to its customers; the company has partnered with UPS stores, CVS pharmacies, Michaels arts, and craft stores, Advance Auto Parts as well as other independent stores in various areas. This is a convenient option for customers that have an irregular schedule or that cannot be home to receive their orders.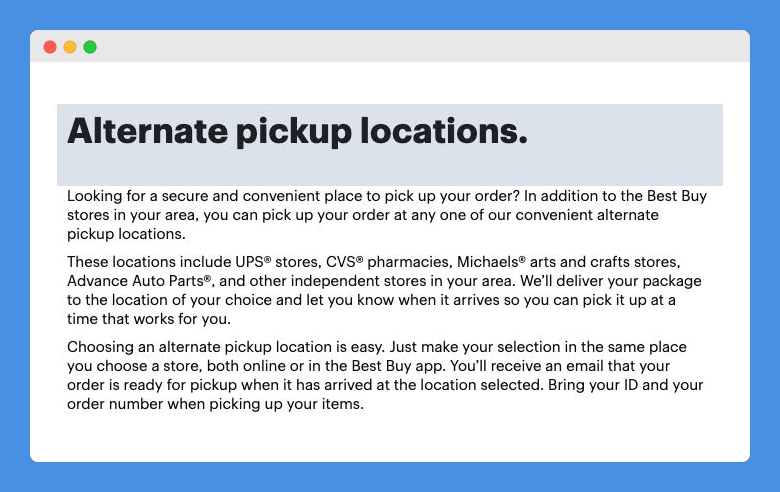 How To Draft a Shipping Policy for Your Online Store
In addition to using the shipping policy template above as a starting point, you may wish to have a look at what your competition is offering in terms of shipping and delivery to make sure that you are competitive in the marketplace.
You will also want to make sure that you have a good return and refund policy in place. Use our free refund policy generator to create a custom refund policy for your online store in just a few minutes.