When your business operates in the digital ecosystem, it is very important to operate within the legal boundaries to avoid any potential issues. And if you're involved in the e-commerce business, whether it's an online store, digital software, or a SaaS, a couple of the most basic legal aspects you must address are handing return or exchange requests and processing refunds.
Few customers will maintain a relationship with a brand that isn't committed to their satisfaction. And the biggest question many potential buyers have is what you would do if they do not like what they have bought from you? More often than not, the response you have to this question will determine if they buy from you or not.
Statistics have shown that when a product has a clear and buyer-centric return and refund policy, it will sell better than similar options that have no such policy. Return and refund policy is your way of saying – we will only be paid for meeting our customers' needs and not merely for existing.
PRO TIP: Don't waste your time and take the guesswork out of the legal jargon with this personalized refund policy generator trusted by over 150,000 businesses.
Refund Policy Templates
A refund policy can either help your sales soar or it can tank them. You should definitely put in some time to ensure you offer what's best for your customers while still making profits.
Don't scare potential customers away with an overly long and technical refund policy. Keeping it short and simple will go a long way.
These generic refund policy templates will help you craft your own policy. Keep in mind that these are just examples and may not include certain elements.
Refund Policy Template for Digital Products

Refund Policy Template for Physical Products

Refund Policy Template for Perishable Products

What are Refund and Return/Exchange Policies?
In a majority of counties, there are laws that protect the rights of consumers. These laws dictate the bare minimum of a refund and return policy that you have to abide by.
A well-written refund policy can boost your sales and increase profits, while an overly restrictive refund policy can scare potential customers away and cost you dearly.
The return and refund policy should typically address the following few points:
Clearly state if returns, exchanges, and refunds are accepted by a company.
The number of days customers have to return or exchange a product.
List any products that may be exempt from returns.
Outline any other requirements that the customer has to meet to be eligible for a refund.
SaaS companies often include information about prorated or partial refunds.
For physical products, it's a good practice to include some details about shipping charges in the event of a return.
Since refund policy is a legal agreement, it can help an online business in instances when some of the customers claim their rights are not being respected. Let's see exactly why you need a refund policy on your website.
Why do You Need a Refund Policy?
We have already stated that a refund policy is a legal agreement. If you run an online retail business or an e-commerce website, the chances are that you already have some policies on display for your customers.
While the privacy policy agreement is the only one that is required to be put on display by the law, the terms and conditions agreement and return and refund policies are optional, but highly recommended by legal advisors. Be aware, though, that some countries/states require retail sellers to display a return policy.
If you run an online business where you are directly selling to customers, having a return/refund policy is highly advised. This doesn't only apply to eCommerce stores and retail stores, but to drop shipping companies and SaaS businesses as well.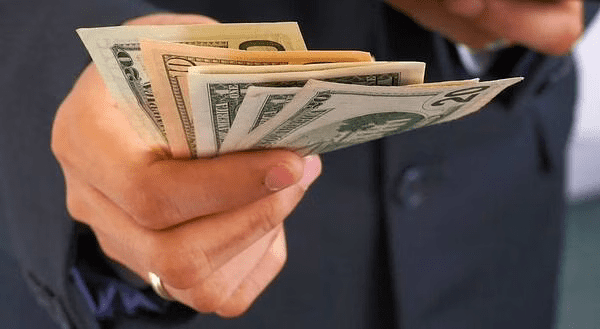 In addition to the above, having this document on display has more benefits for the business. If people see a clear return policy for an item, it will be easier for them to make an informed buying decision.
It's easier to convince someone to make a purchase when they have all of their questions answered, including those regarding refunds.
In fact, if you go and visit help pages on eBay, you will be able to read that this large company requires all stores to have this type of policy because items that come with refund policies tend to sell far better than those without.
A refund policy can also protect your interests by helping you to play it safe on the legal side.
If you have informed the customers about your policy and it respects the minimums defined in the regulations of the business' origin country, you don't have to be afraid of losing a case in court should a customer bring the problem to the court of law.
What to Include in a Refund policy?
People don't have a tendency to read long and boring legal documents online. On the other hand, you have to provide all the necessary information.
This is why it is advised to break down your return/refund policy into smaller sections. This will increase the readability of the document, make it easier for customers to find what they need, and, at the same time, protect you legally.
Despite what you sell, your refund/return policy should usually contain these three sections:
How many days a customer has to return the product. Does the counting start from the moment they order it, or from when the product gets shipped to them?
If the customer does return a product, you have to specify what kind of refund they are eligible to get. Some stores allow customers to get similar products or get a store credit in the value of the purchased item, while others return the cash spent on the product.
At last, you will have to specify who will pay for the return shipping. Some stores don't charge customers that are in the same state or country as the business is, while others offer free return shipping regardless of the customer's location.
If you run a company that sells digital products (downloadable software, SaaS, digital games, etc.) it is advised to provide these two additional sections:
If you allow your customers to get refunds on digital purchases, you have to clearly specify which ones. In case return/refund policies are different for specific products, you will have to specify each one separately.
Sometimes businesses that sell digital products online offer refunds only in certain situations. In this case, you will have to specify each of the situations and provide a short description of each one of them.
If customers can make in-store, online, and over-the-phone purchases, it is advised to specify the refund/return policy for each one of these. You can do this by adding three very short sections to your agreement (policy for in-store, online, and over-the-phone purchase).
What to Avoid in a Refund Policy?
As we have already stated, any legal document has to be very clear and easy to read. Try to remember that a return/refund policy should make your customers trust you and feel safe to purchase from you.
You should give your best to make the refund process as simple and as smooth as possible. In other words, avoid things such as too many requirements for a refund, a difficult and unintuitive refund process, and refund processing fees.
Another thing that you should definitely avoid is inconsistency in your policy, simply because it will get people confused. If you have multiple online stores, make sure to have the same refund/return policies on display on each one of them.
Why a "No Refunds" Policy is Usually Bad for Business?
A "no refunds policy" is generally a bad idea if you do any business, especially if it's online. Here are the main reasons to consider when you are thinking about whether you should have a "no refunds" policy:
You will most likely lose a customer. It is generally a far better idea to give your customers a store credit than to inform them that they have no refund/return rights whatsoever.
An angry customer will cost you far more than a refund. When you take your customers' money and they end up with a product or service they don't like and have no options to get their money back there is a good chance they will get angry. You might very soon have to deal with a lot of bad reviews even if they're untrue. It is really not worth the risk, so do your math carefully. Business advisers often say that taking care of your reputation should always come before taking care of your money. By not refunding, you might save a couple of bucks, but you will risk losing hundreds if not thousands of dollars in lost opportunities due to a bad reputation.
It will slow down your sales. If you put a "no refunds" policy on display on your website. Customers who are still deciding whether they should buy from you or not might go for the latter option to avoid possible risks.
If you provide a highly detailed refund/return policy that protects your interests as well, you don't need to have a separate "no refunds" policy. Instead, you should specify in your return/refund policy in which cases the customers won't be able to claim their rights (damaged goods, goods pass the expiration date, etc.).
Why a "Money-back Guarantee" Policy Can be Good for Businesses?
One of the main concerns of online shoppers is if they will be able to get their money back if they are not satisfied with the product or service. Shopping online is quite different than in a retail store.
This is why you should offer more incentives for the customers to complete the sale. One of the ways to do so is to make them know that you have a "money-back guarantee" policy.

This might be especially beneficial for online stores selling digital products or products that can be damaged in transport or by customers. People generally want to feel reassured when they are buying online.
If you have a money-back guarantee policy on display on every product page and checkout page, you will increase your sales and generate more revenue.
Besides removing barriers to purchase, a money-back guarantee can also differentiate your business from the competition and put you in that sweet spot in your niche.
You can sell products at higher prices than the competitors who don't have a money-back guarantee and people would still purchase in your store. That's how powerful this policy is.
When you have a money-back guarantee policy you will appear like a trustworthy company in the eyes of your prospects and customers.
Since you are willing to give them back their money if they are unhappy with the service or the product, that means that your product/service works well and your company stands behind it.
On the other hand, this might not be a good option if you are selling products with an expiration date or perishable products.
If this is the case, you can mention the reasons why you don't have a "money-back guarantee" in your refund/return policy. Your customers will definitely appreciate this additional information.
The downsides of having this kind of policy are more work for your finance and customer service departments, and, unfortunately, exposure to manipulation (some people like to get their hands on the new stuff, experience it, return it and get their money back).
In the end, if you are confident in the value and the quality of the products/services you are selling, you should definitely consider offering a money-back guarantee policy. The potential gains are far higher than the risks it involves.
10 Return and Refund Policy Examples
What better way to show what work and what doesn't than with some examples? Let's have a look:
1. Bluehost

BlueHost offers a very simple 30-day money-back guarantee for their digital services. It's very flexible by not charge their clients for more than what they have used or some of the non-refundable items such as domain names.
2. PlayStation

PlayStation has a very straight forward and short refund policy with just a couple of conditions that are typical for digital service providers.
3. Athleta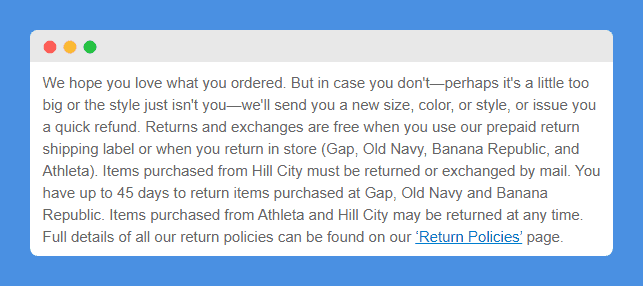 Items from Athleta can be returned anytime and this includes returning fairly used items. It also has a give-it-a-workout guarantee for its performance wears and if the standard doesn't quite satisfy you, you can request a refund.
4. Macy's

Macy's has a steady plan in place to ensure customer satisfaction. You can easily return products here and return gift items at any time to their store. Even without a receipt, you can still get a credit.
5. JCPenney

JCPenny retail outlet gives full a refund at any time on any of its items. You can also get this refund without receipts though with some limitations. It also has flexible rules on items like furniture, jewelry, and electronics. In a way, customers have the freedom to get a refund whenever they request it.
6. Norton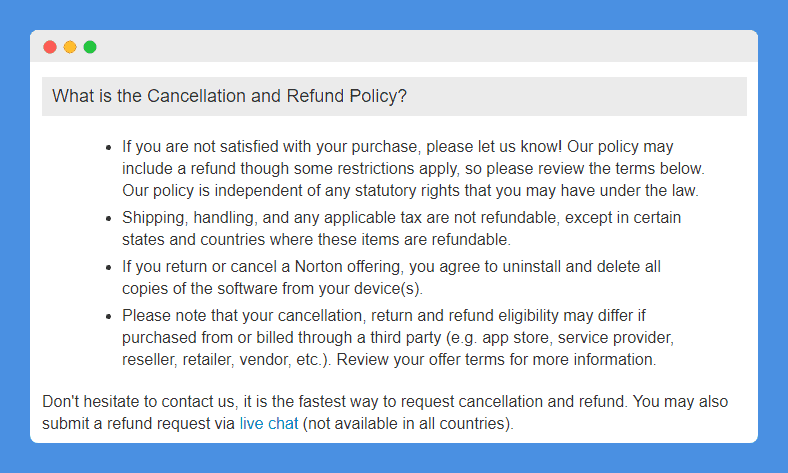 Norton offers a rather confusing refund policy and is probably a good example of what you shouldn't do. While they don't confuse their clients with legal terms, they don't really offer any clear explanation of how their refund policy works.
Instead, clients have to call in to find out more details, not knowing if there are any conditions that need to be met or not.
7. Google Play

Google Play doesn't offer refunds for its digital products with just a few exceptions such as making a purchase by mistake, fraud, or broken products. In other words, you may consider your purchases final as soon as you make a payment unless of course any of those conditions apply to you.
8. Bed Bath & Beyond

Bad Bath & Beyond makes returns easy by accepting returns in the store and by mail. The coverage also involves return shipping costs. Their return policy has no time limit and purchases within a year can be returned even without any receipt.
9. Nordstrom

Nordstrom has a good return policy with an exception of a "case by case" basis which is rather vague. There are no time limits on exchanges, and purchases and goods without receipts can be returned fairly easily.
10. Zappos
With Zappos, you have a whole year to return an unused product. If you ever buy the wrong shoes online and it is from Zappos, you have nothing to worry about. They also cover payment for return shipping and prioritize your satisfaction.
Where to Display a Refund Policy?
Generally, you want to include a link to your refund policy in the footer of your website so that it's accessible from any page. If you take a look at the two popular e-commerce websites, eBay and AliExpress you can see that they pack all of their policies in the footer section of their websites.
You also have the option to provide the link to the refund/return policy in the customer service section, which again, you can link in the footer of your home or landing page.
The rule of thumb to follow here is to provide a link to your refund/return policy on each product and service page.
You can either leave it as a pure link "return and refund policy" or inform the customer how long they have to return the item, the money-back guarantee (if you have it) and who pays for return shipping.
Then you can attach the text "see details" and link it to your full policy, just like in the picture below.

Can You Copy a Refund Policy From Another Website?
Plagiarizing is a terrible idea if you want to create a return and refund policy that will actually work.
Some businesses copy and paste return and refund policies from other websites because they believe people hardly read them. The problem with such actions is that if someone asks for a refund, you may be in for a surprise if you didn't write the refund policy yourself.
For example, perhaps you didn't want to offer a 30-day money-back guarantee but the policy that you copied states that you do. Or perhaps you don't want to offer refunds at all but the laws in your country require you to offer refunds.
Can You Use a Refund Policy Template?
You may certainly use a refund policy template as a starting point when crafting your own policy. However, you may not be aware of all the laws in your country or may simply forget to include certain clauses that could affect how refunds are processed.
A better way to approach it would be to use a refund policy generator. It'll ask you all kinds of questions about your business and use your answers to compile a custom-tailored policy based on your needs and requirements.