Privacy policy and terms of service agreements are very important documents that cover the legal side of things of any business. If you develop apps for Facebook, you're probably already familiar with the requirement to have a privacy policy available for your app users, and in some cases depending on your app, terms of service as well.
PRO TIP: Don't waste your time and take the guesswork out of the legal jargon with this personalized privacy policy generator trusted by over 150,000 businesses.
Privacy policy for Facebook apps
A privacy policy is required by law if you use or collect any personal data through your app or website. The single purpose of this agreement is to inform website visitors about your data collection and sharing practices.
A privacy policy is mandatory in 100% of scenarios. Facebook is no exception. Whether you collect information from your Facebook app users or not, you must still have it available.
There are two instances when it is mandatory to provide the URL to a privacy policy in your Facebook app. The first one is when you want to make your app public and allow users to log in and use its features. And the second is if you want it to be listed in Facebook's app store.
In any case, your app will request various information from its users, i.e. Facebook profile ID, credentials, email, name, etc. As such it is mandatory to provide a URL to your privacy policy agreement on your Facebook app settings page.
Facebook authorization protocols are very strict and you won't be able to make your app appear live before you've provided the necessary URL. Even if your app is not collecting any user personal information, you are required to provide a simple privacy policy to inform them about this.
Terms of service for Facebook apps
The "terms of service" is the same as "terms of use" and "terms and conditions". It is a form of agreement or contract which contains numerous rules, requirements, standards, agreements, and provisions that explain how you operate your Facebook app, its services, etc.
This legal contract is formed between the Facebook app developer and app users the moment they run the app.
These rules and guidelines are put in place so that all of your app users know what they can or can't do with the content you have provided to them.
Terms of service will also usually contain measures that you can practice when someone abuses the app, the website, and its contents, and as such, this document is looked upon as a legal agreement.
Terms of service for Facebook apps are optional in the phase when you want to go from a development app stage to a live app stage. In the live stage, you can test the app, but still can't make it public to users.
Once you have decided to make it public though and allow Facebook users to use it, you will be asked by Facebook to include a URL to the terms of service.
By doing so, you are informing the users who log into your Facebook app, website or mobile app about the rules and guidelines they have to comply with.
This agreement is served in a click-wrap fashion, which has more legal power should some dispute go to court.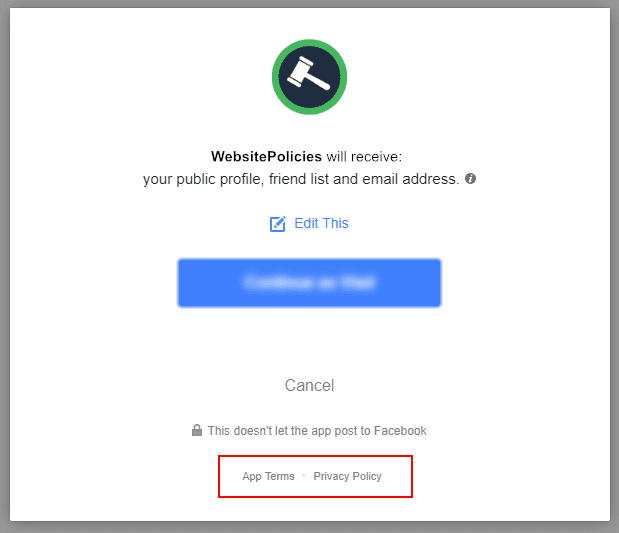 Facebook advises its users to read the terms of service and privacy policy of the 3rd party service providers on their platform in order to clearly define the legal frame of reference when they can be held liable and responsible.
How to link your privacy policy and terms of service in the Facebook app
Since Facebook does not allow hosting of third-party terms of service or privacy policy on their own servers, you are required to provide links to these agreements. They can be hosted either on your own website or elsewhere as long as it's publicly accessible. Make sure not to password protect these pages or hide them behind the "login" screen.
In order to fill in the privacy policy URL and terms of service URL for your Facebook app, you need to follow these steps:
1. Navigate to the Facebook for Developers apps page and click on your app.

2. Head over to "Settings" and click on "Basic". Fill in "Privacy Policy URL" and "Terms of Service URL" text boxes and hit "Save Changes" at the bottom. Make sure that the pages are public and allow unrestricted access to anyone.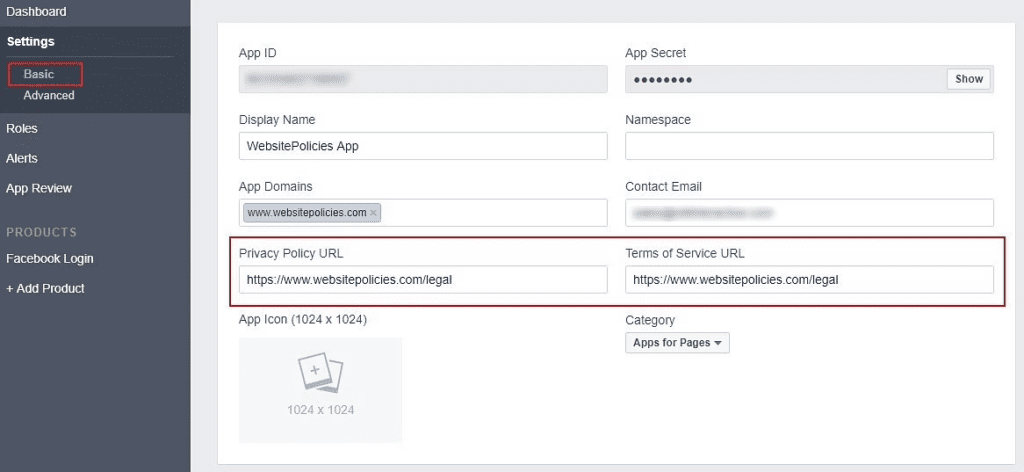 3. You may now submit your Facebook app for official approval by heading over to the "App review" page.

If your Facebook app still lacks proper privacy policy or terms of service, you may create them today by answering a few simple questions. Our online generator will then automatically create these policies for you based on your answers.