Whether you are a blogger, photographer, restaurant, or service-based business owner, you likely have used a free website builder to establish your online presence.
By having a website, you are giving potential customers an easy platform to contact you on, can share educational content to demonstrate your industry expertise, sell products on an online store and give your business more visibility.
This also means that you are collecting personal information from your website visitors, whether you realize that you are doing so or not.
If you have chosen to use Wix to build your website due to its usability, free templates, and drag-and-drop feature, then this article is for you.
PRO TIP: Don't waste your time and take the guesswork out of the legal jargon with this personalized privacy policy generator trusted by over 150,000 businesses.
What Type of Personal Information do You Collect?
This ultimately depends on the features of your website and the third-party applications and services that you use.
If you have an email newsletter or are giving away free guides as a marketing strategy, you are probably asking visitors for their email addresses.
If people can create an account on your website or make a reservation, you likely also have their first name, last name, phone number, and maybe even their residential address. If you sell products online, you would also have the payment information of your customers.
And this is just scraping the surface as this is only the personal data that you, as the website owner, are collecting.
Many third-party services, such as marketing analytics software or payment processing providers, collect additional data from your website visitors, often by using cookies. Note that Wix itself collects, stores and processes personal information from your website visitors, as explained in its own privacy policy.
Does Wix Require Websites to Have a Privacy Policy?
In Wix's terms of use, which apply to you if you have created your website using their platform, Wix mentions that by agreeing to these terms, you undertake to comply with all applicable laws, including the ones that apply to your end-users.
While this does not specifically make reference to privacy policies, it does imply that you have to abide by applicable international privacy laws – many of which do require websites to have a privacy policy.
Indeed, it is not about where you, as a website owner, are physically located but rather about where your potential website visitors could be.
If your website is made available to European customers, which implies that you eventually would process their data, the General Data Protection Regulation (GDPR) would likely apply to you. This means that you would need to have a privacy policy in place that is clear and easily accessible and understood.
Not to mention that this privacy policy will need to contain some specific elements and that you will need to obtain user consent before collecting any personal information.
And this is only to mention the GDPR – other countries such as Canada and Australia, as well as some states, such as California, have strict requirements when it comes to the need for a privacy policy on websites.
Now, if you have a look at Wix's own Privacy Policy, you will notice that the subject is broached directly.
While Wix does collect some personal information from your website visitors, this clause makes it clear that they are simply a processor and not a controller of this personal data (this is a GDPR notion). This puts the responsibility of complying with all applicable international privacy and data processing laws on your shoulders, as the website owner.
As you can see from the above, Wix makes it clear that the website owner is the one responsible for the security, integrity, and usage of website visitors' personal information, including obtaining their consent and ensuring the respect of data subject rights.
More importantly, Wix makes the following recommendation:
"We do recommend that all Users publish and maintain clear and comprehensive privacy policies on their User Websites in accordance with any applicable laws and regulations".
So not only does Wix strongly recommend that you have a privacy policy on your website, it is, in most cases, required by law, as mentioned earlier.
How to Write a Privacy Policy for Your Wix Website?
There are many ways to go about creating a privacy policy for your Wix website, the obvious solution is, of course, to call on the help of a lawyer to draft it for you.
But there are other options out there, including using privacy policy generators. It is a cost-effective and easy alternative to create a privacy policy that will be customized to your business's needs by answering questions about your online activity and that meets both legislative and third-party requirements.
What to Include in Your Wix Privacy Policy
Whichever option you choose to go for to create your privacy policy, you should familiarize yourself with the standard clauses and some of the basic elements that it should cover:
The type of data that you collect
You should be transparent with your website visitors and let them know what kind of personal information you wish to collect from them, whether directly or indirectly.
How you collect that data
Your users may know that they have shared their email addresses with you when they signed up for your newsletter, but they also need to know if you are collecting data in other ways, such as by using third-party services or cookies.
What you will be doing with that data
Your website visitors may feel more comfortable sharing information with you if they know what you are going to do with it! Explain in simple language what you intend to accomplish with this personal information; are you going to use it to process their payment and ship products to them, are you going to use it for remarketing purposes, will you be using that data to improve your website, etc.
How you will protect that data
The information that website visitors share with you is personal; telling them the security measures that you are taking to protect and store their data can help build trust. You should also be transparent in regards to how long you will be holding on to that data and where it will be stored.
Who you will be sharing that data with
You need to consider all third-party services and applications that you use; from shipping and payment providers to marketing analytics tools and social media companies, your website visitors should know who will have access to their data. It is good practice to name all third parties and link to their respective privacy policies.
Cookies
If you or third parties are using cookies to collect data about your website visitors, you should let them know and refer them to your detailed cookie policy.
How to manage preferences
You should make it easy for your website visitors to manage their preferences and withdraw their consent when it comes to the data that they share.
Contact information
You should also encourage your website visitors to contact you should they have any questions or concerns in regards to your privacy practices or the data that they share with you; include your phone number, email, and postal address.
These are only the basic elements that should appear in your Wix privacy policy. You will likely need to add this by taking into account the international privacy laws that apply to you, as some countries or states/provinces have very specific additional requirements that will need to be incorporated into your policy.
Is Your Wix Website Privacy Policy GDPR-Compliant?
The GDPR is considered the strictest privacy legislation in the world and thus has some very strict requirements when it comes to what needs to be included in a business's privacy policy.
By ensuring that your Wix website is GDPR-compliant you are, at the same time, likely ensuring compliance with most global privacy laws.
Indeed, while each country has its own set of regulations when it comes to privacy, the GDPR is generally considered more in-depth than others. Using it as your starting point for drafting your policy and adding on to that to further comply with other countries' privacy laws could therefore be a good idea.
Visit How To Write a GDPR Compliant Privacy Policy to learn more.
How to Add a Privacy Policy to Your Wix Website?
If you have built your website using Wix, then you will find that adding a privacy policy is fairly straightforward and should only take a few minutes.
Create a New Page
Start by creating a new page that will host your privacy policy.
1. Open your Editor and click on Menus & Pages
2. Click on "Add Page"
3. Type in "Privacy Policy" and click "Done"
Then, you will need to input the text of your privacy policy on the page:
4. In your Editor, click on Add and Text
5. Copy and paste your privacy policy in the text box that you will have dragged and dropped on the page
Link To Your Privacy Policy Page
Now that you have a page hosting your privacy policy, you need to make it easily accessible to your website visitors. It is common practice to include a hyperlink in your website footer; in order to do so, you will need to start by adding a text box at the bottom of your privacy policy page.
1. In your Editor, click on Add and Text, drag the text box element to the bottom of the page and click on Move to Footer and position it to your liking
2. Double click on the text box and type in "Privacy Policy" to name your element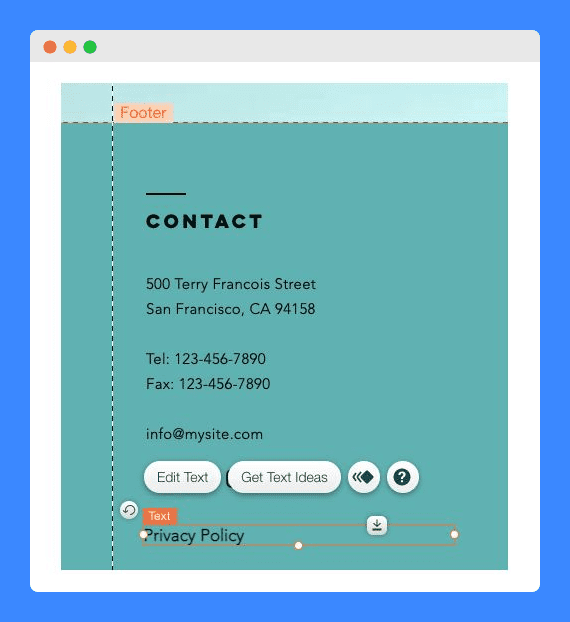 5. Now, click on your text box and on Edit Text
6. Highlight the words in your text box (privacy policy)
7. Click on the Link Icon
8. Click on Page and, under "Which page?" select the Privacy Policy Page that you created earlier and hit "Done"
There you go – you should have successfully added your privacy policy to a separate page on your Wix website as well as set up a hyperlink in your footer that your visitors will be able to see and click regardless of the page that they are browsing on your site.
The Importance of Having a Privacy Policy on Your Wix Website
People are concerned about their privacy and the traces that they leave behind on the Internet; not only is having a privacy policy required by law in most jurisdictions, but it puts your website visitors at ease. And, if drafted correctly, could help prevent misunderstandings or disputes when it comes to your use of the personal data that you collect through your website.
If you want to learn more about privacy policies, including a summary of global privacy laws, the penalties if found not compliant as well as a sample template you may use on your website, we go in-depth on the subject in our privacy policy guide.
It's never too late to update or add a privacy policy to your Wix website if you haven't done so already; if you are looking for a quick and reliable solution, give our privacy policy generator a try.