E-commerce is booming and that trend is expected to continue over the coming years. More brands than ever take their businesses online. With customer experience being front and center when it comes to predicting success, having a clear and easy to understand no refund and no return policy on your website is sometimes essential if that is how you intend to run your business.
PRO TIP: Don't waste your time and take the guesswork out of the legal jargon with this personalized refund policy generator trusted by over 150,000 businesses.
1. What Is a No Refund, No Return Policy?
A refund policy is pretty self-explanatory; it goes over the specific circumstances under which a customer may request a reimbursement of the funds paid for a certain product or service, how to go about requesting such a refund, and the delays that apply.
A no refund and no return policy is quite exactly the opposite. It serves to warn your customers that the sale is final and that they will not be able to return the product that they purchase or get their money back.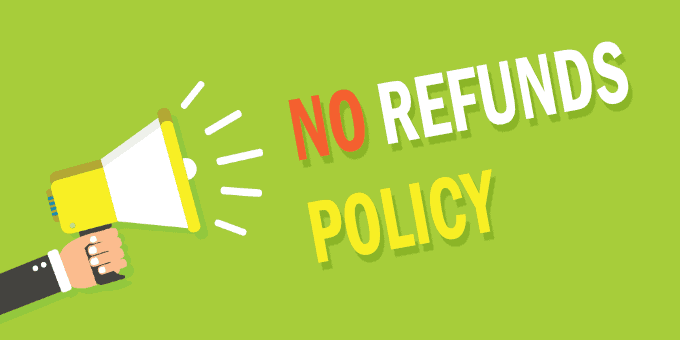 Because this is not as standard as having a flexible return policy and as it could discourage potential customers, you should make it clear and conspicuous to your customers well before the checkout page so that they can make their purchasing decisions accordingly.
2. Is it Legal to Have a No Refund Policy?
Consumer protection laws vary considerably around the world. You must make sure that you are legally allowed to refuse refunds and returns otherwise your policy may not be enforceable in that specific country.
Let's have a look at the legality of no-refund policies in the following countries:
United States of America
The United States does not legally require businesses to have a return and refund policy nor does it prevent them from having a no refund and no return policy. Some states do require that this policy be conspicuous, but that should be the case regardless of where your business is located.
Canada
In Canada, there is no federal law that requires merchants to accept returns or refund requests from consumers, which means that sellers are free to have that type of policy in place but should make sure that customers are aware that it is a "final sale".
However, there may be some provincial laws that allow customers to cancel specific contracts without justification or penalty or return certain products, so you have to be mindful of that.
Australia
According to Australian Consumer Law, it is illegal to have a sign or no refund policy as consumers have the right to get their money back (or request a replacement) should there be a major problem with something they bought. This applies to both physical and online stores and is to protect Australian consumers that have bought faulty items.
You could, however, have a policy that specifies that there will be no refunds for change of mind, which will likely cover most potential return and refund situations while respecting Australian consumer laws.
United Kingdom
Similarly to Australia, in the United Kingdom refunds have to be given if an item is faulty, not as described, or does not do what it's supposed to.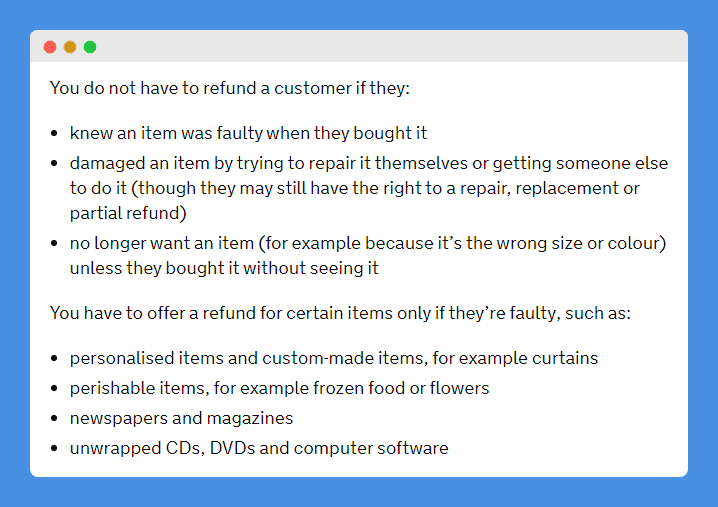 For that reason, it would be illegal for you to have a sign or policy that simply states "no refunds" as it would be a misleading statement that is contradictory to consumer law.
There are also some specific rules regarding digital products that apply in Europe and, at this time, the United Kingdom.
3. No Refund Rules by Product Type
Some types of products have specific rules when it comes to returns and refunds and for good reason, let's have a look at a few of them.
Subscriptions
Most subscription-based products will have a no refund policy.
This is common practice when billing customers on a monthly basis. Should they wish to put an end to their subscription, they can put in a cancellation request and will stop being billed as of the next month. However, they will typically not be able to receive a refund for the previous months (as they have already benefited from the service) nor for the current billing period/month.
The same goes for apps or services that bill customers on an annual basis. They will be able to cancel their membership before it renews for another year but, if they choose to cancel after half the year, they will not be able to get a refund for the remaining 6 months and that even if they choose not to use the product anymore.
Canceling a subscription before its automatic renewal date is often mentioned as being the responsibility of the customer, as some businesses take advantage of people not keeping a close eye on recurring transactions on their credit cards.
If your subscription-based products have a no refund policy, it should be made very clear to potential customers so that they are aware and can make a note to that effect when they sign up.
Digital Products
A lot of apps are one-time purchases, meaning your customers pay once to have access to your product and its updates forever. Digital products also include anything that can be downloaded for a certain price but that could then be distributed, such as eBooks, videos, or templates.
Having a no refund policy for digital products is logical, as you would not want people to be able to benefit from all of your product's features for a few months, be able to share it with their friends or save the content locally and then request a refund for the full amount once they are done.
There are, however, specific laws when it comes to digital products in the European Union.
A 14-day cooling-off period applies for all online or distance selling purchases, during which a purchase can be canceled and a refund requested, for any reason or without any justification (unless the performance of digital content has begun, downloaded the app for example). Your customers must be able to easily take advantage of such a provision.
This means that, if you sell digital content to an EU customer (including, at this time, the United Kingdom) you have to take into account that they have 14 days following purchase to request a refund, no questions asked, as per consumer law unless of course, they have started using the content.
However, note that express consent must be requested from the user acknowledging that by downloading the content (beginning of contractual performance) they lose their right of withdrawal. This is provided for by article 16 (m) of the European Consumer Rights Directive (CRD) which sets out "exceptions from the right of withdrawal".
This notably applies if you sell digital products through the Apple Store, iTunes, or iBooks to European customers, as provided in the company's terms and conditions: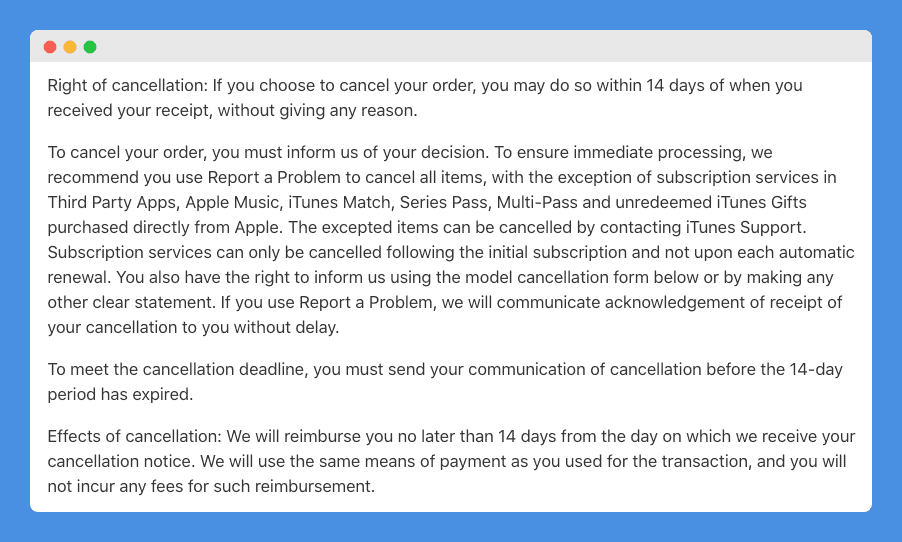 And here is the sentence that specifies the exception to the right of cancellation when delivery has started upon the customer's request and with their prior acknowledgment that by doing so they would lose their cancellation right:

If you sell virtual goods to consumers in the EU you must be mindful of this and may want to review your sales process to make sure that you implement a similar exception to consumers' right of cancellation and obtain proper prior consent from them.
Note that this 14-day refund period for digital products does not currently apply to other countries outside the EU and that app purchases are still usually considered final and non-refundable unless there is a valid reason, such as technical problems, for requesting a refund.
Perishable Goods
Unsurprisingly, sales of products that are perishable in nature, such as food and drinks, are often found to be final unless they fail to meet applicable customer guarantees.
This is for health and safety reasons and to avoid merchants having to process returns and hand out refunds but being unable to resell the products afterward, which would be disastrous for those businesses.
British online grocer Ocado includes the following in its returns and refunds policy:

Colorado-based health food chain Natural Grocers' policy provides that perishable items cannot be returned:

Some online stores do allow for returns and refunds of perishable goods but only in limited circumstances, such as when there is some time left before the product's expiration date.
4. No Refund Policy Examples
Here are a few examples of no-refund policies that were pulled from different websites. You will note that the terms vary greatly from one type of business to the next and that there is no one-size-fits-all when it comes to policy drafting.
Fitness app
Fitness guru Kayla Itsines' SWEAT, a workout app that is popular with women all over the world, includes the following cancellation policy in its billing terms: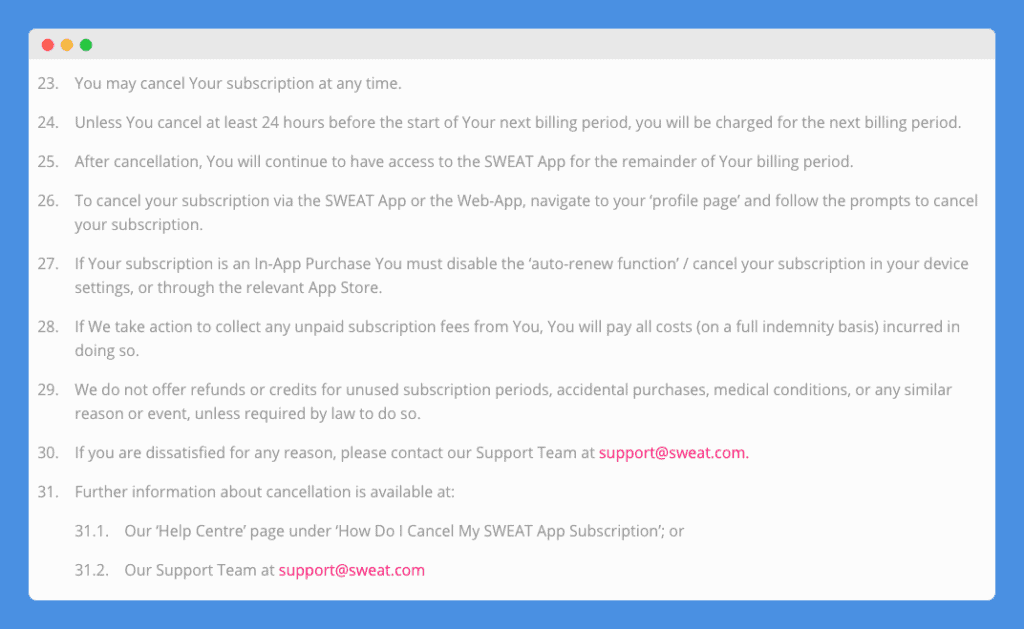 This app can be downloaded through the app store and customers can choose to be billed on a monthly or yearly basis. The policy specifies that no refunds or credits will be issued for unused subscription periods and that a customer must cancel before the start of the next billing cycle in order to avoid being charged.
This means that someone that purchases an annual membership at the cost of USD$119.94, uses it for 6 months, and then decides to stop using it is not eligible for a refund.
In order to attract and make new customers more likely to sign up, SWEAT does offer a free trial period, which is fairly common practice in the fitness apps industry.
Streaming service
Netflix, which uses a similar monthly subscription model, includes the following cancellation clause in its terms of use:

This specifies that, to the extent permitted by law, payments made to Netflix are non-refundable and that no credits will be given. A member that opts to cancel their subscription will have access to the service until the end of the current billing period.
Netflix makes this clear to its customers by referencing that clause when answering questions relating to membership cancellation on their online help center.
Ticket sales
Ticketmaster's United States purchase policy provides for refunds in very limited circumstances only – when an event is canceled or postponed. It also mentions that there are no refunds, returns, or exchanges for digital downloads or hotel/festival packages.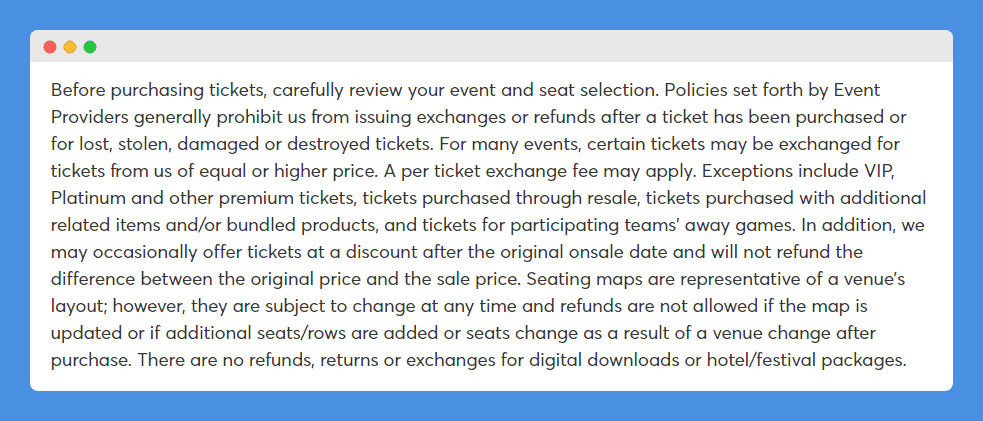 Fashion
Australian fashion designer Zimmerman sells its creations online and in-store.
The returns and exchanges policy that appears on its website makes a distinction between in-store and online purchases and states that no refunds will be given for in-store purchases unless required by law. Here is an extract from this policy:

Hotel and travel website
Hotwire is a website that sells unsold hotel rooms and vacation packages to its customers at discounted prices and often for last-minute travel. They offer "Hot Rate" bookings that allow customers with more flexibility to book a mystery hotel room at a significantly lower-than-average price; the hotel name and exact location are only revealed once the customer has paid and completed the booking.
For that reason, Hotwire specifically mentions that all Hot Rates bookings are final and cannot be canceled, refunded, exchanged, transferred, or changed. This makes sense as otherwise, customers could take advantage of low rates and simply request a refund should they not be satisfied with the hotel assigned to them.

While these no-refund policies are not all worded in the same way due to the different nature of the businesses, they all address the matter of exchanges, returns, and refunds and make it easy to understand for their customers.
5. How to Write a No Refund Policy?
Ultimately, you choose what you want to include in your no refund policy. Here are a few elements that you may want to consider when drafting your no refund policy and when displaying it on your website.
Outline the conditions
Use clear and easily understandable terms to make it evident to your potential customers which products this no refund, no return policy applies to; do not use legalese. While laws vary around the world, one thing is for sure, a lot of importance is given to customer protection.
In Australia, for example, you may want to remind your customer that they must have a valid reason under consumer law to request a refund and that you will not process refunds for change of mind.
Consider applicable law
As mentioned earlier, your policy should take into account local consumer protection laws; you will need to adapt your policy accordingly, which could mean having a country or region-specific return and refund policy. Similarly, some jurisdictions require that your no refund, no return policy be displayed in a certain way.
Specify clear timeframe
If applicable, you should include the time frame after which no return will be accepted nor refund will be given.
Offer refund alternatives
You could state that you will not provide refunds but allow your customers to instead return their purchases in exchange for a store credit or another item. If you are selling digital products, you could implement a free trial period. This will have the effect of de-risking the purchase for potential customers, as they will know that there are alternatives should they not be 100% satisfied with the product or service received.
If you do decide to provide refund alternatives, you should include a detailed procedure and make it easy for your customers.
Displaying the no refund policy
Your no refund and no return policy should be displayed conspicuously on your website so as not to be missed by your users.
You could include it in your terms and conditions, in the footer of your website, on your product page, in the form of a banner, and on your checkout page, which would be the equivalent of displaying it at the cash register in the case of a physical retail location.
Final Words
It makes sense to have a no refund policy for subscription services and a limited refund policy for digital products.
However, you may want to sit down and have a good think before implementing a strict refund policy, as it makes it riskier for potential customers to buy from you knowing that they cannot get their money back if they don't like your product.
Most successful e-commerce stores do have a return and refund policy so just look at what your competitors are doing before coming to a final decision. You wouldn't want to turn your potential customers away by scaring them with a no refund policy.
On a final note, you must consider where your customers are located and not where your business operates. With our world being more global than ever you must be mindful of applicable local regulations and ensure that you have an enforceable no return and no refund policy.
An easy way to do that is by using our refund policy generator, which will provide you with a customized attorney-drafted no return and no refund policy in a matter of minutes after answering just a few simple questions.