Attorney-Drafted Privacy Policy Generator
Create a bulletproof privacy policy personalized to your needs and get compliant with the GDPR, CCPA, CalOPPA, PIPEDA, and more in minutes.

Privacy Policy is
Required by Law

, No Exceptions

Most countries have privacy laws to protect their citizens' personal information. Our professional privacy policy generator takes the guesswork out of the legal jargon and will help you comply with the following:

General Data Protection Regulation (GDPR)

California Consumer Privacy Act (CCPA)

California Online Privacy Protection Act (CalOPPA)

Children's Online Privacy Protection Act (COPPA)

And many more privacy laws around the world


Meet Third-Party Requirements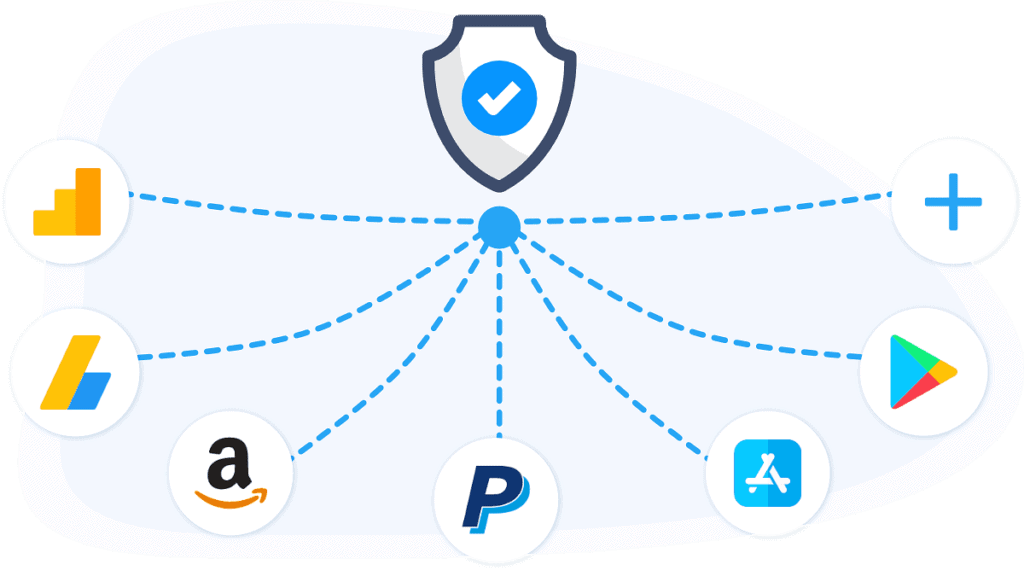 If you monitor your website traffic, display ads, have affiliate links, or accept payments, we'll make sure your privacy policy meets all the necessary requirements to comply with these services:
Trusted by
150,000+

Businesses
Peace of Mind Compliance
Avoid unexpected audits and hefty fines by complying with complex laws and regulations in a breeze.
Win Your Customers' Trust
Show commitment to transparency and compliance to win your customers' trust in you and your business.
Focus on Your Passion
Do the work that drives you and grow your business while we take care of the ever-changing laws for you.
Everything You Need

in One Place
Save on Legal Fees
Receive attorney-level results without compromises or breaking the bank for only a fraction of the cost of hiring a lawyer.
No Legal Jargon Guesswork
Take the guesswork out of the legal jargon with our professionally developed solutions that will guide you step by step.
Set it & Forget it
Copy the documents directly onto your website or app, or embed them instead to have them automatically updated whenever the laws change.
All in One Place
Keep all of the legal and data access management information your business needs in one central platform without losing track of things.
Automatic Updates
Our legal experts regularly monitor the changes in laws so you can rest assured your business remains compliant at all times.
Expert Help Within Reach
Get your questions answered by industry experts with our dedicated support available to you around the clock.
Hear it From Our Customers
Ready to
Get Started

?

Get compliant and start protecting your business in less than 30 minutes. No credit card required.
Frequently Asked Questions
A privacy policy explains to your users what personal information you collect about them, how you collect it, and what you will do with that information, including how and if it will be shared with third parties, where it will be stored, and the security measures that you will take to protect that information.
There is no unique definition of personal information as this depends on the privacy laws applicable to you. As a general rule, it includes information that could potentially be used to identify someone such as name, date of birth, address, social insurance number, location/IP address, credit card details, email address, etc.
If you collect personal information from your website visitors then you should have a privacy policy on your website.

Personal information can be collected in various ways, for example, by giving users the option to create an account on your website, sign up for an email list or newsletter, comment on your blog posts, and leave reviews of your products or services or purchase something on your website.

Personal information can be also collected by third parties on your website such as payment services providers, analytics tools, and advertising partners, or through the use of tracking cookies and other similar technologies.

Having a privacy policy is legally required in many countries and by many third-party service providers, not to mention the fact that customers are increasingly concerned by the amount of information that they share online.
If you collect personal information through your mobile app, which you most likely do, then you should have a privacy policy to that effect.

Apps collect personal information from users in a number of ways such as by asking them to log in and create an account, having them input payment details for in-app purchases, allowing location tracking in order to be able to provide services, requesting access to contacts, gathering usage data, etc.

Most app stores require mobile applications to have a privacy policy, without which they cannot be made available for download on their platforms. This notably includes the Apple App Store, the Google Play Store, and the Amazon Appstore. The same can be said of third-party tools and services, such as Google AdMob.
Yes. Facebook's Pages, Groups, and Events Policies require that pages that collect content and information from users have a privacy policy that complies with its requirements and that they inform users of its existence. Moreover, businesses that have customers located in the European Economic Area (EEA) may need to include specific elements in their policy in order to comply with the GDPR.
Most countries around the world have enacted privacy laws that require that websites and mobile applications have privacy policies in place if they collect personal information from their residents.

This notably includes the European Union through the General Data Protection Regulation (GDPR), Australia through its Privacy Act of 1988, Canada through the Personal Information Protection and Electronic Documents Act (PIPEDA), and California through the California Consumer Privacy Act (CCPA) and the California Online Privacy Protection Act (CalOPPA), just to name a few.

Keep in mind that, even though your business is located abroad, you have to consider where your website/app will be accessible from and thus where your users are or could potentially be located as this could mean that their country's laws apply to you.

For example, even if you run a website from the United States, the GDPR will apply to you if you collect data from users located in Europe – your privacy policy will therefore need to include additional clauses in order to meet GDPR requirements.
At a minimum, a privacy policy should include the following: the type of personal information you collect, how you collect that information, why you collect that personal information and how it will be used, how that data will be stored, and if it will be shared with anyone, information about your use of cookie, how users can opt-out of data collection, your contact details.

Depending on the privacy laws that apply to you, notably the GDPR, and the third-party services that you use, you may need to include additional elements in your privacy policy.
You should never copy and use someone else's privacy policy. Not only could this be problematic from a copyright perspective, but it also may not contain all essential elements or be applicable to your business.

You have to take into account the particularities of your website or application, the ways in which you collect personal information, the third-party tools and services that you use, where your users could be located, and the laws that apply to you as well as their specific requirements.
Privacy policies are drafted by taking into account the various laws applicable to your website or mobile application, the third-party services that you use and their respective terms, and the ways and purposes for which you collect personal information. This is essential in order to make sure that your privacy policy contains all essential elements.

Then, you may choose to draft your policy yourself, use the services of a lawyer or use our privacy policy generator to have an easy-to-read custom privacy policy in a matter of minutes. In any case, drafting a privacy policy should not be taken lightly as non-compliance with applicable laws could have serious consequences.
Your privacy policy should be easily accessible both on your website and on your mobile application and be hosted on a standalone page.

In addition to linking to it in your website footer, in your terms and conditions, and in the legal section of your app or website, you should remind your users at various steps of their journey and request their acceptance by using a clickwrap agreement: when they create an account, during the checkout process, when they sign up to your newsletter, on the app store before they download your app, etc.