If you're reading this, it means you're considering starting a blog or already started one. Congratulations! Blogging is a great way to share your thoughts, connect with like-minded people, and build an online audience.
As a blogger, you're probably obsessed with researching, writing, and creating the best possible content for your readers. On the flip side, you may be less excited about the technical details of running a blog, not to mention any potential legal implications.
That doesn't make your blog privacy policy any less important, especially if you are collecting or using any personal information from your blog visitors which the majority of blogs do either directly or indirectly.
If you want to know why it's important to have a privacy policy for your blog and how to create one, keep reading.
PRO TIP: Don't waste your time and take the guesswork out of the legal jargon with this personalized privacy policy generator trusted by over 150,000 businesses.
What is a Blog Privacy Policy?
A blog privacy policy is a piece of a legal document contained on your blog that explains to your readers what kind of personal information you will collect and store, and more importantly how you will use it.
Before you think you don't collect any data on your blog and you don't need a privacy policy, consider this: do you use some kind of analytics to track user behavior on your blog? or perhaps a third-party email service to send out newsletters?
Well, guess what? That means you collect user data and need to mention that in your privacy policy.
Why Does Your Blog Need a Privacy Policy?
There are a few key reasons behind the need for a privacy policy on your blog:
Comply with laws and regulations: A privacy policy is required by law, no matter where you are in the world. And as a blogger, having a privacy policy not only shows that you are compliant with the laws but it also helps establish a professional vibe for your readers and your site's visitors that their personal information is well-protected.
Helps build trust with your readers: Nobody likes to be left in the dark. Your blog visitors will appreciate having a clear understanding of what data you will be collecting and how it will be used. If they know that you respect their privacy, they will be more likely to keep coming back to your blog and feel safe doing so.
Protect you from liability: Cybersecurity attacks are becoming more common. In the event of a data breach, your blog viewers will know that you took all reasonable steps to protect their data as laid out in your privacy policy. They will also feel that they have a level of control over their personal information because they have options to change their preferences or opt-out of sharing personal information if they prefer.
Is a Privacy Policy Legally Required for Your Blog?
Yes, it's legally required as many countries around the world have enacted privacy laws that require websites to have a privacy policy in place that meets their requirements.
Considering the global nature of the Internet and the chances that your readers could be located anywhere across the globe, this is something that you must take into consideration.
This includes collecting email addresses for your email list, having a newsletter "subscribe" feature, or using third-party services that collect data.
There are a few privacy laws that may affect your blog depending on where you reside and where your target audiences are coming from.
If your blog attracts (or could attract) readers located in the European Economic Area, then you may need to comply with the General Data Protection Regulation (GDPR), the strictest privacy regulation in the world at this time.
This means that you will need to have a privacy policy that includes all required information under the GDPR, including addressing your use of cookies and requiring consent from your readers.
The Personal Information Protection and Electronic Documents Act (PIPEDA) is another privacy law that applies to blogs that collect personal information from Canadian residents. You need to follow the same standard privacy rules by disclosing to your site's visitors why you collect their personal data and how you are planning to use and protect it.
If your blog collects personal information from users residing in California, which is highly likely even if you are located abroad, you will have to take into consideration the requirements of the California Online Privacy Protection Act (CalOPPA).
It requires that websites that collect or use personally identifiable information from their residents have an easily-accessible and conspicuously-placed privacy policy that meets its requirements. This notably includes explaining to your users how you respond to "do not track requests" and how you intend to inform your users of changes to your privacy policy.
Similar to the GDPR, California Consumer Privacy Act (CCPA) gives your readers the right to know what personal data you're collecting about them and how they can exclude themselves from sharing their data.
Keep in mind that if you live in the United States, you need to be aware of other various state laws similar to CCPA and CalOPPA, such as the Colorado Privacy Act or Virginia Consumer Data Protection Act.
Third-Party Services Require You to Have a Privacy Policy
You may think that you are not collecting any personal information from your blog visitors. However, if your blog uses any third-party services that require them to share their personal information or if you have ads on your blog, you are required to have a privacy policy.
For instance, you may use Amazon Affiliates to refer your readers to Amazon products that you use and recommend while collecting a commission. Companies like that often employ the use of cookies which over time collect large amounts of data and personal information from your blog visitors. This needs to be disclosed in your privacy policy.
Here are some of the common third-party services used by bloggers that would require you to have a valid privacy policy:
WordPress
Google Analytics
Google Adsense
Facebook Pages
ClickBank
Amazon Associates
Social sharing platforms (aka Facebook, Twitter, Pinterest, etc)
What Should You Include in Your Blog's Privacy Policy?
There are certain elements you should consider including in your blog's privacy policy to make sure you cover all the legal grounds required by the privacy laws that may apply to you.
A thoroughly drafted and readable privacy policy is your most effective tool in building and maintaining trust with your readers.
Why? It's because it creates a transparent manner in which you provide them with all the information regarding your blog's flow of private information and how it works.
Having said that, here are some of the sections you should consider including in your blog privacy policy:
Types of Information You Collect
This is a mandatory clause required by privacy-related laws and is a great place to start.
As a blogger, you want to make sure to outline all the types of personal information that your blog gathers such as email addresses, names, IP addresses, comments, and any information gathered by any third-party services your blog uses.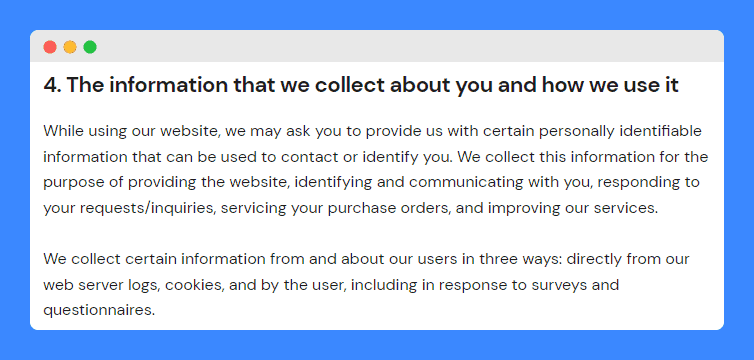 How You Collect Information
You need to make sure it's clearly stated how you are gathering personal information.
This can be either directly such as your blog readers entering their name and email address to subscribe to your blog's newsletter or indirectly such as collecting IP addresses that your blog visitors don't explicitly provide.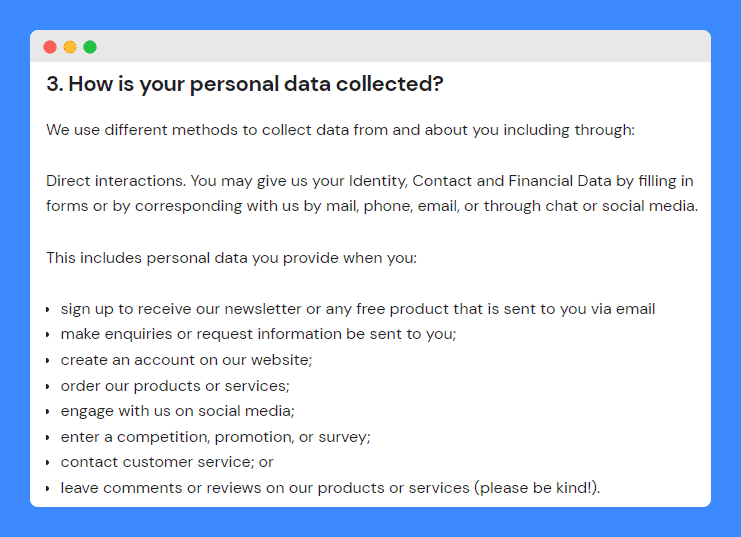 How and Why You Use Information Collected
You should describe what is being done with each type of information you collect and why you need it.
For example, you may collect names and email addresses to be used for the purpose of sending out a newsletter to your blog readers which may include sales promotions. Make sure you provide a description of how and why the information you collect will be used for your readers and blog visitors.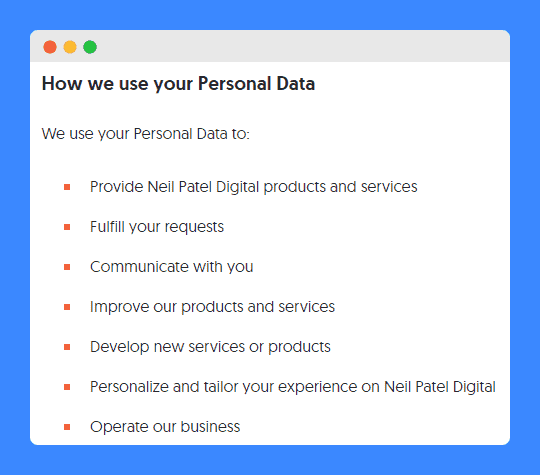 Third-Party Disclosure
Your blog visitors may not want to give their information to third-party services besides yourself. It's necessary that they recognize this possibility in advance.
This is where third-party disclosure is one important clause to add to your blog privacy policy to achieve the transparency mentioned earlier.
Your blog privacy policy should also explain whether or not your blog shares any data with third parties services (Facebook, Google Analytics, Google AdSense, etc.) as part of your blog running process where you do share data with.
That way, your blog visitors can decide whether or not to share certain information on your blog before actually beginning to participate in your blog.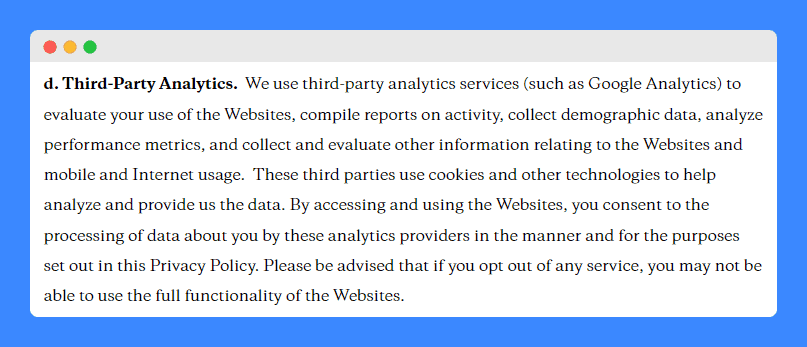 The Use of Cookies
Most websites use cookies one way or another so it's important to mention that in your privacy policy as well. Keep in mind that if you already have a cookie policy on your blog, this section should be short and link to your cookie policy.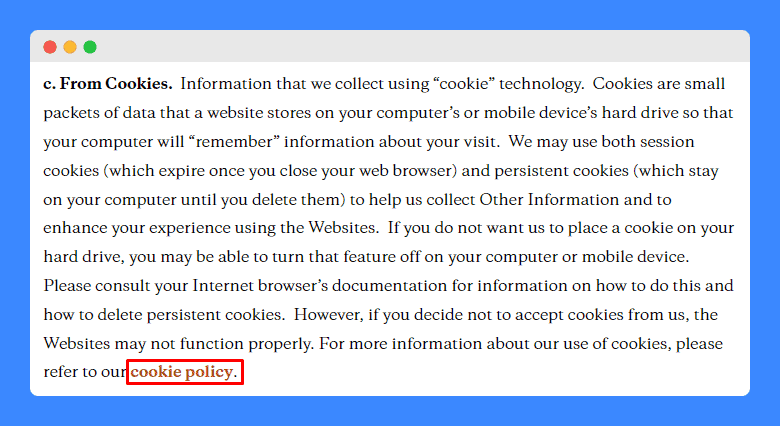 The GDPR and other privacy laws also require you to disclose the use of cookies or tracking technologies and obtain consent before doing so.
Examples of Blog Privacy Policies Done Right
Not every blog privacy policy is created equally. The content you need to include in your privacy policy highly depends on what you offer on your blog and how your blog operates.
Here are some examples to give you some ideas of what they look like on different types of blogs.
Outside Inc
Outside Inc is an active outdoor lifestyle blog that does a great job of outlining the information they collect from its readers either directly, automatically, or through third parties. specific about each type of personal information they collect and how exactly it is collected.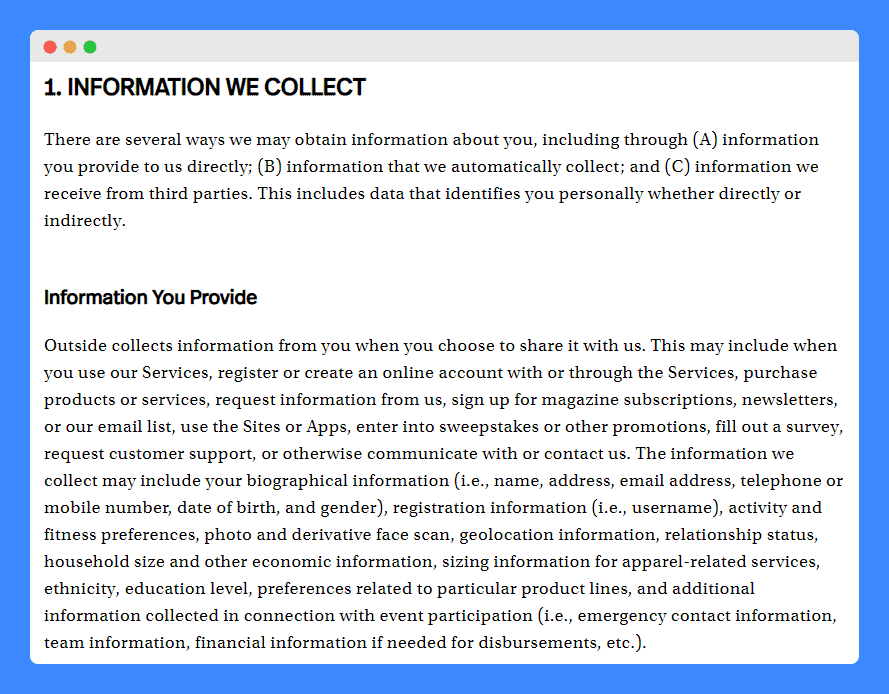 Money Saving Mom
Money Saving Mom is a finance blog that takes protecting its readers' personal information very seriously by explaining how it will be collected and protected. It further mentioned how it'll be shared and for what purpose.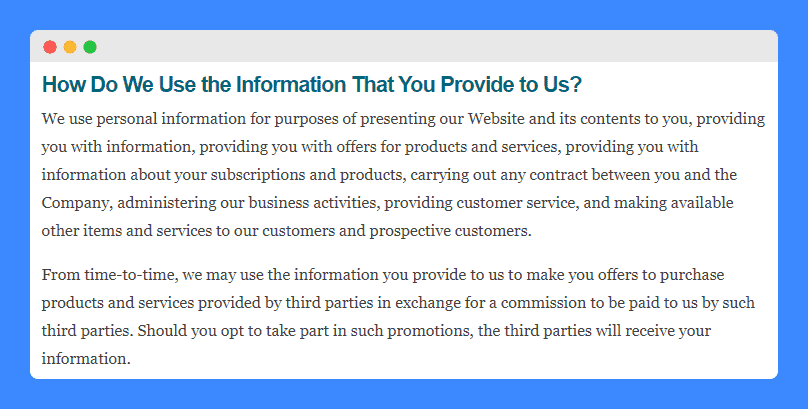 Buckitlistly
Buckitlistly travel blog has a well-articulated cookie clause that first explains the definition of a cookie, and how and why their blog specifically uses cookies. On top of that, it also explains to its blog visitors that they have control over whether or not they want their personal information tracked or stored.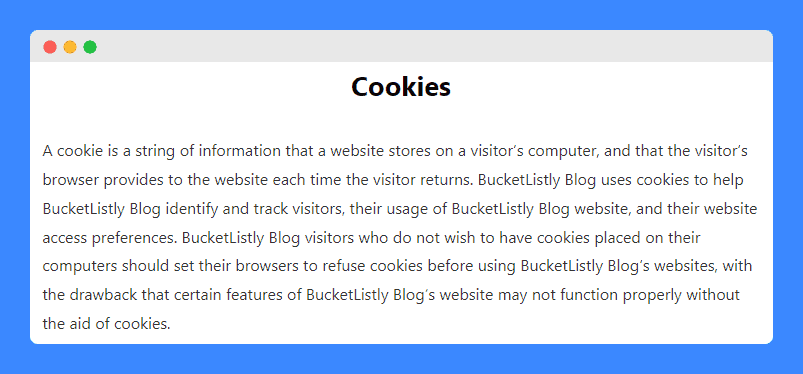 Sample Privacy Policy Template for a Blog
Here's a blog privacy policy template you may use and personalize to fit your needs. Don't forget to add related clauses depending on how you operate your blog.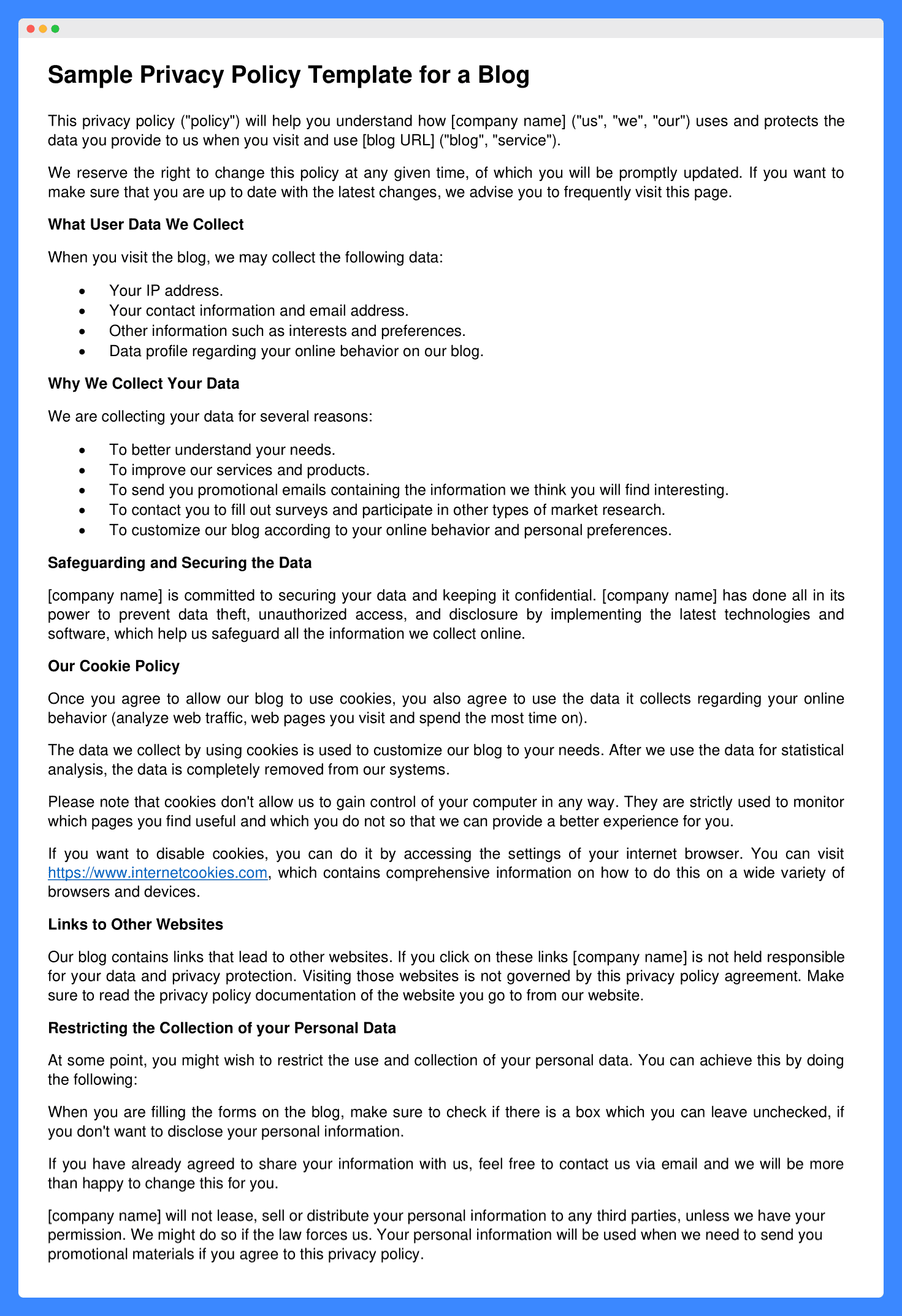 How to Write a Privacy Policy for Your Own Blog?
The way you can write a privacy policy for your blog will depend on how you operate it and the complexity behind it. To help you to get a good start, here are the important elements to consider when you're ready to write it which will help to make sure the final document covers all the bases.
Be Clear and Concise
Put yourself in your readers' shoes. Most if not all won't understand the legal jargon that you're trying to put out on your blog especially if you're trying to be sneaky and hide something.
By writing in plain language that anyone can understand, and avoiding legal jargon, you'll do yourself a big favor and avoid unnecessary headaches down the road.
Include All the Relevant Information
Your blog privacy policy should include what information you're collecting from your readers, how you're using their information, and who has access to it.
The more your blog readers know and understand what you're doing with their information the more trust they will have for you.
Learn Which Laws Apply to You
Identify which privacy laws apply to you based on where your blog is registered. These laws will outline what must be disclosed to your readers in your blog privacy policy in order to remain compliant.
Since the GDPR applies to any organization globally that targets and collects data from EU citizens, it's a good idea to make sure you are GDPR compliant.
It also has some of the strictest privacy laws in the world. Being GDPR compliant often means you will be compliant with other privacy laws enforced by different countries as well.
Remember that privacy laws are evolving and may change over time and so should your blog privacy policy.
Create a Privacy Policy using WebsitePolicies
Take the guesswork out of the legal jargon with our smart generators & create a privacy policy personalized to your needs in minutes. Here's how:
Step 1: Navigate to the privacy policy generator.
Step 2: Answer some questions about your business and how you operate.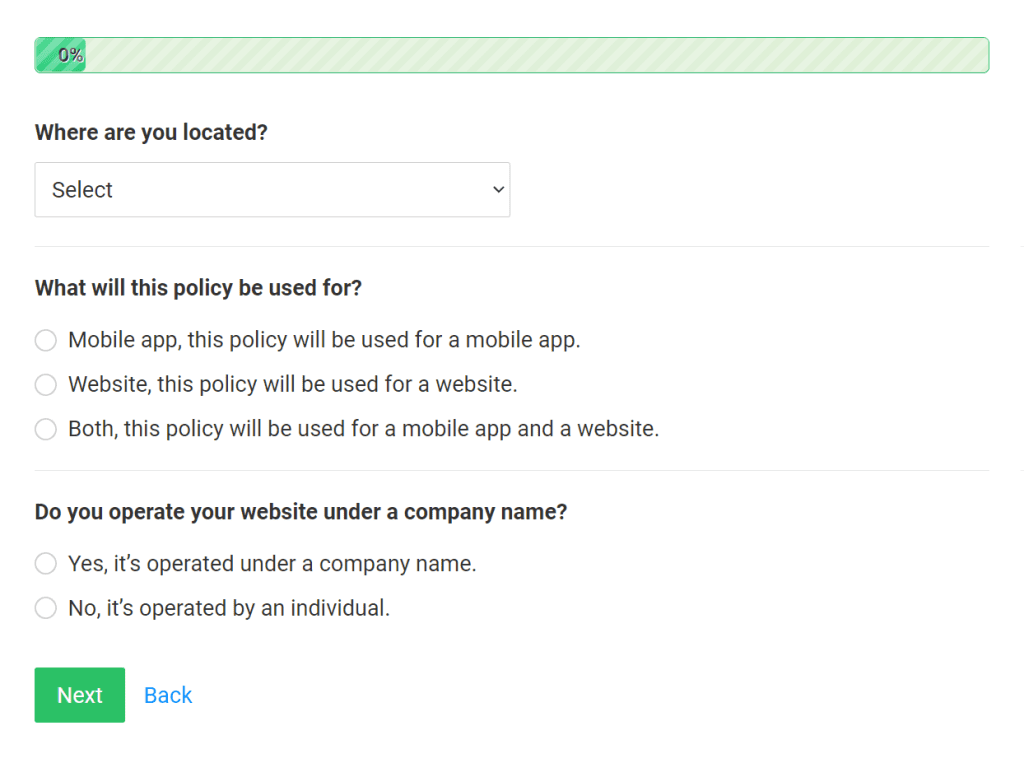 Step 3: Create an account and publish or copy your personalized privacy policy.
Drafted & backed by attorneys. Trusted by 150K+ businesses.
Frequently Asked Questions
Can I use the same privacy policy across multiple blogs?
If you own multiple blogs and they are identical in terms of data collection and processing then, yes, you can use the same privacy policy. If not, it's highly recommended to have a separate privacy policy for each of them.
What happens if I make changes to my blog that impacts my privacy policy?
When you make changes to your blog that impact how you handle your personal data, you need to make sure these changes are reflected in your privacy policy and notify users that may be affected by it.
Do I need to include contact information in my blog's privacy policy?
Yes, you should have a contact section in your blog privacy policy to make sure your readers know how to get in touch with you. It doesn't need to be a physical address and in most cases, email address will be sufficient.