If you're a digital content creator, you're most likely familiar with the term "copyright". But what does copyright actually mean, and how does it affect digital content creators?
You'd be surprised to learn that 29% of the internet's content is plagiarized. Not all of it is done intentionally though of course. Sometimes people may end up using your content by accident without even knowing it.
So, how do you avoid that? With something called a copyright disclaimer.
In this article, we'll cover when to use a copyright disclaimer and touch upon a few copyright disclaimer examples that you can learn from. We'll also show you how to write it correctly to keep you in control of your own work.
PRO TIP: Don't waste your time and take the guesswork out of the legal jargon with this personalized disclaimer generator trusted by over 150,000 businesses.
What is a Copyright Disclaimer?
A copyright disclaimer is a statement that informs and warns your site's visitors that the content on your website was created and is rightfully owned by you. It also lets them know they can use your content only with your permission and under certain conditions.
This helps deter copyright infringement and helps prevent people from using content they don't own. If someone uses your content without permission, you have the right to take legal action.
Note that a copyright disclaimer is not the same as a copyright notice, which is simply a notice that is usually included to quickly mention your work is copyrighted.
Why Do You Need a Copyright Disclaimer?
With the emergence of the "creator economy" due to the rise of social media and other digital platforms, more people need disclaimers now than ever. Here's how it has shot up from barely any creators in 2015 to nearly 700,000 in 2021.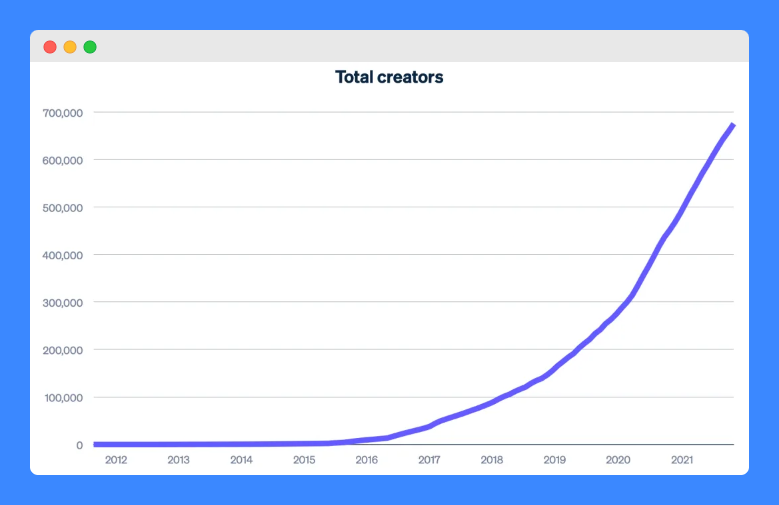 Original content creators like artists, writers, bloggers, song/video creators, etc. should all have one.
Copyright Disclaimer Examples You Can Learn From
Blog Copyright Disclaimer
In this example, the blog's author clarifies that they retain all the rights to their artwork, regardless of whether they sell it as a commission.
No customers can come back in the future to claim that the author is stealing their images whenever the author re-uses an image previously commissioned by any customer.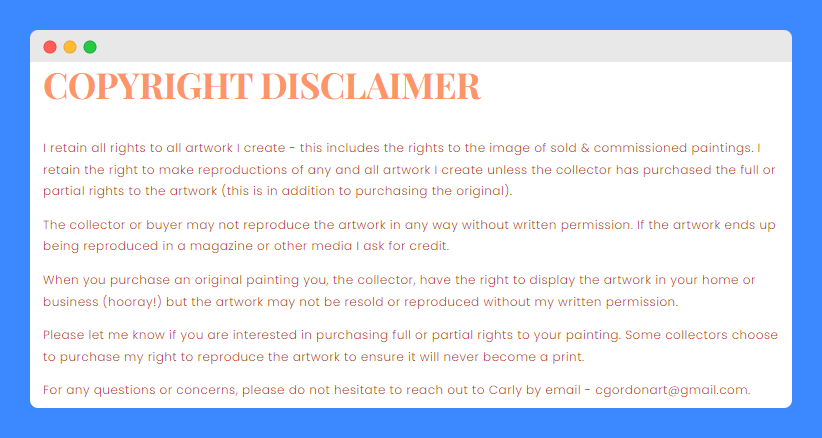 YouTube Copyright Disclaimer
Before posting content on YouTube, research the type of copyright laws your content falls under. Often, digital content creators use music or video clips from other authors.
Section 107 of the Copyright Act 1976 protects creators, allowing them to use copyrighted material as long as it's for "fair use" purposes as evident below.
Here's how this YouTube channel does it:

Facebook Copyright Disclaimer
To protect you from legal troubles, Facebook posts require you to either only post your own content, or get permission from the owner, or only use material under fair use law.
For instance, here is Holy Tequila's fair use act disclaimer.
Adding this type of disclaimer qualifies your particular post as fair use. It shows the original copyright information, crediting the original owner.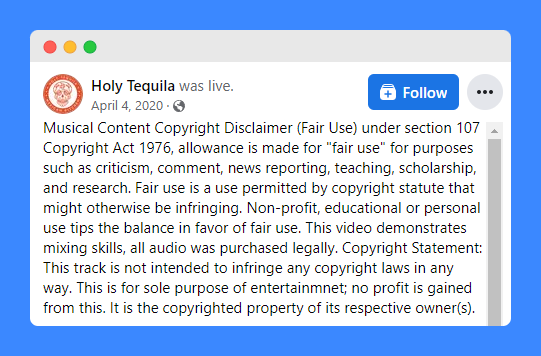 eCommerce Copyright Disclaimer
Check out Eagle Equipment Company's copyright disclaimer. The clause prevents unauthorized copying, modification, reproduction, or transmission refraining users from tweaking the existing material and claiming it as their own.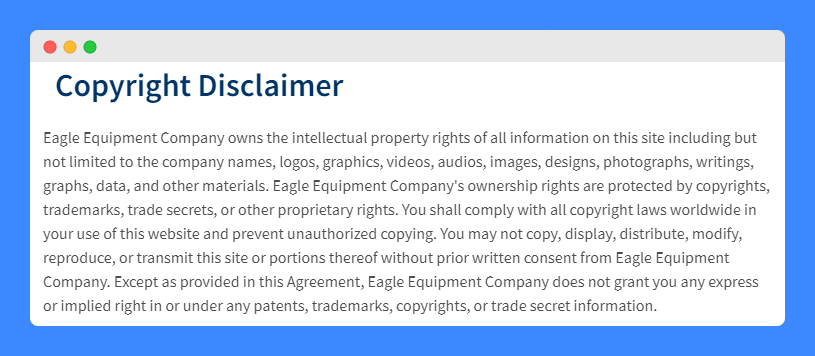 Web Development Copyright Disclaimer
Web developers can also create copyright disclaimers. In this example, the web developer reserves the right to limit who can use copyrighted material without permission from the owner. They reserve the right to provide permission through written consent.
On top of that, they state that individuals can link to parts of the website if they want to copy a particular quote or piece of information. The link can serve as crediting the owner of the site.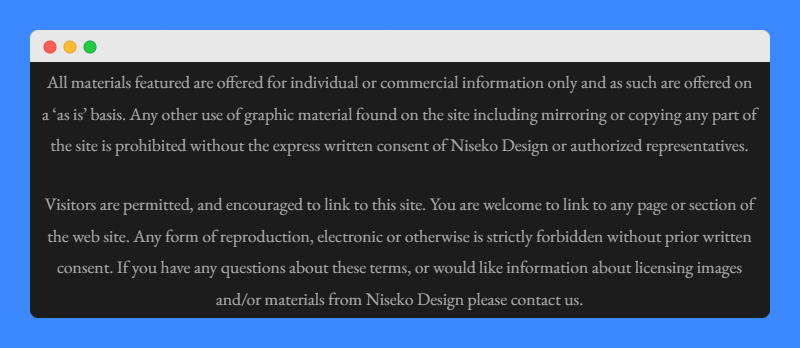 Marketing Agency Copyright Disclaimer
A marketing agency, Alter, allows individual, noncommercial reproduction of their content in their disclaimer. However, they limit the use of the content to only being in print or download format.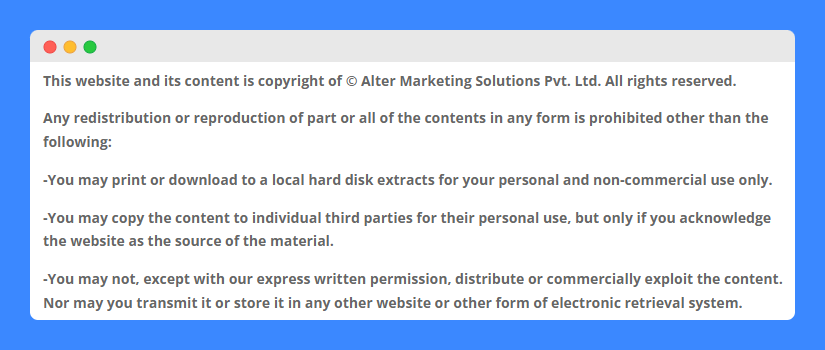 Copyright Disclaimer Template
This sample template will help you write your own copyright disclaimer. Don't forget that it's just an example and it's a good idea to include other important topics within your disclaimer for the proper legal coverage.

How to Write Your Own Copyright Disclaimer?
Creating a copyright disclaimer for your blog or website in order to deter the use of copyrighted materials without your permission is actually pretty straightforward.
Here is how you can start.
Clearly State Your Copyright
Firstly, clearly state that copyright infringement is not allowed. It seems like a no-brainer, but it's important to be clear.
Secondly, include specific penalties that would be levied upon infringement. For example, financial penalties, or other legal action.
Finally, you must add the (c) copyright symbol on your site, so your site's visitors understand your site contains copyrighted materials.
Include the Year of Publication
Next, include the year of publication, and this goes for blogs, videos, posts, or other content forms.
Additionally, regularly updated content should include a range of publication years.
Write the Name of the Copyright Holder
Next, include the name of the copyright owner, which typically is your business name or the name of your website.
Add a Statement of Rights
Now include how many rights you hold over your work. Generally, there are three types of ownership rights to include:
All rights reserved: You own all the rights to your material.
Some rights reserved: You may authorize people to use your work under certain circumstances.
No rights reserved: Your work is public domain.
Create a Disclaimer using WebsitePolicies
Take the guesswork out of the legal jargon with our smart generators & create a disclaimer personalized to your needs in minutes. Here's how:
Step 1: Navigate to the disclaimer generator.
Step 2: Answer some questions about your business and how you operate.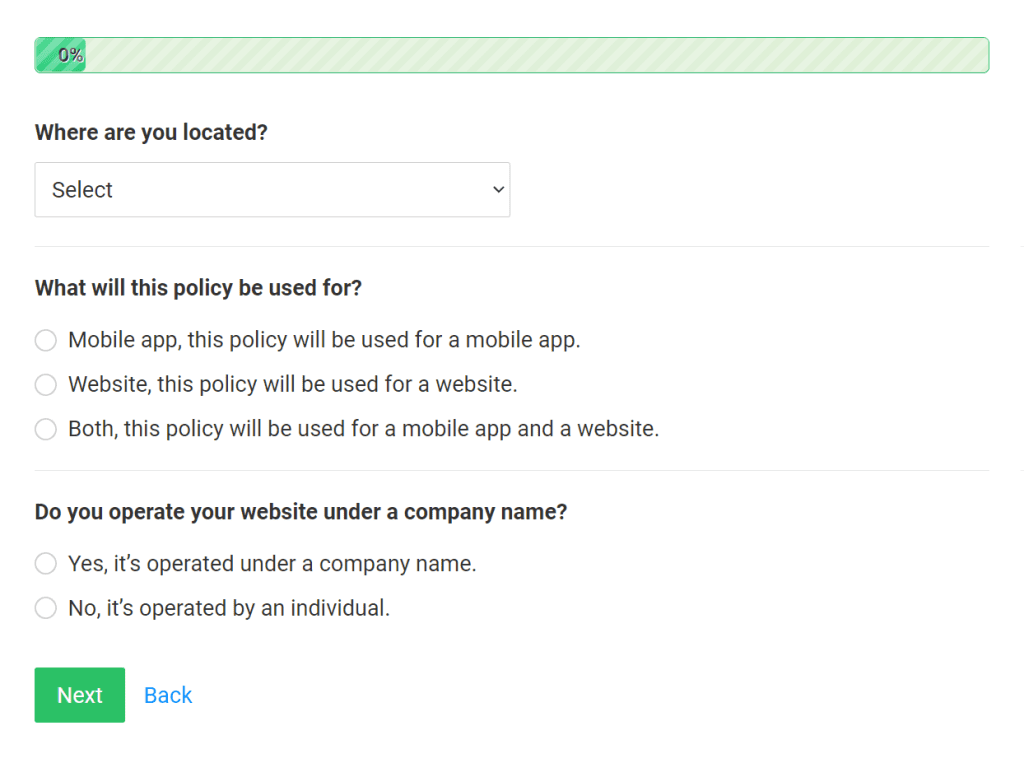 Step 3: Create an account and publish or copy your personalized disclaimer.
Drafted & backed by attorneys. Trusted by 150K+ businesses.
Frequently Asked Questions
Is a copyright disclaimer required?
No, it's not. However, it's helpful to include it on your blog or website to help prevent copyright infringement and have the legal right to pursue financial damages if you choose to do so.
Do copyright disclaimers work?
While it can't completely stop someone from unlawfully republishing your content, it's an effective deterrent and is sufficient in most cases.
What's a fair use disclaimer?
It allows for the limited use of your copyrighted content without needing your permission. It typically applies to things like reporting, commentary, and criticism.
How do I give credit to a copyright owner?
It's best to get permission from the creator first and then include the name of the person who created the work and link to it from wherever you used it.